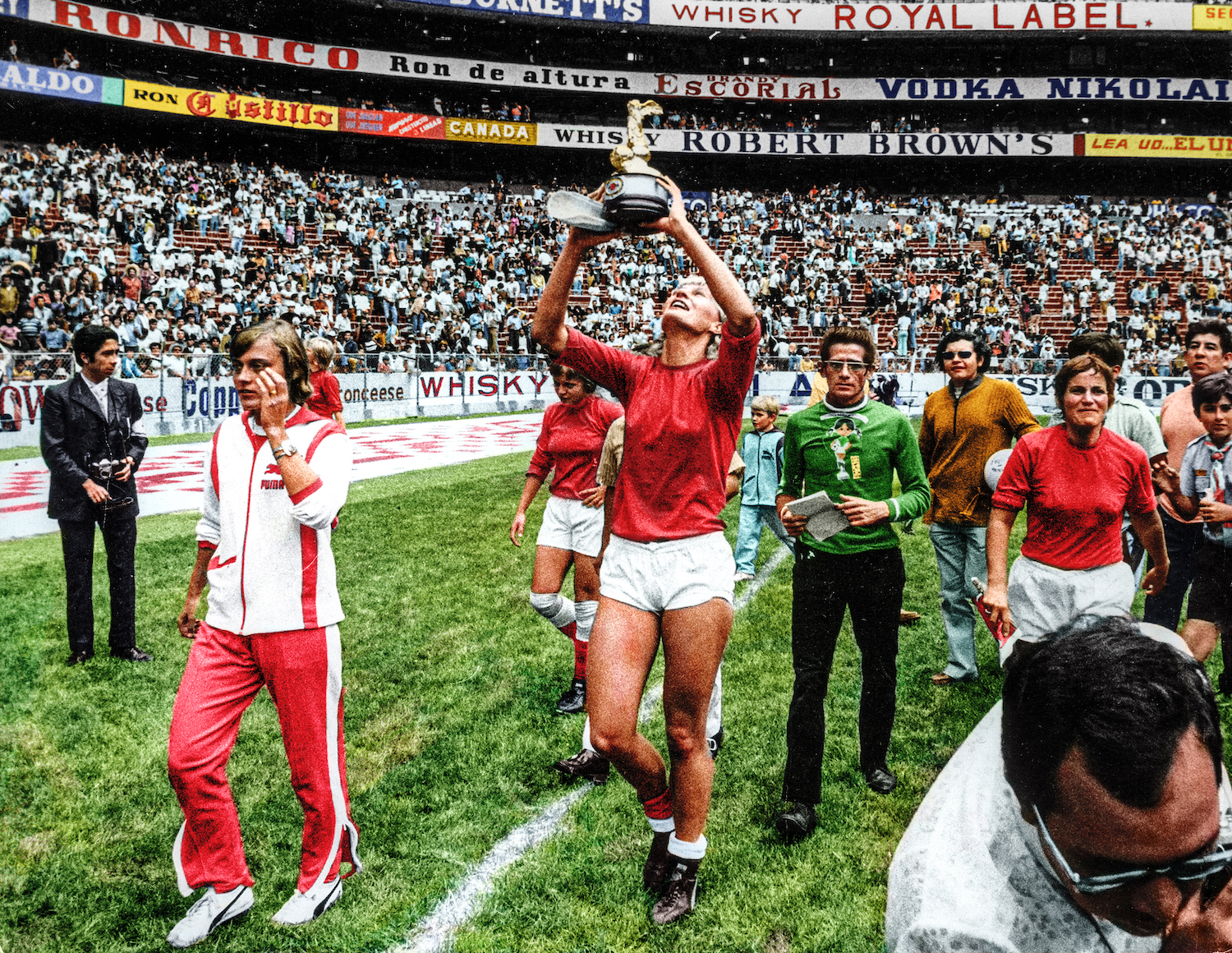 (The 2023 Toronto International Film Festival (TIFF) runs September 7-17 and HtN has tons of coverage coming your way! Check out Chris Reed's movie review of Copa 71. Seen it? Join the conversation with HtN on our Letterboxd Page.)
In the sport of football (soccer in the United States, Canada, Australia and New Zealand), the first Women's World Cup was held in China in 1991, the U.S. beating Norway 2-0. What a milestone in the history of the sport! Except that it was perhaps not quite the milestone it was made out to be. True, this was the first such FIFA (Fédération Internationale de Football Association) World Cup. But 20 years earlier, in Mexico, there had been a true first.
We learn this fact alongside some of America's champion footballers, among them Brandi Chastain and Alex Morgan, both two-time World Cup winners (Chastain in 1991 and '95, Morgan in 2015 and '19) who had never heard of it. The mystery of why the history of the "Copa Mundial Femenina de Fútbol de 1971" has so long remained unknown forms the spine—along with the exciting details of the actual event—of Copa 71, a rousing new documentary from directors James Erskine and Rachel Ramsay (The End of the Storm, as director and producer). The reasons for the news blackout all these years will infuriate, even as the actions of the women back then inspire.
The primary impetus for launching a global women's soccer tournament at a time when there was no particular public demand for it (at least not initially) lies in Mexico's efforts to host the FIFA Men's World Cup in 1970. The infrastructure now in place, along with some fancy new stadiums, business and sports elites longed to make more money. And though FIFA—football's world governing body—would have nothing to do with it, even going so far as to put up major roadblocks in its implementation, those elites stuck to the plan.
Which meant that they needed both players and spectators. Fortunately, even though efforts to suppress women's soccer had spread since the 1920s (which the directors explain courtesy of historian David Goldblatt, most of it having to do with the age-old issues of men's control over women's bodies), there nevertheless existed actual women's leagues in enough countries to put such a competition together. Even better, it would be broadcast on television—and in color—thereby elevating the women's game to heretofore unimagined levels.
The public would come from marketing. You have to spend money to make money. And that public would cheer, and then cheer some more, filling the two enormous stadiums in Guadalajara and Mexico City (the latter would have 110,000 in attendance for the final). It's really a shame that the men running FIFA would takes steps to make sure it never happened again, until increasing popularity of women's soccer in the 1980s forced their hand.
We meet representatives from many of the teams, including Argentina's Elba Selva, Denmark's Ann Stengård and Birte Kjems, England's Carol Wilson and Trudy McCaffery, France's Nicole Mangas, Italy's Elena Schiavo, and Mexico's Elvira Aracén and Silvia Zaragoza. Their stories are alternatingly triumphant and heartbreaking. Even those who fared less well than they wanted to felt uplifted by the experience. Until they came home, that is, only to discover that no one cared.
By the end, our mood is at once celebratory and angry. The patriarchy may have taken some hits since then, but we are reminded, time and again, of its enduring influence. May Copa 71 serve as a testament to those who would offer a winning alternative. After all, according to a final title card, women's soccer is today the fastest-growing sport on the planet. Huzzah.
– Christopher Llewellyn Reed (@ChrisReedFilm)
2023 Toronto International Film Festival; James Erskine, Rachel Ramsay; Copa 71 documentary movie review