(Concussion is now available on DVD
, Amazon Instant
, and iTunes. It world premiered in the U.S. Dramatic Competition section of the 2013 Sundance Film Festival, where it was quickly picked up for distribution by RADiUS-TWC. Visit the film's official website to learn more.)
In 1967, soft porn/exploitation director Joe Sarno had one of his biggest hits with the transgressive, outrageous Moonlighting Wives, which told the lurid tale of suburban wives who start a sex-for-hire organization. I love this film because the vibe of sleaze and outrageous radical behavior is conveyed so viscerally despite the fact that little really lurid happens. There is barely any sex and yet it feels so sleazy. The production values— the low contrast film stock, the cutting, the music, the acting—all create a David Lynch-like atmosphere despite the fact that it's actually such a tame film, even for the time.
Concussion is a first film by Stacie Passon, but it was produced by filmmaking veteran Rose Troche. Though its setup is similar to Moonlighting Wives, Concussion is actually way more lurid and transgressive, despite its very clean and safe suburban vibe. Like Bunuel's Belle Du Jour, this film actually does deliver as a truly radical dramatic portrayal of sex outside the monogamous bourgeois suburban world.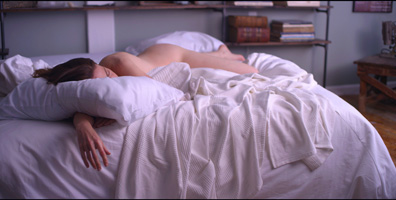 Passon's film tells the tale of a polite, smart, middle-aged lesbian couple with two kids living the suburban dream in New Jersey. But all is not well in the bed at night, causing the housewife to stray to Brooklyn, where she acts on her repressed urges by becoming a lesbian call girl. For a while all becomes great at home, because the housewife is having great sex and getting some extra cash in the process. Typical conflicts do eventually arise: another suburban straight wife comes calling for some rough sex and some clients get a little too emotionally close. But what distinguishes Concussion from the standard "city vs. suburb" drama is that the transgression is discovered at the end of act two, which means that act three is there to grapple with the fallout, to see if or how the family unit can still stay together while still allowing the housewife to continue her sexual interests with multiple partners. Is it possible to have your cake and eat it too, Concussion asks? It's radical answer: yes, under certain scenarios, it actually is.
Watching the film at Sundance, looking out on the mostly local audience at the Eccles, mixed with wealthy middle-aged suburban couples here on ski vacations, I wondered how much they were really getting the film's view on monogamy. Then I realized I was in Utah and wondered if there were Mormon men in the audience quietly cheering on the film's view of a safe happy family that includes one spouse having multiple partners. Concussion is by far one of the most radical, transgressive films I have ever seen at Sundance. A big applause goes out to The Weinstein Company's RADiUS for buying it. It will be playing in your suburban theater shortly. I think even old Joe Sarno would be shocked by this one.
— Mike S. Ryan