(Visit the official Treevenge website to learn more.)
Dear M. Night Shyamalan,
Watch Treevenge.
Sincerely,
Michael Tully
The best horror movies aren't just visceral thrill rides; they are unpretentious works of social commentary. While Jason Eisener's Treevenge isn't an outright horror film, it is nonetheless an outrageously blood-splattered and screamingly funny affair that firmly plants itself in the shocksploitation camp. But in its own deeply twisted way, it's also addressing the topic of eco sensitivity. I'm not sure whether Eisener is mocking conservationists and tree huggers or is genuinely standing up for nature with his latest short film, but that's neither here nor there. What matters is that Treevenge kicks some severely major ass and will elicit an audible reaction from just about anyone who watches it.
Eisener recently made a name for himself by winning the SXSW Robert Rodriguez Grindhouse Competition with Hobo With A Shotgun, a funny spoof of '70s renegades-out-for-justice movies. Treevenge is similarly shocking, but as this is a self-contained short film instead of a trailer, Eisener is able to establish his main characters and more fully develop them this time around. The only thing is that those characters happen to be trees.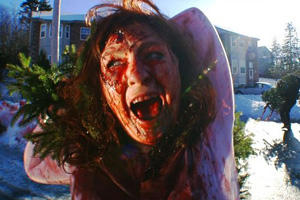 Ahh, Christmas. 'Tis the season to… well, if you look at it as Eisener sees it, 'tis the season for a plant Holocaust. Not to get too hippified about the subject, but I always feel a strange wave of sadness every year when I wander around New York City after New Year's Day and see sidewalk upon sidewalk stacked with abandoned, dying trees. Don't get me wrong, I don't shed tears about it. It just seems like a rather wasteful endeavor. Rather than getting sappy about his subject matter, Eisener has chosen to get mercilessly violent about it.
Opening with the creepily catchy theme from Cannibal Holocaust and accompanied by a 1970s-esque title card and shots of nature, Treevenge proceeds to get down and dirty right away, as a crew of grungy, growling lumberjacks stalks into the mountains to recruit this year's crop of Christmas trees. The only problem is that these trees have the cute, chipmunky voices of Ewoks or Gremlins. As they get attacked and dragged to a delivery truck, the poor trees' pain and fear shifts into a rising anger. Later, when they have been taken to their new homes and are screwed into gaudy tree stands and then humiliatingly decorated, that anger erupts. Eisener manages to humanizes these objects while retaining a sense of outlandish humor, giving his movie a surprising splash of heart. But it isn't long before that splash of heart turns to splashes and splashes of blood.
Thanks to Twitch, you don't have to be at a film festival to experience Eisener's outrageous film for yourself, which works as well on a mid-summer day as a mid-winter night. Ladies and gentlemen, make sure your children are in the next room, sit back, hold on tight, and get ready for Treevenge!
— Michael Tully