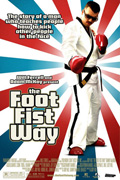 (The Foot Fist Way is now available on DVD
. Visit the film's official website to watch the trailer.)
Once upon a time, before its opening credit scroll featured the prominent Paramount Vantage and MTV Films logos, before Hollywood mega-players Will Ferrell and Adam McKay became its most fervent supports, The Foot Fist Way was a small independent movie being shot in Concord, North Carolina for under one hundred thousand dollars by a group of friends who had met in college and shared a similar sensibility. They didn't know if their crudely comic feature was going to get into Sundance, let alone lead to a meeting in Los Angeles. Flash forward to May 30, 2008.
Three years later, on the very day that The Foot Fist Way finally gets an official theatrical release, co-writer and director Jody Hill is in New Mexico directing his follow-up feature, a twenty million dollar comedy for Warner Brothers. Meanwhile, co-writer and star Danny McBride, who makes a brief appearance in that film, has become one of Hollywood's most sought after comedic actors, bringing his own brand of comic genius to David Gordon Green's Pineapple Express and Ben Stiller's Tropic Thunder. But we're not here to talk about the movie that brought them to Hollywood. We're here to talk about the movie that brought Hollywood to them.
Fred Simmons (McBride) is a Tae Kwon Do instructor in suburban North Carolina who thinks he's God's gift to pretty much everything. He isn't. When his marriage is sideswiped by a revelation too funny to spoil here, Simmons loses the self-control he never really had. The events that follow are both excruciatingly embarrassing and laugh-out-loud hilarious, as Simmons stumbles towards an eventual showdown with his former idol-turned-arch-nemesis Chuck "The Truck" Wallace (co-writer/co-star/co-composer Ben Best). In his own clueless (and, somehow, against all odds, surprisingly sweet) way, Simmons manages to find some ass-backwards redemption, to the dismay of everyone around him.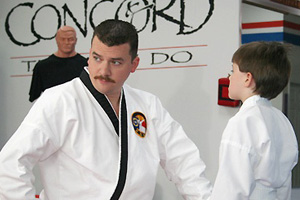 What makes The Foot Fist Way stand out from other comedies of its ilk is its scrappy little heart, which keeps us caring for Simmons at his most repulsive and shameless. Hill shot the film in the town where he grew up, and his appreciation of this community is evident in his direction of his non-actors, which is never hateful or condescending. While he deserves much of the credit for the film's success, it is McBride who steals the show, bringing a humanity and credibility to a character that lesser (and, in many cases, greater) actors would turn into cartoonish buffoonery.
Something else distinguishes The Foot Fist Way and provides exhilaration for viewers who appreciate a healthy dose of reality mixed with their comedy. Hill, McBride, and Best went to film school, not sketch comedy class. Their humor is based in the awkwardness of everyday existence and the extreme pleasures and pains that come with it. They revel in those murky situations where one doesn't know whether to laugh or cringe. This is a very important distinction. Watching the grainy 16mm film unfold, it is easy to see the glossier, watered-down movie Hollywood would have made out of this material, and while it would have no doubt been amusing, it never would have felt as real as Hill's version does. By casting regular North Carolinians and proudly embracing his low-budget aesthetics, Hill keeps The Foot Fist Way grounded in reality (albeit a hilariously and uncomfortably absurd reality).
Ultimately, it all comes down to McBride, whose delivery is unlike anything comedy has seen before. He has an uncanny—not to mention deceptively brilliant—ability to spin language in unimaginable ways, turning a throwaway line into a disrespect of astoundingly crude proportions. Many thought his minor, but memorable, performance in Green's All the Real Girls would launch a full-blown acting career, but that didn't happen. At least not then. McBride's portrayal of Bust-Ass helped inspire Hill to create a lead character for him, and it's because of this performance that he's now a bona fide Hollywood actor. So it did pay off, after all. It just took longer than some of us expected.
Aspiring filmmakers and comedians everywhere, let The Foot Fist Way be a lesson to you. By sticking together, trusting their instincts, and refusing to soften their vision, Jody Hill, Danny McBride, and Ben Best bought themselves a one-way ticket to Hollywood. One can only hope their voices won't be compromised in the relocation.
— Michael Tully