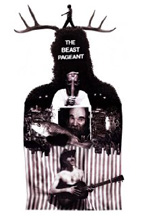 (The Beast Pageant world premiered at the 2011 Slamdance Film Festival and is already available on DVD through Indiepix. It's next festival stops include the Detroit Independent Film Festival [Wednesday, March 9, 2011 (8pm)] and Buffalo Niagara Film Festival [Friday, April 8th (9:30pm)]. Visit the film's official website to learn more.)
In the mad rush to take advantage of the new, inexpensive gear available to indie filmmakers and approximate the quality of big studio releases, some of the handmade charm and intimacy of small-scale filmmaking has fallen by the wayside. With The Beast Pageant, Albert Birney and Jon Moses address this issue head-on, turning back the technology clock 50 years or so and shooting on B&W 16mm with a Bolex they found in a dumpster. The Beast Pageant looks like a film from the past that crudely but accurately predicts what our world has become. It's a dream-logic satire of Amazon/Ebay consumer culture, and an impossibly wide-eyed, sweet and surreal boy's adventure tale. It's also, in its own small way, a call to arms.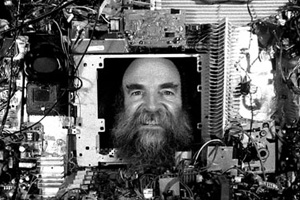 Co-director Moses plays Abraham, a worker drone in a fish factory who spends his free time in front of a massive, complex machine, a tangle of circuit boards and cables with a live human head that's forever encouraging him to place orders on his "speaker horn"— a duct with a rough, upturned, foreskin-like tip—triggering a complicated mechanism that drops the product into his lap. Here as elsewhere, rumpled, low-tech production design delights in the imperfection of obviously hand-made sets and props. The machine also incorporates a woman inside a globe who greets Abraham with spooky sing-song endearments, and extends a flat metal surface and mechanical hands to kiss and caress him. Surreal vignettes tumble into the narrative, including a series of wonderfully realized (and very funny) TV commercials that combine the flat geometric fields of 1920s experimental film with the rough edges of vintage punk rock flyers and homey line-drawing animation. The wrench in the machine comes in the form of the Watermelon Man (S. Michael Smith), a sinister, seed-spitting character who offers to sell Abraham a black-market hammer. "What am I gonna build?" asks Abraham. "Who said anything about building?" he leers back, backlit with sickly sunlight and holding open his hammer-laden overcoat like a bird of prey.
Soon Abraham sprouts a miniature version of himself from his belly: Zeke, a guitar-strumming cowboy, who encourages him to "feed the serpent its own damn tail." Abraham plugs the machine into itself, and the machine loudly and messily self-destructs (or so it seems). He heads out into the literal and metaphoric wilderness.
Part two begins with a ridiculously joyful sequence in which a zaftig miniature couple in a miniature house waltzes in the nude as Zeke plays accordion; they pay him with pie. But dramatic tension is soon re-established as a black ball begins to follow Abraham as an agent of the machine. Abraham is mistakenly left to babysit a crying infant that gets birthed from a giant tit, and turns out to have the face of the Watermelon Man. Zeke strums a series of happy/wise/demented '70s-style ramblin' man songs, through a series of musical encounters with nature both friendly and hostile, including a spectacular sequence with a group of dancing pine tree people, but the Watermelon Man is forever lurking, and a giant, axe-wielding, horned beast is closing in on him too. Abraham has to find a way to make a final cathartic break with the past.
At its core The Beast Pageant is a film of dissent, stripping back the shiny surfaces to reveal the quiet horror of our culture of instant gratification. The integrity of the project is exemplified by the filmmakers' choice to shoot over the course of several years, one sequence at a time, building new props and sets while they waited to get their film back from the lab. They've struck a perfect balance between dark polemic and dada-tinged wonder, delighting in the possibilities waiting for us in the world beyond our devices, out in nature and in the imagination.
— Paul Sbrizzi