(Taxidermia is being distributed theatrically in America by Here Films & Regent Releasing. It opened at Cinema Village on Friday, August 14th, 2009 and is now available on DVD. Visit the film's official website to learn more.)
It's taken me three years to see Gyorgy Palfi's Taxidermia. In that time, I gathered one thing from both the film's supporters and detractors: Taxidermia was disgusting. Not that I'm particularly drawn to disgusting movies, but in this case, all those reactions had led me to believe that Taxidermia wasn't just disgusting, it was exceptionally disgusting (striver that I am, I'm always up for watching something exceptional, even if it's exceptionally bad). Now that I have finally seen it, I can confirm that for once in my life, unreasonable expectations didn't get in the way. Taxidermia is disgusting, demented and gross. Yet it's also surprisingly beautiful and humorous, making for quite a strange concoction.
Based in large part on the short stories of Hungarian writer Lajos Parti Nagy, Taxidermia tells three separate half-hour tales that are separated by decades but linked by a biological bloodline. While this spanning of history allows for deeper thematic investigations and metaphorical interpretations, to be honest, I still can't get past the visceral shock of the footage to begin to get even somewhat intellectual. Suffice to say, with this film, Palfi has set his twisted sights set on the human body and its many icky parts, from the skin on the outside to the organs all-the-way-down-in-there. By showing us characters that abuse these parts so raucously and exaggeratedly, he reminds us that at our core, we're still animals. At the same time, as the film builds to its bizarre conclusion, it's as if he's warning us that we're well on our way to becoming machines.
In the first episode, a picked on, hair-lipped orderly, Morosgovanyi (Csaba Czene), spends his free time either making out with a lit candle or masturbating profusely (rather than coming off as a deranged, inbred pervert, Morosgovanyi seems like he's simply suffering from a case of feverishly raging boredom). At one point, his fantasy becomes a reality when the overweight wife of his superior shows up in his shack and literally welcomes him into her (literally, as in there are shots of actual penetration). When Morosgovanyi's superior finds out, he exacts his revenge, but it's too late: his wife is pregnant. She gives birth to a baby that is human except for one tiny addition: it has the tail of a pig. In what might very well be the film's most repulsive shot, the new father circumcises the child's tail. And we're off to part two!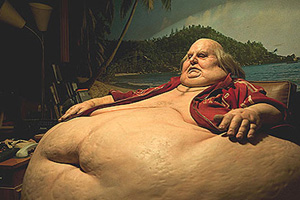 Decades later, that baby, Kalman Balatony, has grown up to become a gargantuan professional speed eater (the opening sequence plays like Jean-Pierre Jeunet's version of the Stand By Me barf-o-rama, featuring another shot that will test the sturdiness of one's stomach). Kalman falls in love with a spectator—overweight and looking vaguely like the woman who made him—and while she appears to love Kalman back, that isn't necessarily the case. Or is it?
Decades after that, Kalman is now a human Jabba The Hutt that is looked after by his unhealthily skinny taxidermist son, Lajos, who shops for him while Kalman trains his caged cats to become eating champions themselves. When tragedy strikes, Lajos turns his taxidermy tools on himself and Taxidermia spins all the way out of control.
I really couldn't tell you what any of this means, except to say that it's worth checking out. For me, what is most striking about the film is how Palfi has applied his exceptional talent to such gratuitous and grotesque content. Taxidermia is an undeniably impressive technical achievement, in which the most difficult, accomplished camera movements are employed and the sets, crowds, and period details are flawlessly realized. That it's all in the service of a three-part story about masturbation, zoophilia, overeating, vomiting, and bodily mutilating, well, that's why it's taken three years for it to find an even tiny theatrical release in America, but it's also why it has finally reached these shores. While there are certainly cinematic precedents for Taxidermia, they've never looked quite like this.
— Michael Tully