(Sleeping Dogs Lie is also available on DVD. Buy it at Amazon
.)
While I obviously can't prove it, I am fully confident that Bobcat Goldthwait's Sleeping Dogs Lie has never played better than it did when John Waters presented it as his annual selection at the 2007 Maryland Film Festival. Tragically, Goldthwait was unable to attend that screening, for as I sat with a rapt audience in a packed Charles Theater auditorium, I knew that this was the exact type of reaction every filmmaker dreams of. I didn't know Goldthwait, nor did I have anything to do with the film, but I felt a surge of happiness for a small movie that just absolutely rocked the house. Like this year's World's Greatest Dad, Sleeping Dogs Lie is the type of work that plays better with a crowd, for Goldthwait's brand of crudely sweet satire elicits hilariously audible gasps. But fortunately, it's also strong enough—sharply written, well acted—that it isn't solely dependent on that viewing set-up to deliver the goods. It plays assuredly on the small screen too. Now, thanks to AOL's /SlashControl, you can watch Sleeping Dogs Lie right now, for free, on the even smaller screen.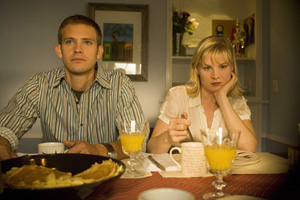 As it's the first line of the movie, it doesn't spoil any secrets—though children should be leaving the room if they haven't already. In voice-over, our pretty heroine (Melinda Page Hamilton) informs us, as we watch the events unfold in a non-graphic flashback: "My name is Amy. And yes, at college, I blew my dog." If ever an opening line sets the tone for what's about to transpire, this is surely it (the only immediate comparison I can call to mind is, hmm, that's funny, World's Greatest Dad). But that isn't exactly right, for Goldthwait proves himself to be as sweet as he is crude. Against all common logic, this line turns out not to be the instigator of a shock-and-disgust spectacle but the trigger for a genuine ethical inquiry into that throbbing, age-old question: when it comes to relationships, aren't some past experiences better left unshared?
Amy errs on the side of honesty and tells her husband-to-be about her shameful secret. This, predictably, doesn't go well. And when her family catches wind of her actions, it only gets worse. She finds comfort with a coworker who gives her a shoulder to cry on, and as their friendship blossoms into something deeper, Amy is forced to choose once again. Will she confess her one-off collegiate sin? Or will she learn from her past and keep that secret to herself?
If all this sounds completely ridiculous and improbable, it is. But Goldthwait's ace-in-the-hole is Hamilton, who delivers a wonderfully credible performance that deserved to be recognized at awards season but was not. Hamilton brings an emotional authenticity to her character that grounds this otherwise outrageous film and makes us not judge Amy for her actions, but challenges us to consider what we would do in a similar situation. We may not have blown a dog when we were younger, but all of us have terribly embarrassing secrets that we never want to tell. With Sleeping Dogs Lie, Goldthwait explores a serious issue with his whacked-out comedic vision, piercing viewers with his cuddly satirical knives.
Check it out:
(Note: Hat tip to Eric D. Snider at Cinematical for pointing me in the direction of this yummy online freebie.)
— Michael Tully