(Distributed by IFC Films, Night and Day is now available OnDemand through IFC's Sundance Selects channel. Contact your local cable provider for details.)
There are many treats contained within Hong Sang-soo's Night and Day, but the primary reason to seek out Hong's latest spin on the "stunted man-child" genre is the performance of Kim Young-ho, who turns a potentially unsympathetic character into a figure of comically pathetic proportions. Not only is Sung-nam floundering in an unfamiliar land; he's floundering within his own skin. Night and Day injects new life into the oft-overused premise of an aging husband who suffers an internal crisis of the heart and seeks salvation in the lap of another (or, in this case, several others).
Hong makes it clear from the very beginning that Sung-nam's reason for fleeing Seoul to Paris is a pretty half-baked one, to say the least. Busted on a small marijuana charge and worried of a possible prison sentence, he hightailed it out of there, leaving his confused and concerned wife behind. In Paris, he finds shelter in a home filled with Korean transplants. Though he's supposedly a well-known painter, Sung-nam never seeks out an easel and a brush. He doesn't seem interested in exploring the Parisian landscape either. He's more concerned with his raging libido, which results in deeper and more conflicted inner torments. At first, it's an ex-girlfriend (Kim You-jin), who he bumps into randomly on the street one day. But eventually, he settles on Yu-jeong (Park Eunye), an art student that sparks his passion and makes him contemplate never returning home.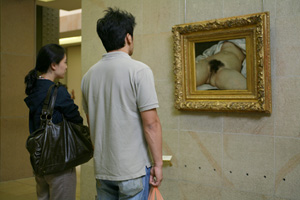 As played by Kim, Sung-nam is a pinball machine of roiling emotions. One minute, he's flooded to the point of angry fury. The next, he's cracking up at some dog poop that's bopping along in a curbside stream of water. Sung-nam is as irresponsible as they come, but Kim infuses him with a charm that never lets us write him off completely. It's clear that he knows the difference between right and wrong, between moral and immoral. He just doesn't know how to take responsibility for his actions and face up to the truth.
In a stroke of frisky genius, Hong uses the tools at hand to make us feel Sung-nam's inner confusion, inserting realistic dream sequences into the narrative to the point where we too may find it difficult to distinguish between fantasy and reality. While it might be a stretch to compare Night and Day to Michel Gondry's The Science of Sleep, both of these films address this issue with their own peculiar glee.
Those with little tolerance for less-than-noble heroes, as well as longer-than-120-minute films, will most likely find Night and Day to be a slog through the park. But for those of you who appreciate universal stories told with a frisky, personal flair, Hong's latest won't let you down.
— Michael Tully