(My Dog Tulip was picked up for distribution by New Yorker Films and is now available on DVD
or for RENT at Amazon Instant. It opened theatrically at the Film Forum in NYC on Wednesday, September 1, 2010. Visit the film's official website to learn more.)
If you aren't a dog person— and if you aren't a dog person how are you not a dog person?—Paul and Sandra Fierlinger's My Dog Tulip might not send you running off to the animal shelter to snatch up a pooch of your very own, but it just might surprise you. An animated adaptation of J.R. Ackerley's acclaimed memoir, My Dog Tulip tells the story of a middle-aged man who has felt his own lifelong aversion toward canines; yet later in life, when he inherits an Alsatian bitch named Tulip, he learns to love her as he's never loved before. If that sounds overly schmaltzy, remember that Ackerley was an Englishman. Which is to say that even though there is cuteness on display in this sweet reminiscence, there is also mature wit and sentimental restraint.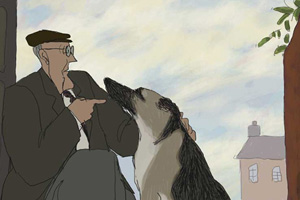 As voiced by the consistently exceptional Christopher Plummer, J.R. Ackerley is a closed-off man of letters who lives a solitary life. When he takes over the parental role of Tulip, whose previous owners didn't care for her properly, the sturdy wall around his heart begins to crumble. Along the way, he invites his sister Nancy (the late Vanessa Redgrave, to whom the film is dedicated) to live with him and care for Tulip while he's away at work. To his dismay, a three-way attention triangle is born! Later, J.R. realizes that it's in Tulip's nature to become a mother, so he embarks on a mission to find her a breeding mate. Unfortunately, this isn't as easy as it seems.
Being as clueless about the art and craft of animation as a person can be, I find it hard to comment on this aspect of the production, except to say that the visuals are brought to life with a refreshingly earthy charm. In the film's production notes, Paul Fierlinger states that while no paper was used to create the visuals—all work was done on a computer—his guesstimate is that 58,320 drawings were made, since he and Sandra prefer to create their own frames every step of the way as opposed to letting the computer do most of the dirty work. Even though I didn't know that technical fact while watching the film, I sensed this homegrown approach and gave into the production more fully because of it.
As the story develops and we begin to soften to J.R. as much as he has found himself softening to Tulip, I began to prepare myself for an unapologetic tearjerker of an ending. Yet while time does run its course and the inevitable does occur, Ackerley treats this with an English matter-of-factness that should keep your tissues in your pocket. Unless you're a total softie, at which point, cue the floodgates. Either way, My Dog Tulip is a splendid reminiscence.
— Michael Tully