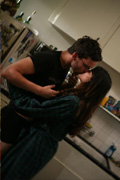 (I'll Come Running is now available on DVD through MPI Home Video. It world premiered in the Narrative Competition at the 2008 Los Angeles Film Festival, when this review was first posted. It airs on IFC's Festival Direct from 11/4/09 through 2/2/10. Visit the film's MySpace page to learn more.)
Movies love to wallow in fate, how it sends us on journeys we never could have predicted. Whether it's a chance encounter that sparks a deep and lasting connection, or a seemingly inconsequential decision that becomes a profound life changer, filmmakers love to grapple with this mysterious concept. What makes fate so difficult to pursue on screen is the ironic twist that the more a filmmaker remains true to life, the more unbelievable a film can seem. Screenwriters are taught to keep their stories as condensed and uncluttered as possible. Too many sidetracks and viewers will become confused and the point will be lost. But too much clarity tends to ring false in movies; what were once thin, impromptu marks in real life become broad, calculated strokes on the big screen.
While this general concept is at the heart of Spencer Parsons' I'll Come Running (the Danish title is For Altid, but for these purposes, we will use the American one), Parsons takes his debut feature one step further, challenging conventional narrative cinematic storytelling by spinning his tale into wider and more boundless directions. Although I'll Come Running is a pop-infused romantic comedy/drama, its daring narrative scope has more in common with a film like Sean Penn's The Pledge. From the very beginning, it is impossible to tell where this initial one-night stand will take the film's two lead characters, but by the story's midway point, it's obvious it's somewhere they've never journeyed before.
The less revealed about the plot, the better, but a general set-up is in order. Danish vacationer Pelle (Jon Lange) is sick of Texas and wants to go home, until he meets the charming Veronica (Melonie Diaz), a waitress with whom he forms a connection. That connection is awkwardly, but pleasantly, consummated just hours later. After a few days of hanging out, Pelle leaves for the airport to return to Denmark. Veronica is aware that this encounter was fleeting, that it wasn't merely a one-night stand but it wasn't necessarily more than that either, but something about it stirs her into wondering if she'll ever see Pelle again. It is here where Parsons' film begins to show its narrative audaciousness, by shifting its direct attention from Pelle to Veronica. A dramatic twist of fate sends Veronica on an unexpected journey overseas to Denmark, where she tries to figure out what she's doing there exactly.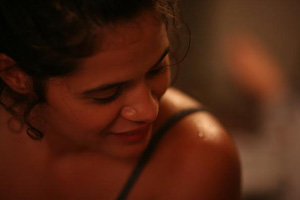 If Diaz isn't independent cinema's official "it" girl of 2008, she's certainly in the running (other 2008 credits include Be Kind Rewind, American Son, Hamlet 2, and Assassination of a High School President). After years of supporting turns, Diaz finally gets top billing, and she gives it all she's got, bringing her charismatic presence to a character that is at times difficult to swallow. For some, Veronica's unhinged interactions with Pelle's best friend Soren (Christian Tafdrup) might ring false, but as a lonely young woman in an unfamiliar world, she is simply too immature and under too much pressure to respond in any other way.
Which leads into an important delineation, one that makes I'll Come Running so difficult to pin down. Parsons' film appears to be working on two levels. While his bold narrative approach is firmly rooted in real life, the characters and situations feel more movie-ish than realistic. It's a clever joke and inspired bonding tool to have the characters refer to themselves as Simpsons characters (Lisa and Milhouse), but it also supports the feeling that we are watching characters in a movie instead of individuals in real life. Parsons' pop-infused soundtrack further establishes this level of remove. In the same way that Diaz's Veronica will be off-putting to some, Parsons' directorial approach may keep many viewers on the outside. But this would be a shame, for if one gives in to I'll Come Running's sincere charms, they might be surprised at how affected they are by the time this expansive, narratively ambitious romance reaches its conclusion.
Although it was directed by an American, I'll Come Running feels like a 100% foreign production (one of the film's producers, Lars Knudsen, is, in fact, a Dane and has connections to the film industry there) . More than its subtitles and Danish locale, it shares a similar spirit to many films from the Dogme 95 movement (its fish-out-of-water narrative turn specifically calls to mind Mifune). While this further contributes to the feeling that two films are competing to become one, it is what keeps I'll Come Running so engaging and vibrant throughout. Parsons' debut is a boldly constructed, refreshing riff on the romantic comedy genre.
— Michael Tully