(Holy Rollers was picked up for distribution by First Independent Pictures and is now available on DVD
. It opened in New York City and Los Angeles on Friday, May 21, 2010, before going wider in the following weeks. Visit the film's official website to learn more.)
On paper, Holy Rollers sounds like one of those movies that could go wrong in so many different ways it doesn't seem possible that it won't. But from the very first frame of Kevin Asch's debut feature, there's a feeling in the air that this one just might be different. It is. Holy Rollers is an unexpected treat that rises above its superficial trappings thanks to assured filmmaking, a healthy dose of unforced humor, and a whole lot of actual heart.
What superficial trappings, you ask? How about this for a description: Holy Rollers is a low-budget American narrative drama that premiered at the 2010 Sundance Film Festival and is based on a true story from late-1990s New York City in which innocent Hasidic Jews were unknowingly recruited to help smuggle ecstasy into the country from Amsterdam. Asch and screenwriter Antonio Macia turn this too-bizarre-to-be-true newspaper headline into a cautionary coming-of-age tale about a timid young Hasid, Sam Gold, who is surprised to find that he's got a knack for this drug smuggling thing. Of course, his Orthodox parents are shamed by his behavior, which adds to Sam's third-act tailspin. And oh yes, Sam is played by Jesse Eisenberg, an actor who has spent most of his career playing nervous, neurotic characters such as these. Also, Q-Tip plays a drug lord.
See what I mean? Only kick your worst fears to the curb, because that description doesn't do justice to what Asch and his collaborators have accomplished with this film. No, Holy Rollers doesn't reinvent the wheel. Yes, you know where it's going pretty much all along. But in cases such as these, when all of the filmmaker's tools are working so successfully in tandem with one another, when the ride is so enjoyable, those snooty gripes become irrelevant. Holy Rollers is a great example of how certain types of "Sundance movies" don't always have to be so excruciatingly bad.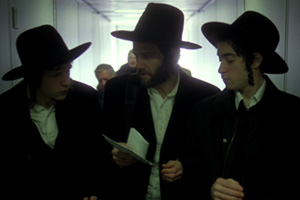 So how did they pull it off? How did this surefire wrong become a surefire right? Technically speaking, Suzanne Spangler's editing is economical without being flashy, and Ben Kutchins's hand-held cinematography is loose yet controlled. Asch shows admirable restraint as a director, never calling attention to these important elements, which helps to create a more fully lived in, credible atmosphere. This, in turn, allows the performances to shine even brighter.
As for those performances, it's impossible not to begin with Eisenberg, for not only is he the star of the show, but he does something quite revelatory this time around. Though he could have easily played Sam in the same way that he's played so many characters before, a slight variation on the frazzled and too-uptight-for-his-own-good sad sack (say, in Adventureland or The Squid And The Whale), he doesn't resort to those reliable tactics here. This is a real performance. Eisenberg's face, posture, and delivery reveal the weight of Sam's predicament, and not just with regards to the drug dealing; it expresses his lifelong torment of being raised in such a cloistered religious environment.
Then there's Justin Bartha, who plays Yosef Zimmerman, the renegade Hasid who lures Sam into the trade. During the movie, I felt like I was witnessing the star-making breakout performance of 2010, only to learn afterward that Bartha had already made a name for himself in… The Hangover? Seriously, is this really that guy??? As the loose cannon Yosef, Bartha exudes a friendly charm, another decision that helps to keep the film grounded in the real world. Credit the actors for playing against type so well, but also credit Asch for trusting in their ability to do so. (And, yes, Q-Tip is solid as well, though Danny A. Abeckaser and Jason Fuchs are true standouts.)
All of these factors point to that ever elusive and ever important word: tone. And that is ultimately where Asch succeeds with Holy Rollers, a film that exists in that tricky space between comedy and drama. It is both serious and funny, yet Asch never uses the period elements for obnoxiously comic purposes (for example, only New Yorkers will get that the topless woman on television is Robin Byrd; it's historically accurate but rather than call attention to it, Asch remains focused on the task at hand). These small details are not insignificant; they make all the difference in the world. And even if the movie appears to wrap up abruptly, that too provides a jolt of relief, for at that point it's over and, man, they actually did it!
— Michael Tully