(I can't believe I'm saying this, but Magnolia Pictures is releasing Harlem Aria in New York City at Cinema Village on Friday, March 5, 2010. Visit the film's official page at the Magnolia website for more information… though certainly not enough.)
On the night of February 25, 2010, I sat down to watch a screener of the new Magnolia Pictures theatrical release, Harlem Aria. But as soon it started, I knew something was wrong. This had happened to me before. One time, I bought a VHS copy of Robert Altman's Fool For Love at Best Buy, only to open it and discover some crappy third-rate cop drama inside. That must have been what had happened here. By some freak occurrence, instead of the actual new release, a harmless mid-'90s low-budget NYC movie had somehow snuck into the envelope. I might have even seen it before. It felt familiar in that cozily nostalgic daytime-channel-surfing-and-settling-on-HBO-2-while-eating-a-bowl-of-cereal sort of way. Anyway, I went to the Magnolia website to find out what Harlem Aria was actually about only to realize… this was the right movie? Say HUH?
Confused, I regrouped, threw on my detective gloves, and got cracking. First stop: the IMDB. According to the film's "release dates" page, Harlem Aria world premiered at the 1999 Toronto Film Festival. It subsequently screened at a few smaller fests over the course of the next few years, before… nothing else. Say HUH??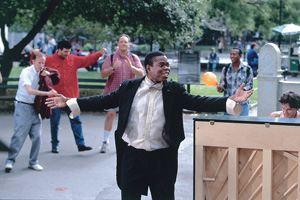 Next stop: Google. (For what it's worth, I obviously began with the official press notes for an explanation, only reading them added to the feeling that I had been transported into my own low-rent mid-'90s time warp comedy—there was no acknowledgment of the ten-year delay from premiere to theatrical release!) Immediately, Google delivered its own revelation. It turns out there had been another Harlem Aria festival appearance. It screened at the… 2009 Woodstock Film Festival? Say HUH???
Ladies and gentlemen, the year is 2010. We are living at a time when there are more new movies being made than ever. I could come up with a list of twenty solid titles that I've seen in the past two years but which currently don't have distribution deals. And on Friday, March 5th, at the Cinema Village in New York City, Magnolia Pictures is releasing Harlem Aria. Say HUH????
Seriously, what is going on here? Are we supposed to watch Harlem Aria as if it's just another new theatrical release in 2010? Are we supposed to ignore the fact that we're watching a comically dated movie whose sensibility is from a completely different era? Am I supposed to just review this movie like there's nothing strange about it? Is there someone out there who will pay twelve dollars to watch this thing in a theater? Is there anyone who won't notice that this film was made in a pre-September 11th, 20th century New York City? Say HUH?????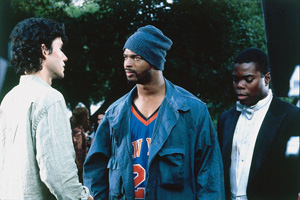 Let me try to play along and give a brief plot rundown. Bit television actor Gabriel Casseus (CSI, Grey's Anatomy, 24) is Anton, a stammering Harlemite who fantasizes about becoming an opera singer. But being black and lower class makes this fantasy feel like an impossible dream (remember, this was when the idea of a black president was unfathomable, this was 1999!). Anton's life takes a new spin when Wes (Damon Wayans) latches onto him and he befriends a Washington Square Park piano player, Matthew (Christian Camargo). Wes is a street hustler with a racial chip on his shoulder, and Matthew isn't reaching his true potential. Anton gets caught in their snippy crossfire. Hijinx ensues.
You know what? I can't do it. I can't ignore the fact that the character of Matthew is played by Christian Camargo, who recently appeared on screen in The Hurt Locker and is currently starring in Sam Mendes's Bridge Project productions of As You Like It and The Tempest at BAM. I wonder what he thinks of the unexpected resurrection of this film, particularly at a time when he's having New York Times articles written about him for his recent success. He certainly isn't bad in Harlem Aria, but it's also not something he probably wants to acknowledge if he can help it. ONLY NOW IT'S PLAYING AT CINEMA VILLAGE! Was there a press junket day for this movie?
Another question, aided by the flavor of hindsight: did Paul Potts get his hands on a bootleg of Harlem Aria and use it to inspire him in his breakout performance of "Nessun Dorma" on Britain's Got Talent? Because the finale of this movie is eerily similar to Potts's explosive introduction to the world on that show.
I really don't know what's going on here, and I thought that I would post this confused rambling before contacting someone at Magnolia Pictures directly. Though part of me is scared to do that, for what if they act like I'm a weirdo and nothing is strange or out-of-the-ordinary with this situation? What if they assure me that Harlem Aria is, in fact, a new release? Somebody help me!!!
— Michael Tully