FIDDLESTIXX (EPISODES 1-3)
Austin-based The Zellner Brothers' sense of humor deserves its own adjective. Whether they're working in short form or long, their comedy manages to be both preposterously zany and bluntly dry at the exact same time. But it's many more things, too: absurd, bizarre, abstract, slapstick, goofy, smart. That's why one traditional adjective doesn't cut it. If forced to come up with one word to describe their tone, maybe, just maybe, that word would be Zellner.
On the heels of their character meltdown comedy Goliath, David and Nathan Zellner partnered with the folks at Atom Films to give this crazy new fad of webisodes a try. The result is Fiddlestixx, a three-part series (at least for now) that contains the most eye-popping display of special effects dementia I've seen since Todd Rohal's video for Ola Podrida's "Lost and Found."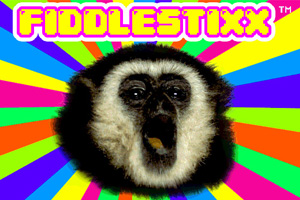 To describe each episode would be an exercise in futility, for the Zellners have gone to great, uncharted lengths to make every second be an assault to the senses. Fiddlestixx is about eighteen different sitcoms mashed into one. What I can say is that there is monkey named Fiddlestixx who is the star of the show. Also, there is a laugh track, as well as those aforementioned, intentionally inept special effects combinations that must be seen to be fully disbelieved.
Highlights include: the last minute of Episode 1: Brain Powerz, in which Fiddlestixx uses his disturbed brain magic to set the world on a short-circuiting tailspin; the verbal wordplay unleashed in the courtroom in Episode 2: Habeas-Schmabeas; and just about every second of Episode 3: Larry Blindon, in which the Zellners pay a severely twisted and deformed tribute to Barry Lyndon.
I've already written too much. This review should have simply been a link to the Fiddlestixx website. For those of you who watch this latest Zellner Brothers creation and scratch your heads in confusion, you need to realize that Nathan and David Zellner are carving their own wholly unique path in a genre that typically errs on the side of caution. They are going where no men have ever gone before.
— Michael Tully