($5 Cover is now streaming for free online at mtv.com. They also have a blog that provides much more insight into the Memphis music scene.)
At the 2009 Sundance Film Festival, writer/director Craig Brewer (The Poor and Hungry, Hustle and Flow, Black Snake Moan) gave a sneak peak of his upcoming MTV web series down in the curtained basement of New Frontiers. $5 Cover is comprised of thirty eight-minute webisodes that feature a different Memphis musician going through a normal day leading up to the performance of a song. As in all of Brewer's work, the true reality of living life on the edge of poverty is vividly conveyed and the struggle to make ends meet is inseparable from the struggle to create music.
The bite-size episodes (Brewer calls them 'tracks') combine reality-based drama with music performance in a tight compact form that often makes it feel like you are watching a mini-movie. This is due to the fact that the reality episode we witness is often a riff on the lyrics we hear the musician singing in the performance. In that sense each 'track' has a dramatic arc, which maximizes every minute with cumulative power as we gain more and more insight into both the artist and their lifestyle. By the time we get to the song performance we know the background of the lyrics because we have just lived through the musician's life, which inspired the song.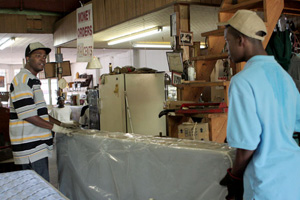 In the first episode (A New Drummer), upright bass player/singer Amy Lavere is shocked to discover her boyfriend/drummer has been sleeping with her roommate Clare Grant (episode 2's Head Change), forcing her to find a last minute replacement in order to record her latest song about, appropriately enough, wanting to kill the man she loves. In my favorite episode, Skills of the Father, a father tries to get his teenage son, AJ, to understand what a day of hard labor is like, but the son won't have any of it. AJ wants to be a gangster rapper, which makes his father laugh, since he's actually the kick-ass rapper Al Kapone. While recording a new jam, he gets his son to add his own verse in order to test his skills.
Though this general premise could result in something painfully akin to The Real World: Memphis, it's amazing that the series instead feels genuine and extremely engaging. All of that is due in no small part to the fact that Brewer is a real film director and not a cheesy music video hack, and that the subjects of each episode are smart, talented, distinctive individuals and not boring wannabe American Idol stars. In that first episode, which is only eight minutes long, we get a genuine feel for who Amy is: fiercely independent, stubborn, vulnerable, strong, and dedicated singularly to her music. Yet the episode is not really a documentary because Amy and the other players (actual Memphis musicians and scenesters) are acting, and the dramatic situations are shot in reverse angles with a carefully placed camera. So either all of these musicians are also great actors, which may in fact be the case with Amy, or Brewer is just a wizard in getting consistently honest performances from non-pros. Either way, we are treated to a true insider's view of life in Memphis as a struggling musician.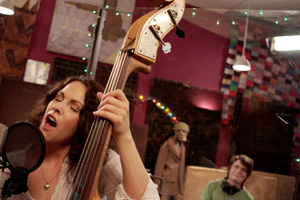 In $5 Cover, there are countless scenes of actual musicians creating, shaping, and refining their music. If you have ever seen Hustle and Flow, you know how well Brewer can bring the act of making music to life. Whatever you think of that movie, those moments in the studio are some of the most effective and dramatic scenes of creating music ever filmed. We are right there with these artists to hear the track build, fail, and then soar. To the outsider, the process may appear boring, but to someone like Brewer, there is drama in the constant rewriting, refining, replaying, and he knows how to build the drama through the accumulation of these musical layers. He makes the songwriting process the crux of his story.
$5 Cover is also a massive love letter to Memphis, one of this country's greatest cities. Brewer loves his town and this series allows him to turn the camera on the reality of its many brilliant struggling musicians. It's regional drama at its finest.
— Mike S. Ryan