(Spring training is well underway, and it's already a few days into Calvin Marshall's six-day run [3/26-4/1]—at Harkins Theatres' Chandler Fashion 20 and Scottsdale 101 14 in Arizona, but it isn't too late to buy a ticket to support a very noble cause. Director Gary Lundgren and Broken Sky Films have partnered with seven different charities and is donating 50% of the box office receipts to those charities (they're pitching it as "7 Days/7 Charities/1 Great Movie". They include: The Miracle League, Arizona Baseball Charities, End Polio Now, Project C.U.R.E., Big Brothers Big Sisters of Central Arizona, Workshops for Youth and Families, Arizona Academic Decathlon. Visit the film's official website to learn more.)
Gary Lundgren's Calvin Marshall is not one of those movies that is going to rock your world. It's a story that has been told many times before, and it doesn't reinvent the wheel. But for those viewers who realize this was never Lundgren's intention and who understand that it's hard enough these days to discover a low-budget independent drama rooted in an earlier era that succeeds in the most important ways—writing, directing, acting—it will more than do the trick.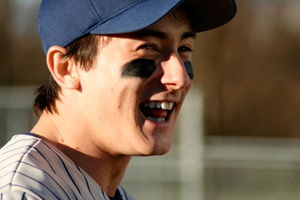 Calvin Marshall (Alex Frost, who looks more and more like a young John Cusack every day) is one of those unfortunate souls whose life is consumed by baseball. But before he can get to the Major Leagues, he must first make his local junior college team, the Bayford Bisons. Herein lies the problem. Unfortunately, for all of his work ethic and smarts about the game, Calvin is awful. He seems to lack the coordination necessary to fill the team's water bottles. Lundgren sets this up well from the very beginning, showing Calvin's early morning routine so that we don't just think—but expect—that we're about to watch a stud walk out onto the diamond. Only… not quite.
The team's manager, Coach Little (Steve Zahn), at first seems like the type of brusque, but warmhearted, former player who has made peace with his new role as the manager of a small town ju-co squad. But as we get to know him better, it's obvious he's at anything but peace. Early on, Coach Little is forced to cut Calvin, but he lets him stick around the locker room because he knows how much it means to him. Later, when his alcoholism and bitterness leads him to pursue yet another student—a sad pattern in his life—the triangle in this equation is completed.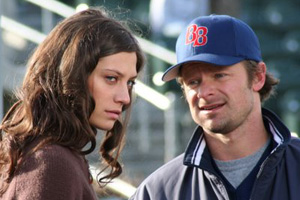 Even on a big campus, Tori Jensen (Michelle Lombardo) has the type of striking presence that would make everyone say, "Wow." Tall, beautiful, and exceptionally gifted on the volleyball court, Tori would be an All-American at a Division I school. But her mother is sick and so she's chosen to put her future on hold in order to take care of her. Of course, when Calvin sees Tori, it's all over, and he begins to pursue her in his own scrappy way. Unfortunately, this means resorting to one of his unconscious tricks—lying about his athletic prowess—so that when the truth comes out, the bubble of their budding relationship inevitably bursts.
Re-reading the above few paragraphs makes it sound like we're in dangerous TV-movie terrain here, but Calvin Marshall's ace in the hole is, in fact, three major aces: the performances of Frost, Zahn, and Lombardo. Frost shows a commitment to character that proves his discovery by Gus Van Sant in Elephant wasn't a fluke. Based on this role alone, he is here to stay. Or he should be. Unlike so many actors from his generation, there is not a hint of vanity in what he does. As for the always watchable Zahn, it's refreshing to see an actor with his creativity get to play this type of part. He turns a two-dimensional archetype into a living, breathing, real person. And then there's Lombardo, whose beauty is almost an unfair strike against her, but she too exhibits a commitment that turns a viewing distraction into an accepted character trait (and not to mention the clear realization that she's a gifted volleyball player in her own right).
Calvin Marshall is probably most likely going to appeal to viewers who love sports movies of every shape and form, but Lundgren doesn't rest on those laurels. He has crafted an effective human drama that gives each character the space and time to develop and grow, to rise and fall (and rise again), to be who they really are. The independent film world could use more like it.
— Michael Tully