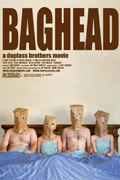 (Baghead opens in New York and Los Angeles today. Visit the film's official website for more information and to watch the trailer.)
With Baghead, the Duplass Brothers have taken a fresh and wily leap forward while retaining the intimate spirit that made their mini-breakout hit The Puffy Chair and award-winning short film The Intervention such delights. Those previous works found the siblings delivering portraits of twenty-something confusion with a flawlessness and hilarity that felt realer than reality television. So where does an on-the-verge-of-full-blown-breakout brotherly duo go from there? How about Genre Land, that predictable place where situations and plotlines and characters play themselves out like tired retreads of films we've seen countless times before. Only this time around, Jay and Mark Duplass have brought their exceptional gift for insightful, naturalistic comedy/drama (and now thrills) to the party, resulting in a film that works on a multitude of seemingly disparate levels. A satire of the independent film world and twenty-something life in general? Check. A biting expose of the awful dynamics that tend to poison friendships? Double check. A scary figure with a bag for a head to deliver legitimate thrills? Triple check. While Baghead contains elements of films we've seen before, it is the Duplass Brothers' commitment to hyper-naturalism and honest human interplay that makes it feel more like real life instead of just another "movie."
The most dangerous target of satire in independent filmmaking is independent filmmaking itself. This cannot be denied. Fortunately, the Duplass Brothers realize this. Rather than make their entire film an unfunny mockery of this subject, they get it out of the way early, as their four lead characters—all aspiring actors—suffer through a horrifically awful short film at a low-rent Los Angeles film festival, which inspires them to head to a cabin in the woods to write a screenplay that will allow them to fully showcase their talent. Many features have been made using this as the film's one-and-only premise, a suicidal concept that exhausts itself before the ten minute mark has been reached. But that's where the Duplass Brothers are different. This is just another tiny layer for them to sprinkle into the mix. They have their fun with the subject, in the opening scene and soon after, in a hilariously pathetic brainstorming session that results in no good content whatsoever, but then they abandon that subject to focus on more pressing issues (although things come unexpectedly full circle in this regard too).
The less said about the horror aspect of the film, the better. However, it should be noted that whenever the film turns from breezy comedy to heart-stopping thriller, it turns. Instead of using the tried-and-true formula of foreshadowing, the Duplass Brothers lull viewers into forgetting that another genre is about to jump onto the screen. By that point, it's too late. Without any warning, the humor is gone and the terror has arrived.
While this effortlessly inventive shifting of genres makes Baghead so exhilarating, it is the incisive—and cringe-inducing—depiction of the ugliness in friendships that makes it stand out even further. In capturing the awful state of jealousy experienced by Chad (Steve Zissis) with regards to his buddy Matt (Ross Partridge), the Duplass Brothers have crystallized a universally maddening feeling. Chad may be funny and sensitive, but he's short and paunchy. Matt, on the other hand, is tall, handsome, and can seemingly get any female he wants. Chad has learned to accept this as an unwavering fact, but when he realizes that he has genuine feelings for Michelle (Greta Gerwig), the jealousy begins to burn, and that's when things get complicated. These are the situations and moments when the Duplass Brothers' talent begins to fully shine.
Clearly, the role of Matt was written for Mark Duplass, who has a magnetizing and immediately likable screen presence. Which is exactly why he shouldn't have played Matt (contrary to what many people might think). Partridge carries himself with an air that reeks of danger. Something about him makes you think, This guy would sleep with my girlfriend without blinking. For viewers to truly feel Chad's burning pain—and we do feel that pain—an actor like Partridge needed to be cast. Though he's already got a girlfriend in Catherine (Elise Muller), it's obvious that Michelle is attracted to him and he would love nothing more than to seal that deal as well. Partridge is perfectly cast—as are Gerwig, Muller, and especially Zissis. The Duplass Brothers have an uncanny ability to extract performances that don't feel like performances at all.
In keeping with their previous work, the Duplasses use an immediate, visceral, hand-held approach that makes Baghead play more like a home video than a theatrical movie. The image appears to be in a constant battle with itself to find focus, which adds another, perhaps unintentional, layer of tension to the proceedings. While shot on high-definition video, the finished film was transferred to 35mm, and the colors are saturated in a manner that makes it feel like a lost low-budget horror film from the 1970s. A scene of the characters wandering down a woodsy back road, set to a creepily atmospheric score, is straight out of Last House on the Left.
Baghead is another impressive addition to the Duplass Brothers' oeuvre, a funny, insightful, and scary thrill ride that incorporates so many genres as to feel like its very own. One hopes that they continue to explore this striking blend of genre-reinvention without losing the intimacy that makes them so distinct. Science-fiction? Western? Film noir? Historical biopic? Why not?
— Michael Tully