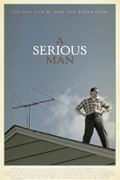 (Distributed by Focus Features, A Serious Man opens on Friday, October 2, 2009. Visit the film's official website to learn more.)
While it's often treacherous to throw around the term personal when discussing work in a medium as collaborative as narrative film, the Coen Brothers' most recent masterpiece, A Serious Man, does little to dispel the impression that it means more to them than much of their recent work. At the height of their powers and popularity, unleashing their technical and syntactical virtuosity on an intimate story with no movie stars is rather ballsy in its own right, but to do so with such clearly self-revelatory material encompasses another level of courageousness entirely.
A Serious Man meditates on the Job-like misfortune of one Larry Gopnik (an excellent Michael Stuhlbarg, who can also be seen in Afterschool this weekend), middle aged academic, devoted if somewhat remote Jewish father and family man, wannabe mensch, who lives in an unnamed Minneapolis suburb circa 1967. That is to say, A Serious Man meditates on the life and milieu of someone who well could have been this brave and endlessly inventive duo's father (who happened to be a Minnesotan, an Academic and a Jew).
After a brief prologue detailing a fake Yiddish folk tale in an unnamed 19th century polish shtetl, we are thrust into Larry's seemingly idyllic suburban existence. This is an American movie however, so something ugly is surely lurking below the sleek suburban façade. Despite the petite bourgeois trappings of his fairly mundane but generally satisfying family life, life is suddenly very hard for Larry. From all appearances, God is no longer looking out for this chosen one.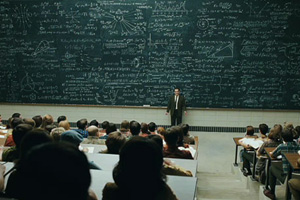 Larry's wife wants to leave him for his more "serious" (i.e. golf playing, wine drinking, affected speech using) friend Sy Abelman, while his high school aged kids steal money from him for marijuana/Jefferson Airplane albums (the boy) and a clandestine nose job (the girl). They share little to no affection for each other. His unemployable, neck cyst draining brother Arthur is sleeping on his couch, perpetually in the bathroom, and may be a (shush…) homosexual. Larry is up for tenure at his University job, but an anonymous author is writing letters to the tenure committee suggesting that his "moral turpitude" should prevent him from getting the promotion. A wealthy Korean student who has recently failed his physics class tries his best to bribe Larry. His neighbor, a tough looking, dusty blond haired Goy whose American Manhood is cemented in the brusque way he plays a game of catch or prepares to go hunting with his son (you just know he was in Korea from the way he looks at a Korean student's father when he visits Gopnik—"Is this man bothering you?", the solidarity presented by the new Jewish whiteness slowly becoming manifest), keeps mowing the lawn just a little past the property line. Oh yeah, and he's got to take these X-rays…
A Serious Man suggests a suburban Jewish community of cookie cutter houses and manicured lawns that is largely cloistered from the fallout of the 1960s, although not immune to the "new freedoms" as one pot smoking, sex symbol masquerading as a housewife puts it to the recently estranged and horny but to0 passive to do anything about it Mr. Gopnik. This is a place seemingly untouched by the Civil Rights Movement and the Six Days War, contemporaneous events that indirectly but rather permanently changed the Jewish people's place in the American lexicon. Trying to blend in with the mainstream of American society while maintaining their own ethno-religious communal identity far from the Jewish cultural centers on the coasts, it paints a portrait of a community grappling with its impending inclusion into the comforts and privileges of American Whiteness, even as the stark shadow of persistent persecution looms in their psyches, perpetually spoiling the joy. As darkly funny as the tandem's most broadly comedic work, while remaining as thematically resonant concerning the pitfalls of an overmatched man in a changing America as No Country for Old Men, the treasures of A Serious Man are universal. Here's hoping that it doesn't seem too parochial for the masses.
— Brandon Harris