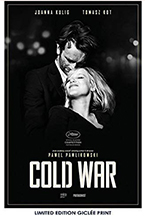 (Cold War, Pawel Pawlikowski's follow up to 2015's Oscar Winner for Best Foreign Film Ida, reaches screens this weekend and is highly anticipated. Like what you see here on Hammer to Nail? Why not pay just $1.00 per month to help keep us going?) 
Polish director Pawel Pawlikowski's Cold War has the great virtue of offering wholly unexpected plot twists in a passionate period drama where emotions belie the title and run hot all over. Shot entirely in rich black-and-white tones and formatted within the classic square Academy ratio (as was the director's last film, the Oscar-winning Ida), the movie looks like a throwback, yet feels thoroughly modern in its treatment of the central relationship, particularly in the way it uses sexual politics as a metaphor for realpolitik. Detente has never been so deadly, nor so perverse.
We begin in 1949, with folklorists Irena (Agata Kulesza) and Wiktor (Tomasz Kot) recruiting performers for a troupe that will celebrate the Polish peasant culture of the brand-new communist state. One such auditionee catches Wiktor's eye: young Zula (Joanna Kulig), who seems almost bored by the process, yet will jump at any opportunity to escape her home life (it is rumored she killed her own father when he forced himself on her). She has considerable talent, however, and soon the worldly Wiktor (also the group's musical conductor) is head over heels. He's ice to her fire, and vice versa, and over the course of Cold War's brisk 88 minutes, we observe as they attract and repel the one and the other, never able to be together, yet also never able to be apart.
Traversing Europe from end to end, Wiktor and Zula meet finally in Paris in the late 1950s, only to find that life in the libertine West is not as exciting as it seemed. Such is the sometime-fate of those accustomed to chains: their removal is less liberating than expected. What the couple does in response to disappointment will surprise, and then surprise again. Credit Pawlikowski (interviewed HERE by our Matthew Delman) with a wild imagination, a firm commitment of purpose, and a brilliant command of mise-en-scène, even if the net result of these masterfully juggled parts is more spectacular than narratively satisfying. However one feels about the experience, it's a wild ride, and exciting to behold.
Kot and Kulig (together previously in the 2015 Disco Polo), especially, are impossible to look away from, the wax-and-wane disaster of their love a perfect pas-de-deux of joy and misery. What Wiktor thinks he wants is freedom and Zula, yet the two cannot co-exist; what Zula wants is success and Wiktor, yet the former diminishes the latter in her eyes. Back and forth and around they go, circling each other like predator and prey, changing roles over time and location. Whatever my issues with story, I could watch these two all day.
– Christopher Llewellyn Reed (@ChrisReedFilm)
Like what you see here on Hammer to Nail? Why not pay just $1.00 per month via Patreon to help keep us going?