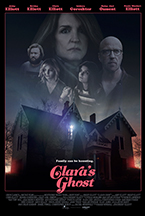 (The Hammer to Nail team LOVES Bridey Elliott and are thrilled her comedy/drama ghost story film Clara's Ghost is in theaters and on VOD now! This is review number two of Ms. Elliott's film here on HtN. Like what you see here on Hammer to Nail? Why not pay just $1.00 per month to help keep us going?)
The family that drinks together, stays together. Or perhaps it's more like (with apologies to Tolstoy) "all happy families are alike; each drunken family is drunk in its own way?" Irrespective of pithy twists on well-known phrases, there's no question that alcohol (with some marijuana thrown in) plays a big role in Clara's Ghost, the feature-directorial debut from actress Bridey Elliott (Fort Tilden). Starring sister Abby Elliott (Better Off Single), father Chris Elliott (The Rewrite), mother Paula Niedert Elliott (as the titular Clara, in her first on-screen role) and Bridey Elliott, herself, it's very much a family affair. Haley Joel Osment (forever linked to his breakout boyhood role in The Sixth Sense) makes an appearance, as well, though, in an ironic twist, he is not the one who "sees dead people" here. Instead, these visions are all the property of matriarch Clara; by the end of the film it becomes clear that the true phantom is not a supernatural one, however, but rather the specter of addiction. The fact that the narrative is played mostly for comedy only makes its core message – about the lure and danger of substance abuse – all the more powerful.
We open with two stories in parallel, of the parents and children, each on a journey. Mom and Dad drive along a road, heading home, suddenly stopping to search for Clara's lost shoe (a ghost of its own), while daughters Julie (Abby) and Riley (Bridey) take a commuter train from New York to Connecticut, recognized at one point as the child stars they once were (another ghost, this one of the past). Soon, however, Clara will see an actual spirit – a woman in a white dress, following her, breaking into her home, and then inhabiting her body – though only after imbibing copious liquid spirits in the kitchen (her hand, in a shot so quick one might miss it, casually brushing up against Alcoholics Anonymous' Big Book as she pours a drink). Yes, husband, two children and the children's pot dealer (Osment) all guzzle their fair share of liquor, as well – and are probably not far off from an intervention of their own – but it's good old Mom who has the biggest problem…for now. Time for an exorcism.
And so Elliott (Bridey, that is), carefully constructs this hybrid haunted dramedy of possession and liberation with scenes of ribald humor and blatant celebration of the convivial joy of group inebriation while simultaneously undercutting their silliness with the sadness of solitary intoxication. Clara isolates while others mingle. The nominal reason is the ghost inside her, but that ghost is but a metaphor for the larger problem. Though an inexperienced screen actor, Paula Niedert Elliott is more than up to the challenge of carrying the film and the weight of that metaphor, ably assisted by her co-stars. The family that acts together, succeeds together. Between booze and cinema, I'll choose the latter.
– Christopher Llewellyn Reed (@ChrisReedFilm)
Like what you see here on Hammer to Nail? Why not pay just $1.00 per month via Patreon to help keep us going?