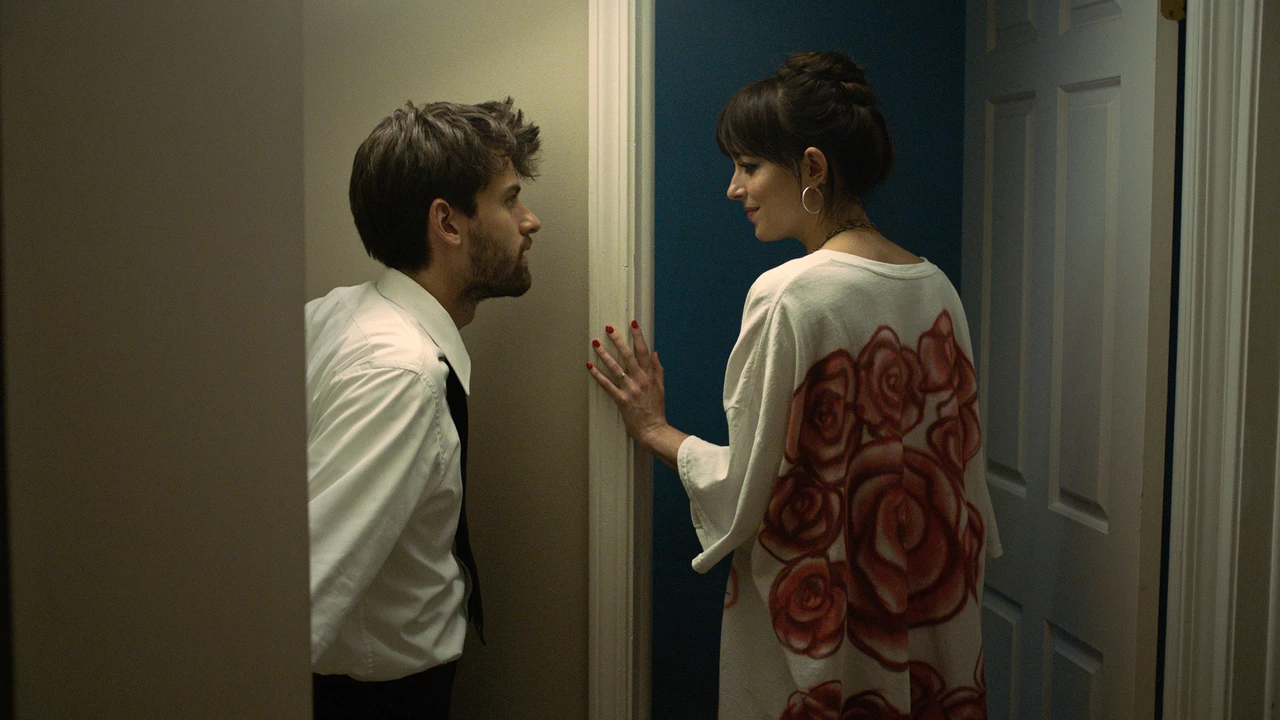 (The 2022 Sundance Film Festival runs January 20-30 all virtually. Check out Matt Delman's movie review of Cha Cha Real Smooth. Like what you see here on Hammer to Nail? Why not pay just $1.00 per month via Patreon to help keep us going?)
Everybody keeps saying how 24 year-old Cooper Raiff is such a "nice guy," at least in terms of his character Andrew in his sophomore feature Cha Cha Real Smooth. I don't think he is. He is kind of a punk. At his new gig as a bar mitzvah emcee, he threatens children and talks back at parents, gets drunk on the job and hooks up with an about-to-be married woman. Andrew is not a 'nice guy', but he is definitely a 'good person.' He may act impulsively, but his heart is always in the right place. Whereas his character in Shithouse –the SXSW-winner that catapulted Raiff into the spotlight—was somewhat passive, in Cha Cha he takes charge. It's a big step for Raiff as a performer, and an equally big step for his directing career. Dakota Johnson is superb as Domino, the struggling mom to Lola (Vanessa Burghardt), a 13 year old girl on the spectrum. But her starpower doesn't overshadow Raiff's Andrew, who is still quite boyish—though weirdly many male critics have been praising his jawline (?!?!) Their relationship is more appropriate than the one in Licorice Pizza, and a lot more emotional. So many movies these days are missing heart, which as we all know, is the core of the Cha Cha.
Now it's time to get funky…I won't spoil too much of the plot, but it revolves around Andrew and Dakota's Domino, which is a great name that only someone like her can pull off. It is not a paint by numbers Sundance coming of age flick, and it's the smaller details that make each scene truly memorable. Andrew stumbles upon Domino in a bathroom stall, covered in blood. He helps her clean up, and then finds her daughter Lola and they steal matching XL t-shirts from the party to cover her up and walk outside like nothing happened. The hookup scenes are pretty tame in comparison. Bar mitzvah party starters are naturally outgoing, but most don't have as much percolating on the inside as Andrew. He's ready to sob at any moment. Gen Z has found their overly supportive and sensitive hero.
What is most impressive about the film is the performances, each character with a fully-fleshed out arc. Leslie Mann brings a sweetness playing Andrew's bipolar mother, whose doing her best to keep it together. Their relationship in just a handful of scenes is quite touching. The brother's (Evan Assante) relationship is equally important, almost certainly the biggest tearjerker moment in the film. Even Greg, the stepdad, played by Brad Garrett, gets a big scene that wins us over. Finally Raul Castillo as a scorned fiancée adds gravitas to the proceedings, putting a face on the conflict.
Cooper has said in interviews that he looks up to Greta Gerwig, and I think with Cha Cha Real Smooth he has done a fine job emulating her while maintaining his own distinct style.  He seems to be having a lot of fun making these personal films. The soundtrack is really well curated, as is the bar mitzvah DJ playlists—though parents made complaints about a certain Cardi B song. My only complaint is there wasn't enough Cha Cha-ing in Cha Cha Real Smooth, but it's certainly worthy of an 'everybody clap your hands'. Cooper Raiff is the real deal.
– Matthew Delman (@ItsTheRealDel)
2022 Sundance Film Festival; Cooper Raiff; Cha Cha Real Smooth movie review