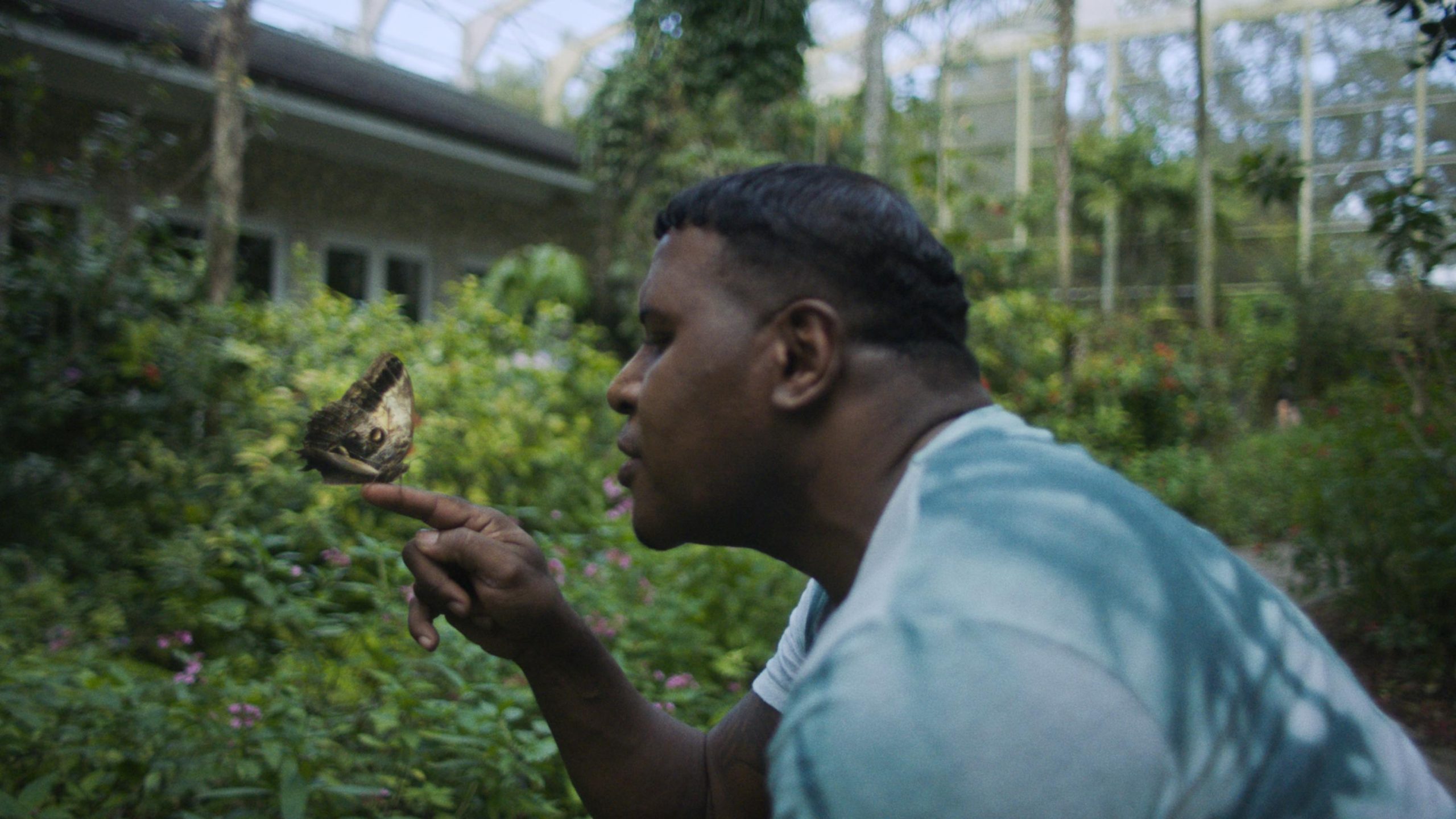 (Austin Texas' South by Southwest (SXSW) Film Festival runs March 10-19. Stay tuned to Hammer to Nail for our usual great coverage like this movie review of Caterpillar. Seen it? Join the conversation with HtN on our Letterboxd Page.)
Sometimes we have to go on a journey to find joy right where we started. A sense of identity is personal and can be in crisis when what you see in the mirror is not who you are inside. For David, this is someone with green eyes, like his father. A Black gay man who has a strained relationship with his mother goes to India to get lens implants. 
The newest documentary film from Liza Mandelup (Jawline), Caterpillar is a lens into a world of physical transformation to find who you are underneath. She also brings a scathing look at Bright Ocular, the company behind the popular eye implant surgery. 
The first red flag is the ease within which the company agrees to allow the surgery for free in trade for marketing. When David arrives in India he meets several others doing the same thing and they bond. But the flags begin to pile up, first with no real office for the company, strange marketing tactics for filming, and more. 
Including some gut-wrenching scenes of the actual surgery, one of his new friends goes before David. After an incision in her eye is explained away and the doctors dismiss her concerns, it is David's turn. While the surgery has some real red flags, David overall achieves what he wants in finding community and inner peace before the flags reemerge when his vision starts to have issues. The film may start with a man seeking happiness with external modification to beauty standards but instead takes us on a journey to seek real inner peace and to find the confidence to make bold choices. 
The film is cinematic in its documentary approach. As David's mother explains about her son, he values beauty over everything. The film sets the same tone, making beautiful choices in revealing the story. In the end, David makes a genuine choice to be happy. The eyes are just a byproduct. It touches gently on how society handles colorism and the struggle to be happy despite a world that focuses on judging each other. 
For those familiar with Toni Morrison's The Bluest Eye, the subtext of the documentary will feel familiar. In her story written in 1970, a young Black female feels inferior and ugly based on the whiteness around her. A desire for blue eyes is the solution to break out of the inferiority complex. With an homage to this tale, Mandelup takes us along with David as he thinks about his internal desire for change in a mixed-race family. But for Mandelup, she lets David come to his conclusions and realizations, never having a talking head explains how the audience should be reacting to his journey. 
While David has to find his answers, the air between interviews allows the audience to think about their flaws and how society sees each of us, and how they see each other. The camera is rarely approached from a camera-subject approach but Reflecting on his childhood friend, David strolls through New York honestly examining how his trauma in youth made him who he is and what seeking outside stimuli to feel accepted means for him.
– Melanie Addington
2023 SXSW Film Festival; Liza Mandelup; Caterpillar documentary movie review