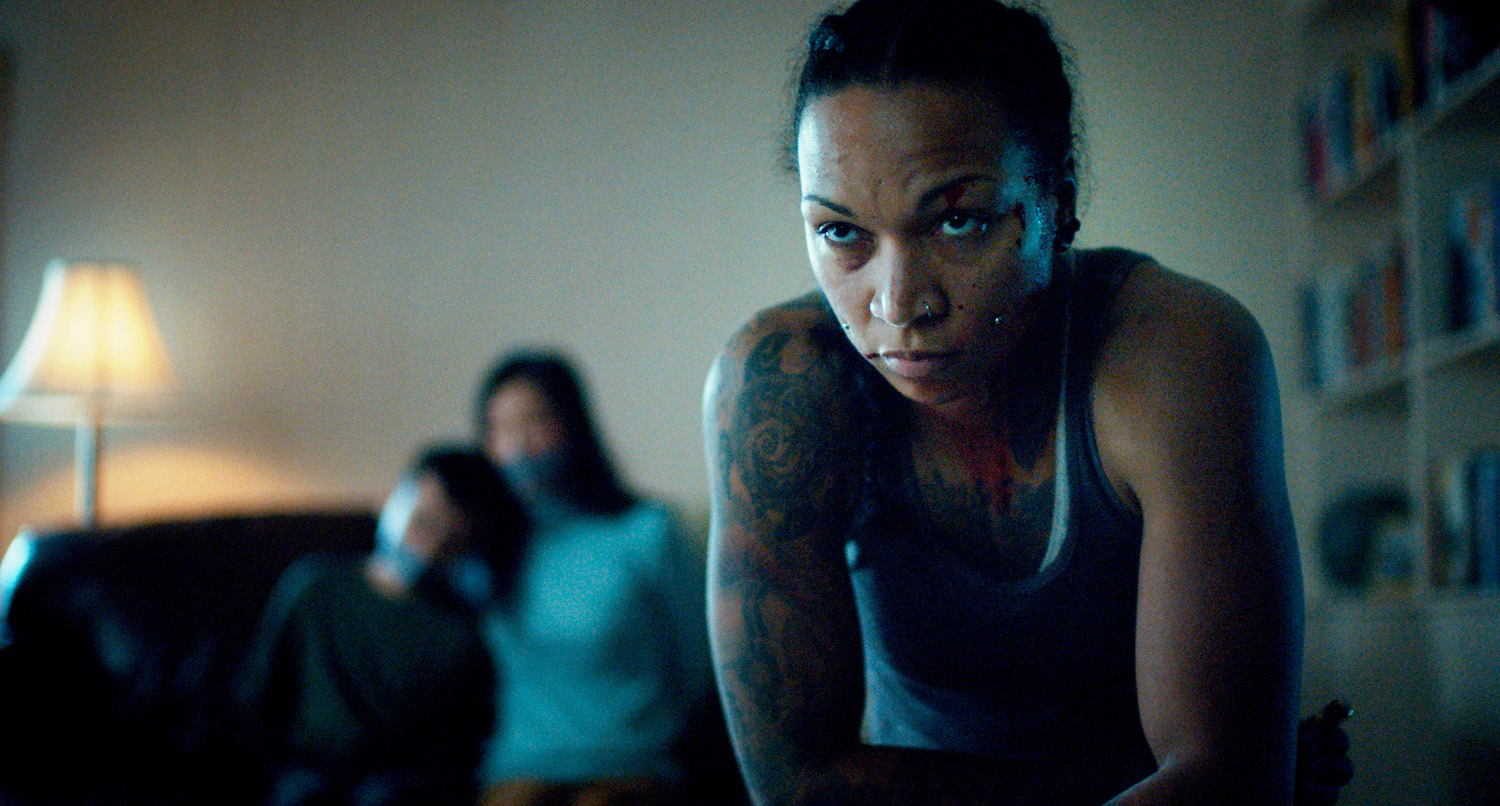 (The 2021 Tribeca Film Festival opened Wednesday, Jun 9, 2021 and ran all the way through Sunday, Jun 20. hammer to Nail has you covered with tons of coverage, coming your way! Like what you see here on Hammer to Nail? Why not pay just $1.00 per month via Patreon to help keep us going?)
When first we glimpse Kaylee, it's primarily in a series of close-ups and extreme close-ups of her hand and face, covered with tattoos and piercings, her gaze a determined mix of grit and power. She's a boxer, about to go in the ring, and her manager, Brick, is warming her up for the fight. The two women spar for a moment, and then we suddenly cut away, as if to a flashback or flashforward. Still, the image of raw determination remains, and if it feels genuine, that is because both Kaylee and Brick are played by professional boxers Kali Reis and Shelly Vincent, respectively. This is their world, and we're just visiting. So begins director Josef Kubota Wladyka's sophomore effort, Catch the Fair One, which plunges us into the sordid universe of human trafficking and, in this case, its racist underpinnings. 
Tense and gripping, the movie holds our attention all the way through, even if its ending doesn't quite stick (though it is evocative). After that opening, we find Kaylee – whose nickname is KO, just as it is for Reis in real life – in what looks like a halfway house, where she has been living as she recovers, we later learn, from drug addiction. When she makes her way to a group-therapy session, we assume it's her own 12-step program, until she follows the leader, Jaya (Kimberly Guerrero, Dogman), into her office, and we see that she has come to see her mom. It turns out Kaylee's younger sister, Weeta, was abducted some time back, and her disappearance has deepened the rift between Jaya and her first-born. "You wish it was me," spits Kaylee, before taking off with a plan in mind.
On her own, using only her wits and muscle, Kaylee is determined to find Weeta. Given the economically depressed region of upstate New York where they live, and the initial research she's done, it seems as if Weeta has been trafficked by men with a "Native" fetish (as they call it). Kaylee is half Native American and half Cape Verdean, but Weeta is all Native. And so Kaylee, through contacts, puts herself up for sale. It's the beginning of a desperate journey to the vicious side of humanity, with the likelihood of rescue and survival very low. Still, she jumps in, feet forward.
What then occurs is unapologetically violent, an exploration of human depravity that requires Kaylee to draw on strength beyond what she already possesses. If you like your revenge stories bloody, you won't be disappointed. Wladyka (Manos sucias), though, is interested not only in the carnage, but in who is committing it and towards whom. The (mostly) white (mostly) men who take what they think is rightfully theirs (it's not) get what's coming to them, though this is also no happy-ending fantasy. Everyone gets hurt, and the damage done hits us viscerally, as well. It's a harsh world: live, die, or die trying.
– Christopher Llewellyn Reed (@ChrisReedFilm)