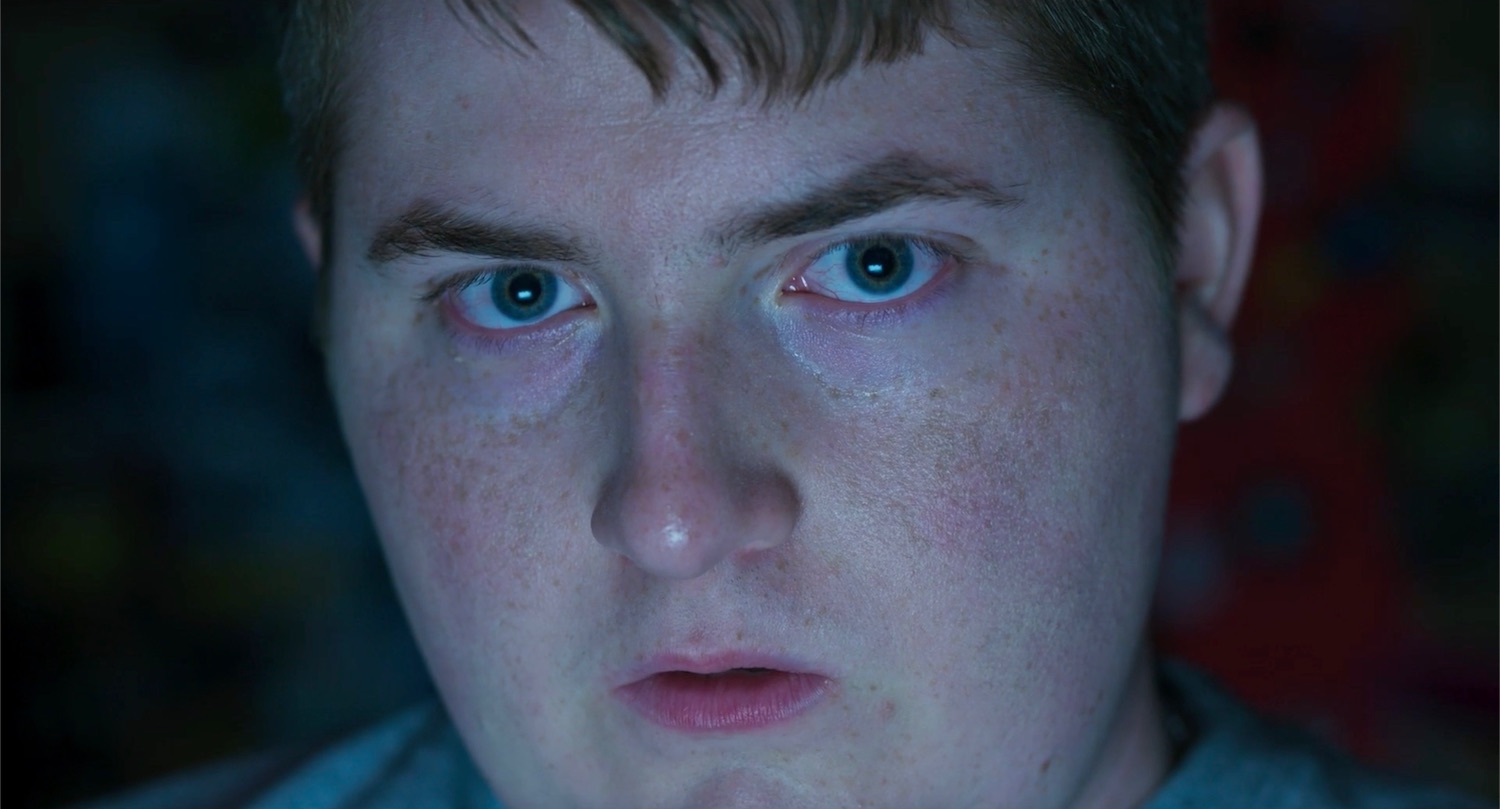 (Check out Chris Reed's review of the movie Butter, directed by Paul A. Kaufman and in select theaters now via Blue Fox Entertainment. Seen it? Join the conversation at Letterboxd.)
A film both tenderhearted and heavy-handed, Butter goes down easy enough, delivering equal parts drama and comedy. It also offers strong anti-bullying and body-positive messaging, director Paul A. Kaufman—a veteran of many a Lifetime picture, including his 2019 A Very Vintage Christmas—determined to right the wrongs of the world with every frame. That he more often succeeds than not is a tribute both to his skill handling sometimes tricky material and the performances of his fine young cast. The result may not be as smooth as butter ought to be, but still fills you up.
Alex Kersting plays the titular role, a plus-size high-schooler given his unfortunate nickname years earlier by a gang of bullies. A talented saxophonist, he nevertheless avoids playing in the school band for fear of opening himself up to the ridicule of classmates. Instead, he occasionally moonlights with the jazz combo of that band's teacher, the congenial and supportive Professor Dunn (Mykelti Williamson, Don't Let Go), though he shies away from making music in front of mom (Mira Sorvino, The Girl Who Believes in Miracles), her anxiety no help to his own self-confidence. She has reason to worry, however, as it turns out.
For Butter (whose real name is eventually revealed) has decided to take his own life by livestreaming his final meal on New Year's Eve. The plan is to eat himself to death, on camera, choosing not only copious amounts of food, but some to which he is allergic; add a large portion of alcohol, and he thinks that should do the trick. As soon as he creates a website to promote this desperate act and word gets around, he suddenly becomes popular with kids who would previously never give him the time of day.
But why now, and why such drastic measures? Well, he has an unrequited crush on a classmate, Anna (McKaley Miller, Ma), and one day as he rushes to her aid while she is pursued by the same mean guy who gave him his moniker, what started out as a nice gesture turns into an act of severe humiliation. He weighs 423 pounds and has diabetes, thinks everyone hates him, and then this. It's time to end things.
What Anna doesn't know is that Butter is the same young man behind the mysterious online friend she chats with every day. So, she already likes him, even if she doesn't realize it. Still, that act of duplicity on his part will later reap its own mixed rewards. In the meantime, the movie follows Butter's move from constant misadventures to actual adventures as the cool crowd turns their warm spotlight on him in the days leading up to New Year's. It turns, some of them actually enjoy his company. How about that?
Given the subject matter, it should be easy to imagine how the movie draws welcome attention to serious issues and simultaneously trivializes them. And then, once matters take an almost-tragic turn, come the speeches. Oh, the exposition, making sure we understand what's what! Though I have not read the eponymous source novel, from author Erin Jade Lange, I can only hope that she explores her topic with greater nuance.
Nevertheless, the overall package works. Kersting is endlessly appealing, and even if some of his costars overdo their own parts, his presence makes it all better. And there is genuine humor and joy, despite the maudlin histrionics. Not to mention that in a moment of true cinematic understanding, Kaufman handles the bleak circumstances of New Year's Eve with powerful delicacy. Butter therefore has its failings, but ultimately satisfies.
– Christopher Llewellyn Reed (@ChrisReedFilm)
Blue Fox Entertainment; Paul A. Kaufman; Butter movie review