Buster Keaton: The Shorts Collection (1917-1923) Blu-ray
About five years ago, Kino Lorber released a set of 19 of Buster Keaton's two-reel shorts that were produced between 1920 and 1923. At the time, they were restored as much as possible, and the collection had a wealth of extras, including visual essays, a featurette about the shooting locations around Los Angeles, and more.
Now Kino has put together a collection of five Blu-rays that chart Keaton's short film career over the course of 32 shorts produced between 1917 and 1923. The additional 13 shorts are the ones Keaton made with Fatty Arbuckle between 1917 and 1919, a two-year period that allowed him to hone his craft under the tutelage of a great comic actor before striking out on his own.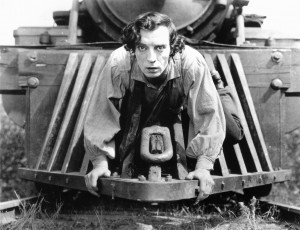 Unfortunately, Arbuckle's career was derailed by three trials he endured after being charged with raping and accidentally killing an actress. After two hung juries and an acquittal, he was free to go back to making movies, but he found himself ostracized. Meanwhile, Great Stone Face, as Keaton was known, was able to eventually branch out into feature films and made some of the greatest of all time, including his classic, The General.
All of the shorts in this new set underwent a new round of restorations, as detailed in the back of the included booklet, which includes the same Jeffrey Vance essay as the earlier set. However, it has some new material, including some comments from producer Serge Bromberg, who wrote a prologue and put together some notes about the newly rediscovered alternate version of The Blacksmith, which is featured in this set.
The other bonus features include:
A video introduction by Bromberg, in which he talks about the restoration process.
An alternate ending to Coney Island, which is, shall we say, politically incorrect, along with an alternate ending for My Wife's Relations.
A brief snippet from Life With Buster Keaton, a 1951 short film that he abandoned, in which he reenacts Arbuckle's "Salome dance" from The Cook.
The bonus materials found in the earlier set aren't here, so you'll probably want to hold on to it.
– Brad Cook (– Brad Cook (@BradCWriter))