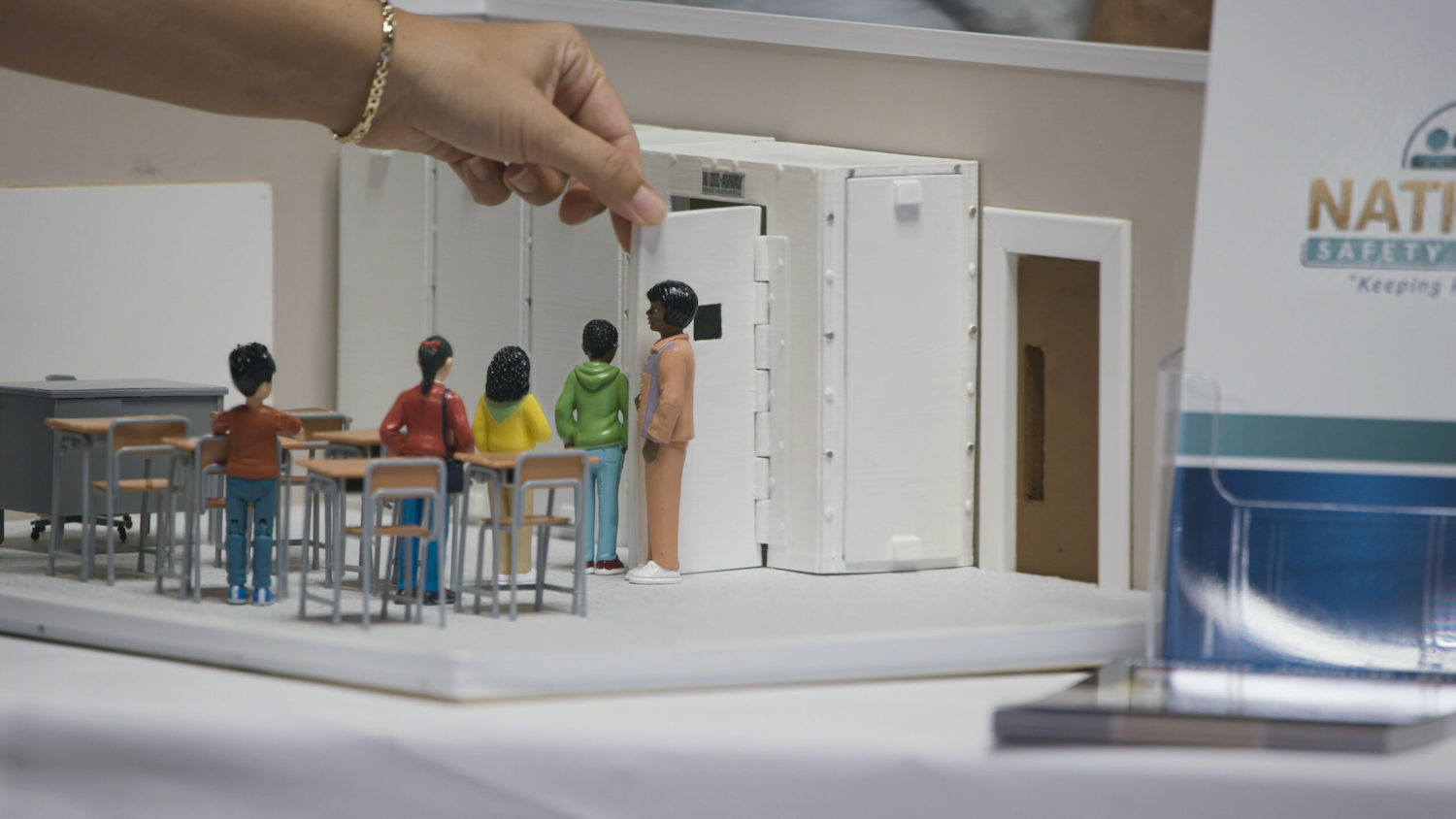 (Director Todd Chandler's new documentary Bulletproof is in select theaters now via Grasshopper Film. Like what you see here on Hammer to Nail? Why not give just $1.00 per month via Patreon to help keep us going?)
Tell me your country has a problem with guns without telling me it has a problem with guns. Such could be the mantra of director Todd Chandler (Flood Tide) in his new documentary, Bulletproof. Without resorting to accompanying text or formal talking-head interviews, Chandler takes us on a journey across the U.S.A. to visit various communities —especially schools — as they wrestle with responses to gun violence. It's not an easy conversation, but one thing is certain: many are discussing the wrong topic. If students and teachers have to worry about things other than curricular and extracurricular activities, something is quite rotten in the state of the nation.
"The wolf is in the henhouse," states a security officer at a high school in Texas, revealing one point of view about where the threats are perceived. Another says, "It's a war; it's a battlefield." A Pittsburgh policeman spouts disinformation about how antidepressants are the real danger. In New York, kids discuss the way lockdown drills cause their own form of serial trauma. Elsewhere, educators go through extensive training in the use of firearms. It's a happy, brave new world.
In Las Vegas, vendors hawk their wares in the vast convention center, including bulletproof whiteboards and desks. Even better are the panic rooms that, if purchased, would take up most of the space in most classrooms. In California's Bay Area, a former tech worker develops her own brand of hoodies, lined with Kevlar. Meanwhile, teenagers from Parkland, FL — site of the Marjory Stoneman Douglas High School massacre — plan and lead the 2018 "March for Our Lives" in Washington, DC. But why prepare for peace when there's money to be made from the opposite tack?
Not all of Bulletproof's onscreen subjects share the belief that more guns equal greater safety. One school official in Texas explains what he would do differently if he could do whatever he wanted with grant money received by his district. Instead of more cameras and checkpoints, he thinks classes on how to process emotions and better socialize would help the kids in more meaningful ways. But that's not what his state supports, and so those dollars deliver hardware, even if greater human connection is the true solution. 
Chandler gently guides us through the material, his editorial and cinematographic choices doing the work instead of commentary. Juxtaposing scenes from different locations and attitudes, he creates significance through the rhythm of his cutting. We learn more from close-ups on hands and discarded bullet casings than from formal statements. By the end, we have traveled the land and witnessed a variety of sincere, if disparate, approaches to our national nightmare. Watching the final images of this powerful film, with kids just being themselves, reminds us the destination we all desire. Getting there, however, will prove difficult.
– Christopher Llewellyn Reed (@ChrisReedFilm)
Grasshopper Film; Todd Chandler; Bulletproof documentary film review