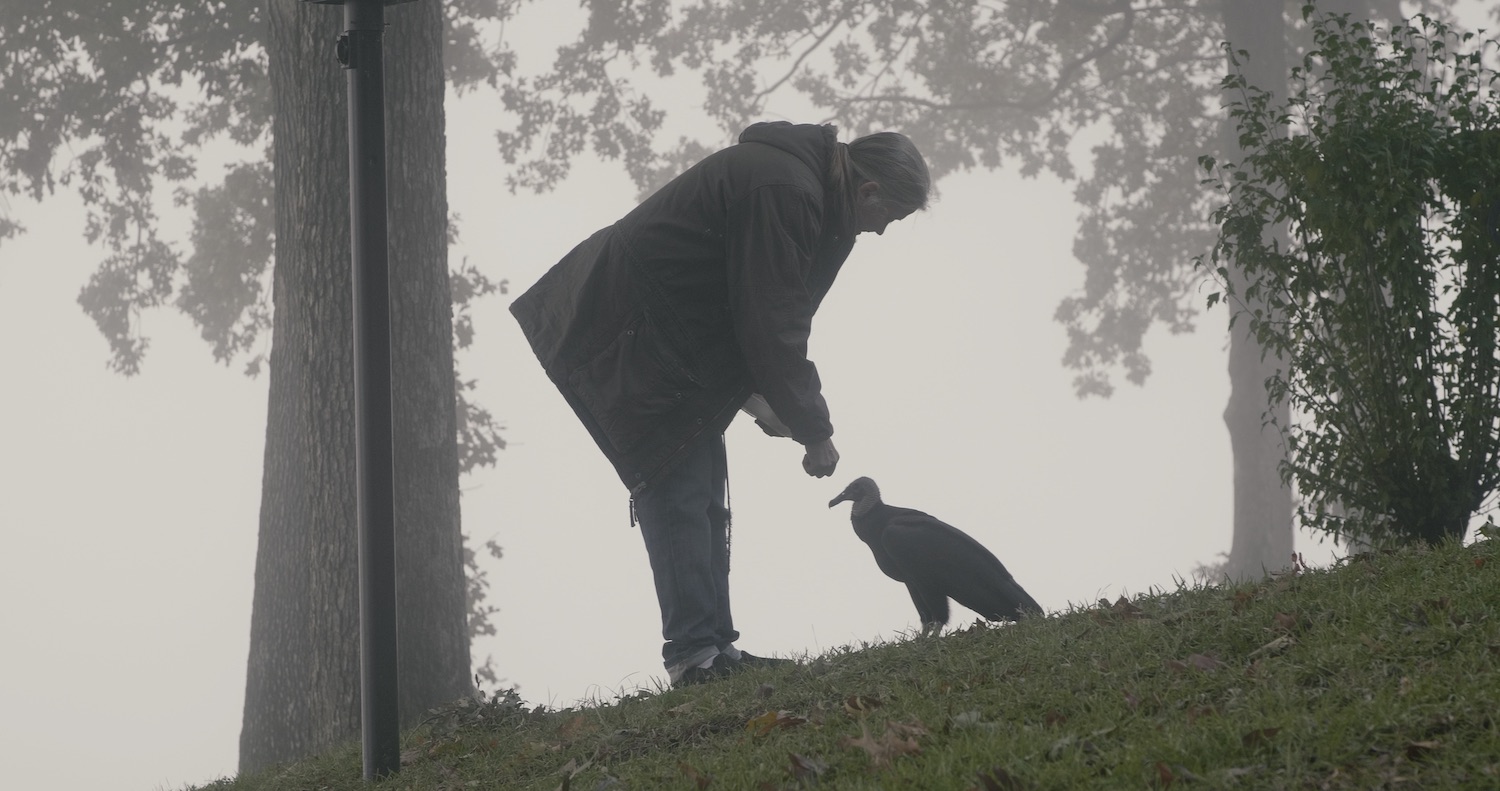 (Check out Chris Reed's this movie review of Broken Wings, airing now on PBS. Seen it? Join the conversation with HtN on our Letterboxd Page.)
"Vultures are the unsung heroes of our society." So states an early interview subject in Jonathan Sutak's inspiring second documentary feature, Broken Wings (following his 2018 debut, Dons of Disco). They eat the detritus of the world, the rotting corpses of roadkill and more. Many of us may find them less than physically appealing, but they are more than necessary. In fact, they are essential, and as one spends time with them, even kind of cute. At least Adonis is. He's the animal protagonist here, joined by human Jayne Lakhani, who has not only been his caretaker for the last decade, but has also illustrated a children's book about him.
And why does a wild black vulture need caretaking? Because, as the title suggests, he is missing part of his wing (the why of it a subject of much speculation). Unable to fly, he has made his home in the woods surrounding Hot Springs, Arkansas. Unfortunately, there's a lot of hunting and firing of paint guns nearby, and the noise proves disturbing. In need of new digs, he wanders afield, worrying Jayne and others. Will the owners of the condo development where he eventually takes up residence tolerate his presence (and droppings)? That is one of the many questions asked.
Others concern Jayne, herself, who spends upwards of $100 a week on food for Adonis, who can't exactly forage for himself anymore. She also lends support for a stray cat, Einstein, and a homeless British woman, Ann, to both of whom she has opened up her apartment. And all this on limited means (she works as a server in a local restaurant). She clearly has not only a heart of gold but the will to spread that treasure around.
Sutak introduces us to his characters, providing backstory for each. Jayne shares a history of accident trauma with her charge, which makes her feel an especial affinity for his injuries. He, meanwhile, though clearly (mostly) happy to see Jayne whenever she shows up (with meat), remains a fiercely independent creature, determined to have his own way, no matter what (just like the quarrelsome Ann). Amazingly, he stays in touch with his parents, who return at intervals to say hi. At one point, he even egg- and chick-sits for them.
Such reciprocal tenderness—and indeed, all of Adonis' many personality quirks—might come as a surprise to anyone who thinks of buzzards as frightening harbingers of death, and Sutak leans into his task of crafting a loving profile. As wonderful as our avian star may be, however, it's clearly Jayne who is the woman of the hour, resilient and compassionate to all in need. Like most films about animals, the lessons learned by watching teach us as much about humanity as anything else. Healing is always a beautiful process to behold.
– Christopher Llewellyn Reed (@ChrisReedFilm)