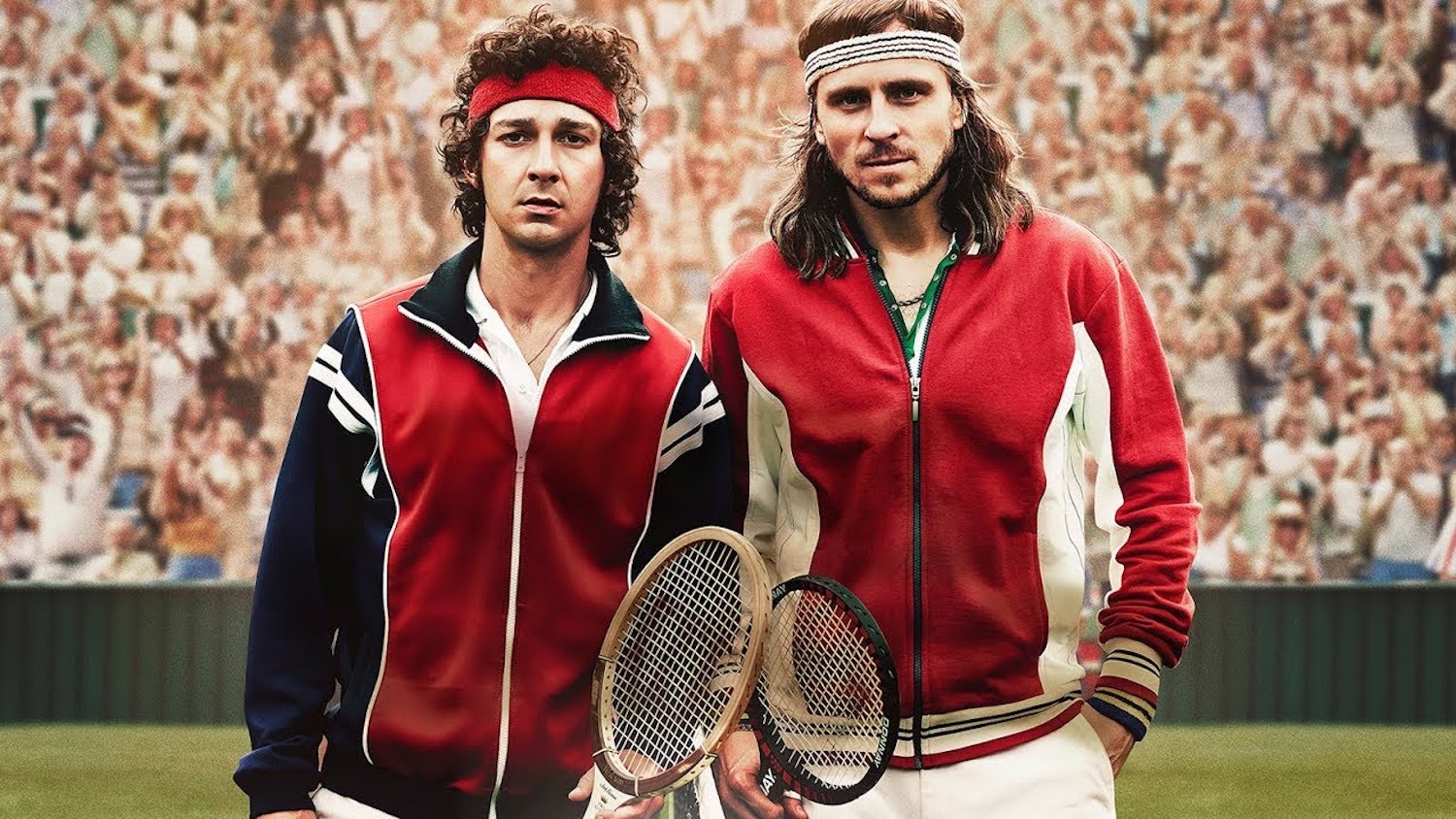 I could hyperlink every word in this review to a documented temper tantrum by former tennis champion John McEnroe and most likely still not cover the half of them. I am ten years younger than the man, and so came of age, as a fan of the sport, watching him destroy the conventions of decorum that had heretofore ruled the day. OK, sort of ruled the day: McEnroe was hardly the first, nor the last, to behave badly on the court. He just seemed to make an art of the hissy fit, a fact that follows him to this day, though he made his mark in many other ways, including winning 7 Grand Slam singles championships. In Borg vs McEnroe, a new docudrama that showcases the great 1980 Wimbledon Final between McEnroe and Swedish great Björn Borg, director Janus Metz (Armadillo) – making his narrative-feature debut – has cast bad boy Shia LaBeouf (Fury) as McEnroe. Talk about perfect casting! The rest of the movie is pretty solid, as well.
We start in medias res, as Borg – played with roiling restraint by Sverrir Gudnason (Blowfly Park) – and McEnroe face off in their fabled first final, tensions high, We then cut back in time to young Borg (played by Leo Borg, the actual Borg's son) making his way through the Swedish youth circuit, surprisingly just as volatile as his later rival would be. He's kicked out of the league, but then Lennart Bergelin (Stellan Skarsgård, King of Devil's Island) coach of Sweden's Davis Cup team, takes him under his wing, slowly teaching him to drain himself of all emotion when he plays. By the time 1980 rolls around, he is known as "Ice Borg," a perfect foil to McEnroe's "Super Brat." Still, there are fault lines appearing in his carefully managed poise, especially since, with a 5th consecutive win at Wimbledon – which this victory would give him – he would set a new record. With a pending marriage to Romanian tennis star Mariana Simionescu (Tuva Novotny, Annihilation) adding to his distractions, Borg seems all set for a nervous breakdown just when it would be least advisable.
Despite the title, this is really Borg's movie (which makes sense, since it's a Swedish production), though we do get enough of McEnroe's own backstory to establish some reasons for which he might be unable to manage even a modicum of impulse control. Gudnason does a wonderful job conveying Borg's internal conflicts, always on the seeming verge of reverting back to the tantrums of his youth. Skarsgård is his usual competent self, and LaBeouf reminds us of the promise of his earlier years. I wish Novotny had more to do, but she holds her own, as do the many supporting players. Director Metz and his cinematographer, Niels Thastum (In the Blood), shoot the film beautifully, each frame a carefully composed work of sumptuous splendor. And though the present-day McEnroe predictably does not like the result, I think it is well worth watching, both for fans of the game and of taught real-life thrillers. As the opening quote from Andre Agassi states, "Every match is life in miniature." This is real drama, indeed.
– Christopher Llewellyn Reed (@ChrisReedFilm)