BLIND WILLOW, SLEEPING WOMAN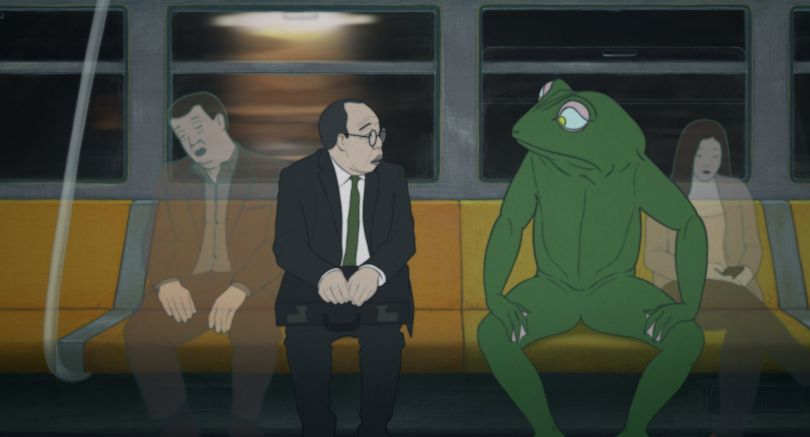 (Check out Ray Lobo's movie review of Blind Willow, Sleeping Woman which opens in theaters on February 20, 2023. Seen it? Join the conversation with HtN on our Letterboxd Page.)
Adapting the work of literary luminaries is never an easy feat. One need look no further than Noah Baumbach's recent attempt at adapting Don DeLillo's White Noise or David Cronenberg's earlier attempt at making a film out of DeLillo's Cosmopolis. The mixed reviews received by both films may say something about the directors, or it may say something far more significant about DeLillo's transferability onto film. A literary giant that has fared much better on the screen, especially recently, is Haruki Murakami. Burning, whose source material is a Murakami short story, was one of the best films of 2018. Blind Willow, Sleeping Woman is an animated film by director Pierre Földes that stitches together a few of Murakami's stories into a coherent whole. Just like with Burning, a director accepts the challenge of filming Murakami's work and succeeds. Blind Willow, Sleeping Woman is a delight.
The film takes place right after the earthquake and tsunami that struck Japan in 2011. Those that survive the earthquake process the disaster in a variety of ways. Komura begins to question whether he wants to continue being an office employee. His wife, Kyoko, just stares at the news coverage of the disaster on the television in a sort of catatonic state. She leaves Komura a note saying she is ending the relationship and instructs him to not ever inquire about her. In Komura's office, an older loan officer by the name of Katagiri is berated by his superior.
The earthquake exposes a deep loneliness in all three characters. Kyoko chooses her loneliness by leaving both husband and home. Katagiri appears to be one of those office working grunts whose evenings consist of lonely dinners with only the sound of his neighbors and a television piercing through the overwhelming silence. With Katagiri the film takes a surreal turn. A human-sized frog tries to convince Katagiri to help him fight an underground worm that causes Japan's earthquakes. Only Katagiri sees this frog. We are left to wonder whether this frog is real or only in Katagiri's imagination. Komura is left listless after his wife leaves him. He, just like Katagiri, is beat down by office pressures. Komura, however, decides to go to Hokkaido prefecture on the request of a coworker to deliver a strange black box to the coworker's sister. The arc of his story brings him into contact with a boy, a seductive woman, and a teenage girl as he searches for his ex-wife's lost cat and wonders what is inside that black box given to him by his coworker. 
Blind Willow, Sleeping Woman allows surrealist whimsy to live side-by-side serious existential probing. It does not stray too far into surrealism to the point where one needs a good and ready interpretation to make sense of it all, and it does not go too deep into a dark existential pool of life meanings. If anything, these are characters, office workers, in the style of Kafka—one of Murakami's favorite authors. They navigate through a world of work obligations and loneliness. But, just like Kafka, for Murakami there exists something beyond a mere word, some human x factor beyond the office cubicle and the lonely noodle dinners at home. That x factor may reside inside the black box Komura is asked to deliver. Is a mere "chunk of air," as one character puts it, inside that black box? Is it Komura's soul? Who knows. It is impossible to tell what's really inside the black box. But it may be precisely that enigma inside the black box, or even inside us, that Murakami is directing us to explore. As Murakami puts it in his short story "Cream": "Your brain is made to think about difficult things…And that becomes the cream of your life. The rest is boring and worthless."
– Ray Lobo (@RayLobo13)
Pierre Földes; Blind Willow, Sleeping Woman  movie review