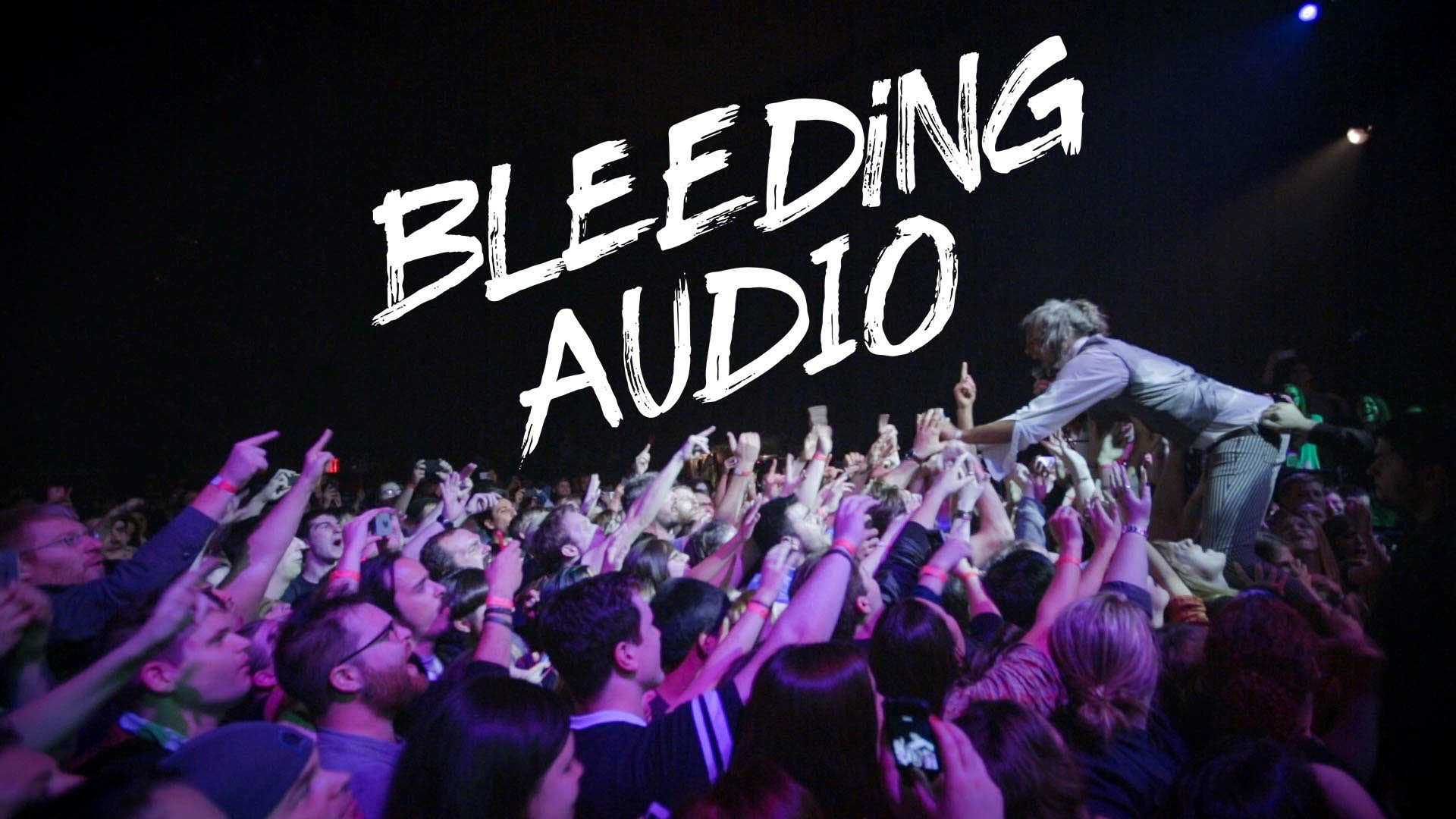 (The 2021 Slamdance Film Festival kicked off February 12 and runs through February 25, all online. Like what you see here on Hammer to Nail? Why not give just $1.00 per month via Patreon to help keep us going?)
Bleeding Audio director Chelsea Christer knows what it's like for a listener to fall in love with a band. Her new and lovely documentary about punk/ska/rock band The Matches opens with a variety of people showing off tattoos they have of lyrics from songs by the band. A band who meant so much to them, they chose an indelible mark to consummate their love. What's that, you say? The name The Matches rings a bell but you aren't really familiar with them? 
So, you don't recall front man and guitarist Shawn Harris who's striking good looks alone should have catapulted the band to stardom? Sure, bands can't survive on good looks alone, you need talent. Well, the rest of the four-piece was stacked musically as well. While I am unfamiliar with Harris' lyrics so I can't speak to how good they are, the fact hundreds of people of various races and genders are getting them tattooed on them probably speaks volumes. The Matches had upbeat and heartfelt songs at a time when that was all the rage and even got some songs on the radio, are you sure you don't remember them?
All smartassery aside, if you haven't heard of The Matches, don't feel bad. They are one of millions of bands who had the good fortune of almost making it which is better than the other billions who never got close. Bleeding Audio tells the tale of what happened to a small band who seemed to have it all going for them. While it at times comes off like a fan film and is easily a "paint-by-numbers" music documentary, that doesn't really matter. The band are all talented, interesting, affable guys and the film has great music, great quotes from faded stars like members of Blink 182, 311, Plain White Tees and Rancid sprinkled in with tons of fan love. It also marches along towards a pretty typical "How It All Fell Apart" ending but, as a lover of rock docs, you know it's heading that way and this ending is one of the more bitter and sweet I've seen. Was it drugs? Booze? Ego? A combination? None of the above? You'll have to watch Bleeding Audio to find out.
Harris, alongside excellent bass player Justin San Souci and stolid and solid drummer Matt Whalen, start the band while in high school in the late 90's/early 2000's as The Locals where they quickly start to get some buzz at local schools and all ages venues. Yet just as that buzz builds, in a moment ripped from That Thing You Do!, they lose their guitarist to a Navy enlistment. Enter new lead guitarist Jon Devoto who is introduced in the film as a young teen (14 years old!) flawlessly performing Eddie Van Halen's guitar virtuoso litmus test Eruption perfectly. He earns the gig nearly after the moment he plugs in to audition and off they go, into the wonderful yet brutally exhausting world of DIY rock and roll. Less a tale of the allure of the dark side of rock, Bleeding Audio really hones in on how goddam much hard work for little pay (or sleep, or cleanliness, or healthy eating, or solid relationships) it is to start a band and the toll that takes on an artist.
Indeed, The Matches have the looks and the talent and the much-needed drive. Aside from sweat soaked live shows and solid, catchy songs, drive might be the strongest thing the band has going for them. Their willingness to go all out to gain and keep listeners is obnoxious at first but then settles into a rather sweet and special relationship with fans. The four members each recount stories where they leave no attempt to lure a crowd untried from creating amazing flyers (all the band members are talented visual artists) listing their shows and literally throwing them into high school classrooms that are in session to showing up at other, larger bands shows and playing acoustically outside of clubs. 
Later, they try, without success, to get into Berkeley's preeminent punk "club" 924 Gilman Street and fail, mostly because the music they play is really kind of more polished faux-punk in the vein of Sublime. Seemingly unable to take "no" for an answer without a joyous pivot, The Matches soon key in on several incredibly shrewd moves that pay off almost instantly. Pivoting is also something that band is really great at and it becomes a theme throughout the film.
A friend once told me, "never get a tattoo of a girl you love or a band, neither last but the tattoo will." Well, if I had fallen in love with The Matches and the community they inspired, that rule may have well gone out the window. I've fallen in love with bands before and sure enough, they've almost all fell apart. Strangely, thanks to internet communities and streaming music which, for all intents and purposes destroyed the music business as it was known in the early 2000's, many beloved bands which had a solid draw but never broke big have been rediscovered and are reuniting. The Replacements and Jawbreaker, two of my favorites, are good examples. 
As shortcomings and maturity slowly seep into the narrative, Bleeding Audio brings you along to an ending which is somewhat surprising. That is unless you're the kind of person who's ever loved a band like it was a person. If that's you or even if you just like music and music documentaries, Bleeding Audio is sure to please. 
 – Don R. Lewis (@ThatDonLewis)