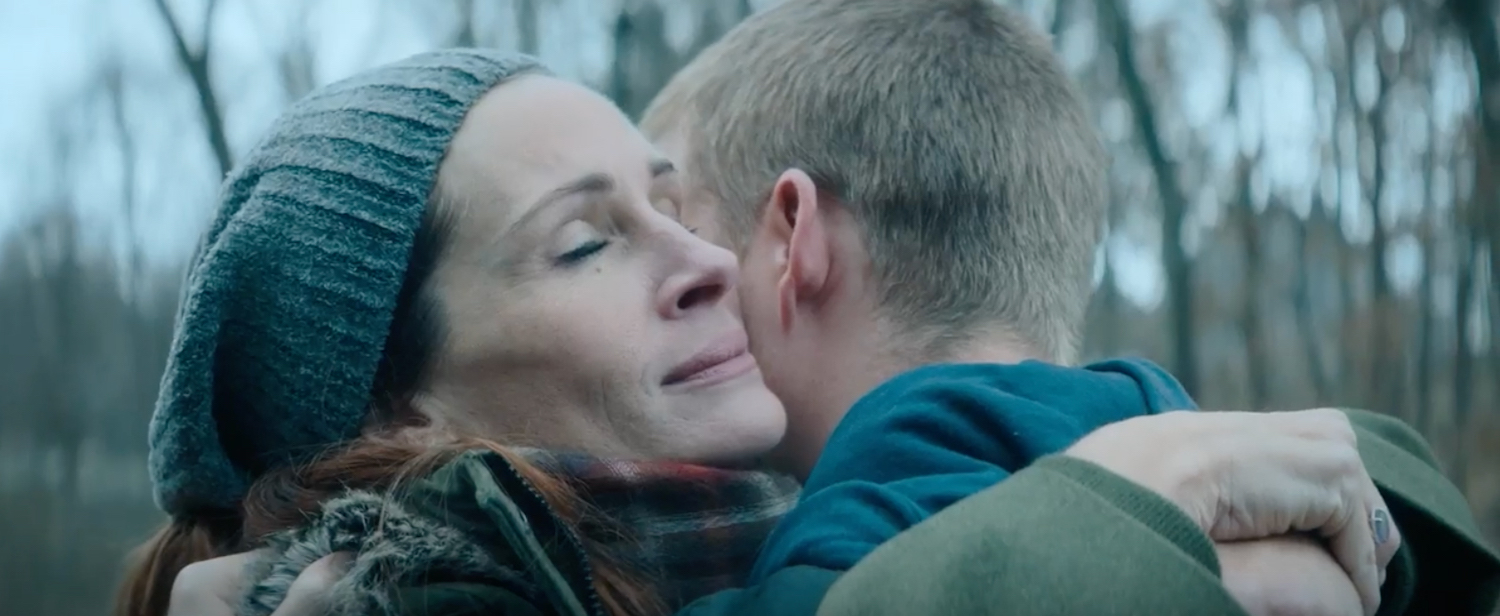 (The Middleburg Film Festival ran October 18-21 in Middleburg, Virginia. HtN Lead Critic Chris Reed was there and per his norm, will have a ton of reviews and interviews coming your way. Stay tuned…)
As addiction dramas go, Ben Is Back may not be as brutal as some of the recent documentaries about our national opiate-abuse problem, like Recovery Boys or the Oscar-nominated Heroin(e), but it still packs quite the dramatic punch. Featuring powerful performances from its two leads – Julia Roberts (Wonder) and Lucas Hedges (Manchester by the Sea) – as mother and son Holly and Ben, the film profiles their struggle to overcome past trauma and make a fresh start. The fact that it's Christmas only heightens the tension: take the usual family dysfunction at the holidays, add a dash of drugs and danger, and one has a recipe for more than just disaster. In the capable hands of writer/director Peter Hedges (The Odd Life of Timothy Green) – and yes, Lucas is his son – the potentially maudlin material is never less than gripping, taking us on an emotional roller coaster of a ride right up to its fraught final moments.
We start in church, where Holly sits with Lacey and Liam, her two youngest children (from her second marriage), watching older daughter Ivy (from her first marriage) rehearse for the upcoming Christmas service. They make a happy foursome, chatting and laughing on the way home, when suddenly, stepping into their line of sight in the driveway, comes Ben. He's back from rehab, unannounced and unexpected. To Ivy, he's also very unwelcome. There's deep history here, as we soon learn. Holly, however, is mostly just happy to see her eldest child (also from the first marriage), whatever his problems may be. He seems healthy enough, though his reasons for making the trip are vague, and he dodges direct questions. Ivy (Kathryn Newton, Blockers) sends a desperate text message to stepdad Neal (Courtney B. Vance, Office Christmas Party), who quickly arrives to assess the situation. Now the family is whole again, and just in time for the holidays. Nobody, however – except for Lacey and Liam – appears at ease.
And so, we have our tense setup. Why is Ben back, and what does he want? With each progressive scene, we discover more about Ben's backstory, developing both sympathy and revulsion for the cause-and-effect chain of events that led to his drug dependency and the horrors he wreaked on family and community. It's not a pretty story, but nor is addiction. Roberts is magnificent as Holly, her will to save her son vibrating from every pore. Hedges reveals himself her equal, matching her beat for beat. The rest of the cast also impresses, including the rash of supporting bit players we meet as Ben revisits old haunts. Both Vance and Newton shine, as well, even as they spend much of the film shaking their heads in exasperation at Holly's refusal to surrender.
Beyond the central narrative, I particularly admire director Hedges' light touch around the edges, reminding us that not all moments, even in tense situations, need be highly pitched (a cute little dog helps). I also appreciate the matter-of-fact way he presents Holly's interracial second family, along with similar diversity in the church they attend. In our current age of ever-greater strife over things that ideally should not matter at all, these are people just living their lives. Nevertheless, Vance's Neal does accurately point out that if Ben were black, he'd be in jail by now. Nor should we ignore that the current opiate crisis garners so much national attention because its victims are whiter than those in past drug emergencies. All of this is subtext, for sure, and the film is richer because of it, informing our perceptions of the blossoming on-screen catastrophe. For all these reasons, then, Ben Is Back should be seen, and seen now, speaking as it does to our past, present, and possible future.
– Christopher Llewellyn Reed (@ChrisReedFilm)