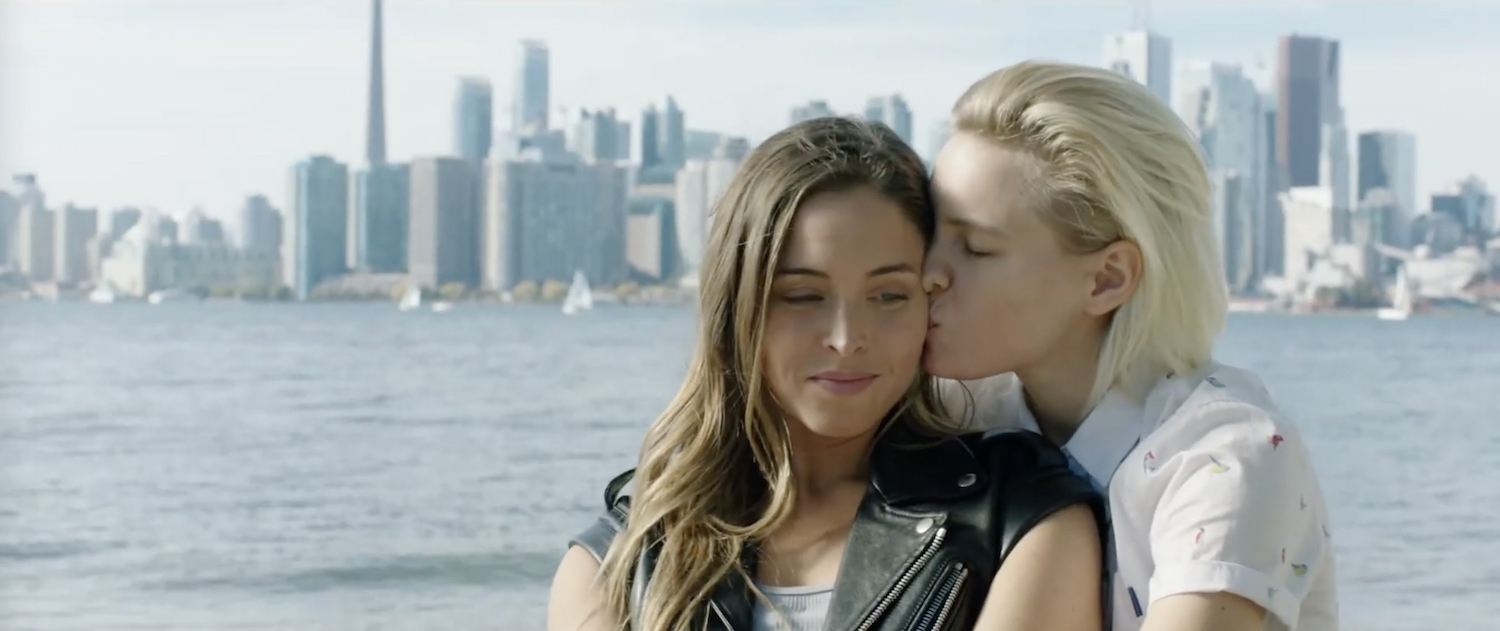 (Below Her Mouth made it's debut at the 2016 Toronto Film Festival to fairly harsh reviews. However, our Chris Reed gets past the more smutty details of the film––which was shot with an all-female production crew––to find good direction and an intriguing story. The film opens Friday, April 28 on VOD and in select theaters.)
There is no denying that much of the new Canadian film Below Her Mouth qualifies as unmitigated smut. Whether the risqué on-screen sex scenes are performed solo or as a duet, they are graphic. Since the actors in question are attractive, the resultant orgiastic thrashings are far from unpleasant. The question remains: is there more to the story than glossy soft-core porn (or not so soft)? To which I answer a resounding "Yes!" (though it appears that most critics disagree). Still, as a straight male writing a review of a film about lesbian sexual awakening, I am aware that, for better or for worse, my reaction could be influenced by the wall-to-wall titillation on display. Nevertheless, beyond the fornication, there is much to recommend here, including the two lead actresses, both of whom bare far more than their skin.
Model Erika Linder (whose first acting role this is) stars as Dallas, a tough gal who owns her own roofing company. As the movie begins (in medias res), Dallas, clearly bored, humps her way through dispirited lovemaking, managing to bring her girlfriend to orgasm while experiencing virtually nothing, herself. Disgusted with the relationship, she leaves, cruelly, and when next we see her, she and her male colleagues are ogling a pretty, very feminine woman in a BMW below their worksite. The target of their catcalls is Jasmine (Natalie Krill, After the Ball), a local fashion editor about to get married (to a man). That night, the two women cross paths once more, in a bar, and the aggressive Dallas immediately makes her move. Despite Jasmine's initial resistance, it's clear she feels something, too. What follows is a series of loud, passionate sex scenes, the opposite of the opener. If you watch at home, I recommend headphones, lest your neighbors mistake your viewing habits. And it is definitely NSFW.
Like the 2013 Cannes Film Festival winner Blue Is the Warmest Color, Below Her Mouth showcases the lives of young women exploring and coming to terms with their sexuality. Both Linder and Krill throw themselves into their roles with gusto, creating a cinematic coupling that is more than merely risqué. Their chemistry is palpable, and we believe in the romance, despite a script (by Stephanie Fabrizi) that is at times a little too minimalist for its own good. There is enough there, however, to drive the story, and director April Mullen (88) reveals a strong visual aesthetic that makes this a lush experience for the eyes, even beyond the gyrating bodies. But the film really belongs to the leads, who own every scene they're in. Though at times nakedly exploitative, Below Her Mouth is nonetheless a powerful drama about two people falling deeply in love; beautiful erotica doesn't get much better.
– Christopher Llewellyn Reed (@ChrisReedFilm)