BEING FRANK: THE CHRIS SIEVEY STORY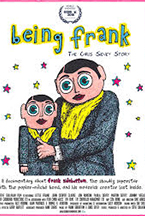 (The 2018 SXSW Film Festival kicked off March 9 and ran all the way through to March 17. Hammer to Nail has a slew of reviews and interviews coming in hot and heavy so keep your dial tuned to HtN!)
Lenny Abrahamson's odd 2014 dramedy Frank told the tale of an English punk band fronted by a psychologically disturbed lead singer wearing a large papier-mâché head. Based on the life of Chris Sievey, who donned a similar disguise to become his alter ego, Frank Sidebottom, that movie, flaws and all, held one's interest because of the riveting titular performance from Michael Fassbender and the peculiarities of the conceit. It turns out that the real-life man was at least equally as strange, though perhaps a little less crazy. Obsessive, yes. Mentally ill? Not so much. There was method to his madness, even if the latter appeared to overshadow the former as time went on, as we discover in this fascinating new documentary, Being Frank: The Chris Sievey Story, from director Steve Sullivan (Happy Hours).
Using a combination of archival footage and present-day talking-head interviews, director Sullivan begins the film towards the end of Sievey's life (he died in 2010), when Frank was already the entirety of his public persona, then flashes back to the man's childhood and origins as a wannabe (and briefly, not so "wanna") pop star. We hear from older brother Martin; ex-wife Paula; children Stirling, Asher and Harry; and many more. Young Sievey, born in 1955, grew up in the Greater Manchester area of England, loved the Beatles (nothing surprising there), was popular as a kid, and as the 1970s dawned was determined to form a band of his own. In that he succeeded, at least for a short while, with The Freshies, which had a series of regional hits that included the 1980 UK-wide top single "I'm In Love With The Girl On The Manchester Virgin Megastore Checkout Desk." The group was never quite able to capitalize on their initial small triumphs, and so Sievey, ever hungry for the spotlight, and with a young family to feed, came up with Frank.
How to describe this strange alternate persona? If one is a fan of the late comedian Andy Kaufman (or if one saw the terrific 2017 Netflix documentary Jim & Andy: The Great Beyond – Featuring a Very Special, Contractually Obligated Mention of Tony Clifton), then imagine Kaufman's own obnoxious alter ego, Tony Clifton, dress him in a spherical orb of a face adorned with wide-open blue eyes, make him yell all the time, and you might come close to picturing Mr. Sidebottom. Amazingly, he caught on, at least in Timperley (near Manchester) and environs, where Sievey made his home. It's quite something to watch material from the almost 20 years of Frank's existence ­– concerts, public appearances, even his own TV show – and marvel at his appeal. And yet, there is something engaging about the utter anarchy of his performances, both for viewer and Sievey, alike.
Unfortunately, though Frank helped Sievey pay the bills and raise his family, his popularity took its toll. Always prone to excess, Sievey took to cocaine on top of his already evident love of booze and cigarettes, which didn't help his disorganized mind cope with mounting financial problems. Still, people loved him, and we grow to love him, as well, over the course of this comprehensive cinematic portrait. Sullivan has done a wonderful job assembling the vast amounts of media into a cohesive whole, doing justice to both his subject and his audience. Entertaining and moving, Being Frank is a wonderful tribute to a complicated man.
– Christopher Llewellyn Reed (@ChrisReedFilm)