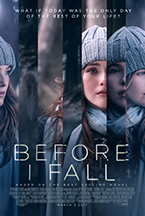 (After a nearly 5-year absence from the director's chair, Ry Russo-Young is back with a much more mainstream effort in YA adaptation Before I Fall. The film is available in theaters now all across America.)
Before I Fall  starts out like many another teen movies, as a group of friends – in this case, the four most popular girls in school – heads to school for what they think will be a normal day. We know from the opening voiceover, spoken by one of them, that it will end in some kind of tragedy – death, even – but soon that premonitory declaration is forgotten in the lull of everyday normality. That quotidian banality of high school acts as a cinematic legerdemain, so when the car filled with our main characters skids off the road after a party, presumably killing or injuring them all, it comes as a shock. Even more so when the film suddenly transforms from something ordinary into a profoundly moving meditation on time, love and the meaning of life.
Like a cross between Groundhog Day and Mean Girls, with perhaps a little bit of Alice Sebold's The Lovely Bones mixed in (minus the twisted horror of that book), Before I Fall – an adaptation of the 2010 young-adult novel of the same name, by Lauren Oliver – takes us on a journey of redemption, where one of the doomed girls, Samantha (Sam) Kingston must relive the same day over and over until she can figure out what needs to change for time to move on. Nothing is easy, however, since the tides of fate are so inextricably tied up with learned behavior and Sam has less than 24 hours to fix the wrongs of her – and others' – past. But try she does, and the welcome surprise of the film is how refreshing each of her attempts feels, imagined in vivid detail by author Oliver, originally, then screenwriter Maria Maggenti (Monte Carlo), and finally by director Ry Russo-Young (Nobody Walks), all of whom work in harmony to create this gently supernatural coming-of-age tale. We care about these people, even though they be of rather ostentatious privilege, and are fully involved in their struggle to improve.
The book is set in Connecticut, but Russo-Young switches locales to Vancouver, and the misty Pacific Northwest adds to the visual mystery (and majesty) of the story. The principal cast is strong, with lead actress Zoey Deutch (Everybody Wants Some!!) as Sam, Jennifer Beals (The L Word) as her mother, and Halston Sage (Goosebumps), Medalion Rahimi (Extraction) and Cynthy Wu (Road Hard) as Sam's besties (making a much more ethnically diverse group than in the source text). Everyone, no matter how initially superficial, becomes fully three-dimensional by the end. Given what we hear from Sam as her story begins, there's only one way the movie can end, so what joys and happy awakenings lie within are inevitably tinged with sadness, but this only elevates the power of the narrative. Be a good person, and you will find your purpose. Who can argue with that?
– Christopher Llewellyn Reed (@ChrisReedFilm)