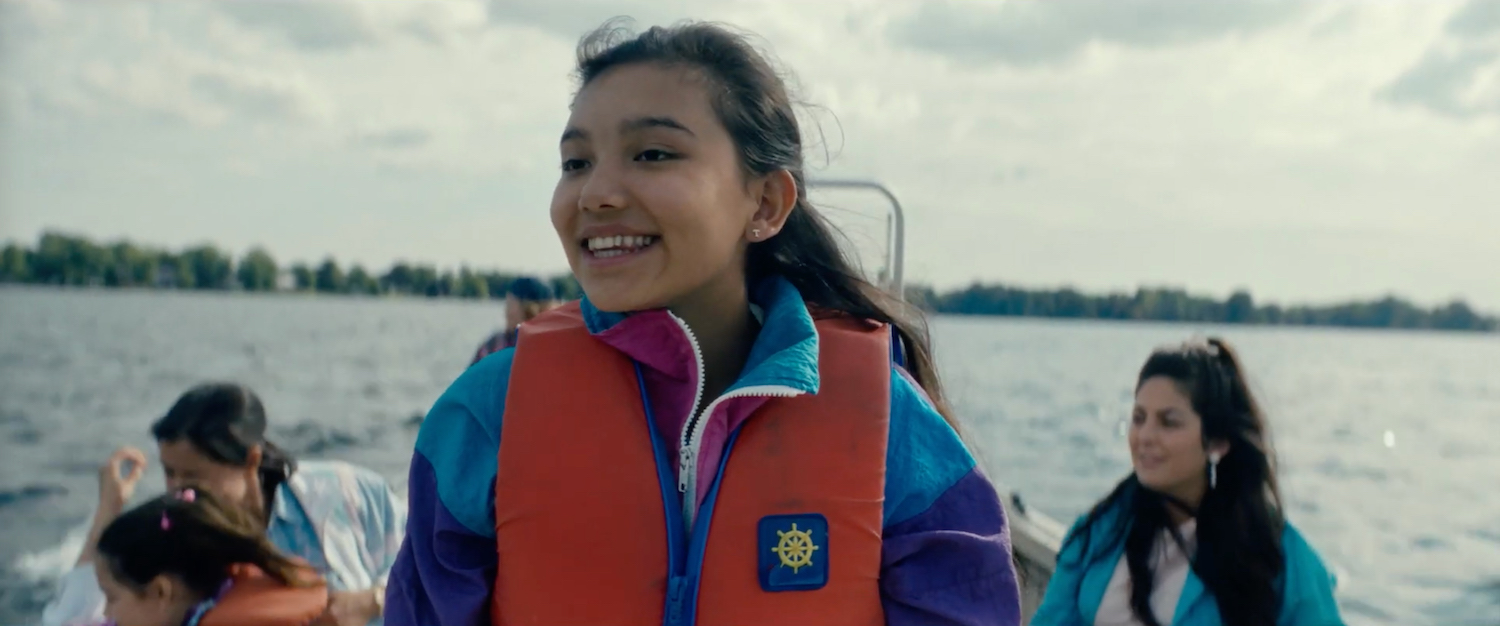 (Mohawk filmmaker Tracey Deer's latest feature Beans makes it's debut in select theaters and on-demand Friday, November 5. Like what you see here on Hammer to Nail? Why not give just $1.00 per month via Patreon to help keep us going?)
Over the course of three months in 1990, near the town of Oka, in the Canadian province of Quebec, just north of Montreal, members of the Mohawk nation protested the use of a sacred burial site for a golf-course expansion. As the situation escalated, leading to violence and the death of a police officer, many whites in the surrounding area did not take kindly to the disruption of their lives, resorting to racist insults and more to minimize the legitimate distress of the Mohawks. Although the conflict eventually reached a form of resolution, there are not-so-lingering land-rights issues that remain to this day. 
Filmmaker Tracey Deer (co-creator of the Mohawk Girls series) lived through these events as a child, and now returns to them in her debut feature, Beans, which offers a moving account of the time that is also a sweet coming-of-age tale. Simultaneously simple and complex, the movie delves into important topics of gender, race and more, all wrapped up in a thoroughly engaging drama. She also brings in a significant amount of archival footage, which adds important documentary evidence to bolster the scripted narrative. In our current climate of long-overdue reckoning with the sins of the past, Beans is a welcome addition to the conversation.
Kiawentiio plays the titular role (real name Tekehentahkhwa, but no one in white society can pronounce it). When we first meet, she and mother Lily (Rainbow Dickerson) are at a fancy private school where Beans is interviewed for admission by the director. She's 12 years old, bright, eager and appears a shoo-in, though she worries that she flubbed one of the questions. Still, things appear to have gone well, even if her father, Kania'tariio (Joel Montgrand), is not so keen for her to attend. Why should she go off to assimilate like that?
Soon, however, these concerns take a back seat to the rising tensions. Beans, Lily, and youngest child Ruby (Violah Beauvais) find themselves unexpectedly in the middle of a quasi-battle as they visit what they think is a peaceful demonstration. Before long, their entire lives are upended by the whirlwind of friction around them, sending the women and children elsewhere. But no place is safe, as it turns out, for racial animosity follows them wherever they go, radicalizing young Beans and souring her earlier dreams of education in the big city. Still, no matter how awful things get, there's always time to think of boys.
After all, she's on the cusp of being a teenager, hormones all atwitter. Befriending an older girl, April (Paulina Alexis), she discovers a world of swearing, drinking, and sex (at least as much she understands sex at her age). April's brother, Hank (D'Pharaoh McKay Woon-A-Tai), is the hottie Beans has been waiting for, but sadly he is also not really different from other boys. Director Deer adds to the other meaningful layers of the story by bringing in questions of female agency and solidarity, all to the further quality of the movie.
Unfortunately, despite the strong screenplay and admirable mise-en-scène, not all elements prove as effective. The score is occasionally intrusive, with sentimental chords unnecessarily underlining emotions. And not every performance is created equal, with some more natural and others more forced. The overall takeaway of Beans, however, is one of joy that out of trauma could emerge such a finely cinematic, and humanistic, treatment of history. May we learn from our mistakes.
– Christopher Llewellyn Reed (@ChrisReedFilm)
Film Rise; Tracey Deer; Beans film review