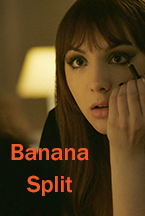 (The 2019 Seattle International Film Festival runs May 16-June 19 in, you guessed it, Seattle Washington. Keep your comoputer tuned to Hammer to Nail for reviews from our Seattle-ite Jessica Baxter. Like what you see here on Hammer to Nail? Why not pay just $1.00 per month via Patreon to help keep us going?)
The plot of Banana Split is very simple but, in many ways, the story is revolutionary. April (co-writer Hannah Marks, Dirk Gently's Holistic Detective Agency) is a high school senior who is reeling from a breakup with her first love, Nick (Dylan Sprouse). Their 2-year relationship ended because they will soon attend college on opposite coasts. April is gutted when Nick immediately takes up with Clara (Liana Liberato). But just as April's final summer at home begins, she meets Clara at a party and, instead of battling, they become instant besties. What follows is a touching tribute to the profundity of platonic first loves between young women, colored by the existential angst of that emotional limbo between high school and college.
The Romantic Comedy begs for subversion and Banana Split delivers. First-time director Ben Kasulke, uses a light touch, letting the performances and character arcs effortlessly breathe new life into a stale genre. Both April and Clara's relationship with Nick takes a back seat to their burgeoning friendship, while the underdeveloped quip machine in an advisory role is a straight white boy named Ben (Luke Spencer Roberts).
There's good reason for the authenticity Banana Split exudes and the chemistry shared by its leads. Marks and Liberato have been close since childhood and Marks wrote the script in high school to help process her real-life breakup. Marks would run scenes with Liberato in her childhood bedroom. Now in her mid-twenties, Marks has had a lot of time to hone the script and her performance, and it shows. She and writing partner, Joey Power (co-writer/director of After Everything) turned the directorial reigns over to Kasulke, best known for his Mumblecore cinematography. Kasulke clearly learned a thing or two from working with Lynn Shelton, a director who has perfected the vérité comedy.
The film opens with a well-crafted montage, outlining April and Nick's entire relationship, from their superficial reasons for coupling to their development as a unit, to their mostly blame-less breakup. We understand the unresolved feelings that will color Clara and April's friendship. This clever device allows Clara and April to have nuanced and exposition-free interactions that expose the seams in their relationship. We can focus on who these young women are and why they love each other. It gives the film a feeling of effortlessness, even though it's no small feat to make characters this holistic and a story this streamlined.
April and Clara set a ground rule of never bringing up Nick, but it's an impossible promise. He's always there in the back of their minds. As long as they aren't talking about Nick, April and Clara get along like gangbusters. Nick doesn't even know they've met. They text each other using aliases, don't interact on social media, and have sworn their mutual friend, Ben, to secrecy. Ben is expressly uncomfortable with what he feels is a web of deceit, despite seeing firsthand how well-matched April and Clara are. They're supportive, clever, fun, and truly hilarious. They bond over their love for feminist rap and bowling. Their banter and antics are a delight. On an impromptu trip to Palm Springs, Clara carries April over the threshold of their motel room. When April laments, "What am I gonna do when I'm freezing in Boston without you?" Clara replies, "wear a jacket made of my skin." At one point, Ben asks Clara to "choose" between April and Nick in order to spare his feelings, but she wisely ignores him. April and Clara both know that their friendship is something truly special, and they're not willing to give it up for anyone.
Nick is the least developed character, defined mostly by his looks and his love for Carly Rae Jepson. At first, this feels like a misfire – Sprouse is the most famous actor in the film – until you realize that this objectified character is usually a woman, while the men get to be the interesting ones. This is a delightful and subtle subversion.
Young romantic love is a big deal, but high school BFFs are some of the most intense relationships in a woman's life. These are the people you trust with your innermost secrets and idiosyncrasies. That's why their judgement cuts the deepest. An off-handed comment said in the heat of the moment can turn a small rift into a chasm. But their unconditional love and support can make you soar. I'm so glad that adolescent girls finally have a movie that depicts a female friendship that can thrive despite and even because of a boy they both love. Maybe someday there will be more than one.
Like what you see here on Hammer to Nail? Why not pay just $1.00 per month via Patreon to help keep us going?
– Jessica Baxter (@tehBaxter)