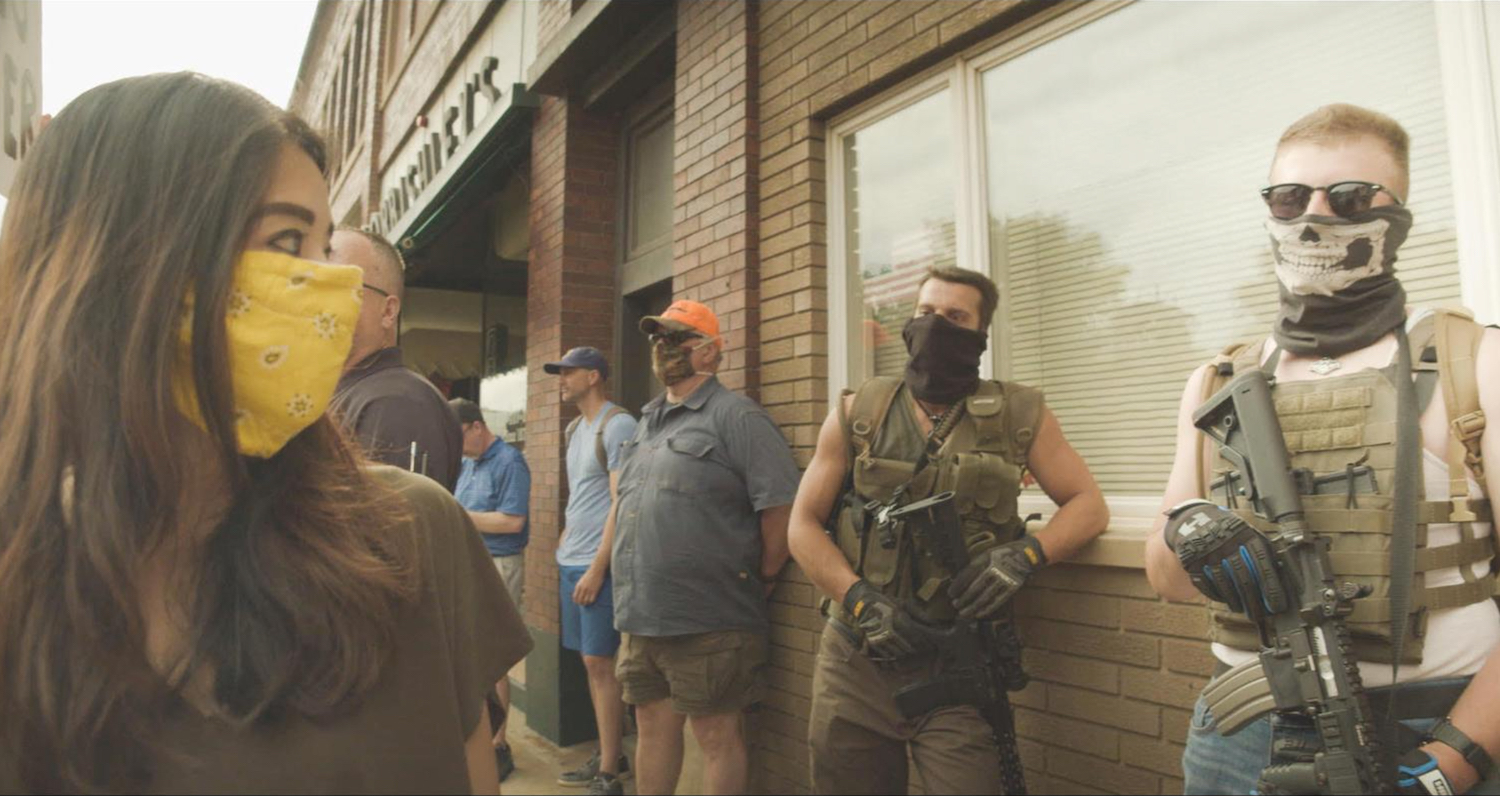 (The 2022 SXSW Film Festival runs March 11-20 in glorious Austin, Texas. Check out Chris Reed's movie review of Bad Axe. Join the conversation with HtN on our Letterboxd Page.)
After two years of a global pandemic, we have already had our fair share of cinematic treatments of the effects of COVID-19 on human health, financial security, and resultant social and cultural anxiety. You can now take your pick of an array of documentary and fiction films, each kind offering different perspectives on what is now an ongoing, universal experience. Enter David Siev with Bad Axe (which won the Special Jury Recognition for Exceptional Intimacy in Storytelling at the 2022 SXSW Film Festival). It's more than just another nonfiction look at what the coronavirus hath wrought, but also a deeply personal essay about family, immigration, assimilation, and the cost of standing out in an otherwise homogenous environment.
Siev (making his feature debut), pre-COVID, had been living in New York City, but as lockdowns set in returns to Bad Axe, Michigan, where he grew up. The Sievs are a proudly biracial, multicultural family, father Chun from Cambodia and mother Rachel from Mexico. Longtime residents of the area, they consider themselves fully integrated and fully American. The parents own and manage Rachel's, a popular local restaurant which they initially opened as a donut shop. After years of hard work, they have achieved their dreams of success, owning a now-spacious home and with four grown children.
Jaclyn is the eldest and the one most tied to the family business, though she has a graduate degree and another job. She and husband Mike would like kids of their own, but first they have to figure out what to do once public-health officials enact masking and capacity restrictions. We watch as Jaclyn and the youngest daughter, Raquel (another daughter, Michelle, appears less involved), do their best to manage the chaos while simultaneously keeping Chun and Rachel safe; they're older and therefore, the kids fear, more susceptible to the virus.
We know that worse is coming because of how Siev opens the movie, with Jaclyn reading a leader from erstwhile customers attacking the family for their anti-Trump views. So we watch and wait to see how that develops. Part of it comes from the expected politicization of public health and folks refusing to wear masks, but as the nation also grapples with a George Floyd-inspired racial reckoning, Jaclyn and Raquel join Black Lives Matter protests in Bad Axe (Raquel's African American boyfriend, Austin, understandably wary about drawing attention to himself, yet going along, as well), where neo-Nazis show up and spark a confrontation. Racism, masquerading as freedom of speech, rears its vile head.
But, hello, white supremacists…meet Chun, who didn't survive the Khmer Rouge Killing Fields without developing a strong sense of purpose. Like most folks in Michigan, he's armed, and probably dangerous, so lay off his daughters. Don't let his seemingly benign exterior fool you; he won't allow anyone to threaten his children.
And there's the mix, with additional points of interest coming from the white employees of Rachel's, some of whom voted for Trump in 2016 yet now think differently. Add in ongoing generational drama—especially between Jaclyn and Chun, but also between Rachel and filmmaker David over the making of the very film we are watching, which she feels is causing a lot of tension—and the stakes rise even higher. The finished narrative proves a raw, intimate examination of a multiplicity of issues, all of them relevant to today's United States, and always gripping to behold. So head on over to Bad Axe and get your metaphysical journey on.
– Christopher Llewellyn Reed (@ChrisReedFilm)
2022 SXSW Film Festival; David Siev; Bad Axe documentary movie review