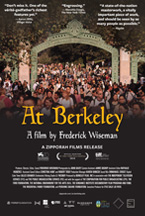 (At Berkeley opens theatrically at the IFC Center on November 8, 2013. It was an inclusion at the 2013 Venice Film Festival, Toronto International Film Festival, and New York Film Festival. Visit the Zipporah Films website to learn more. NOTE: This review was first published on September 27, 2013.)
Everything is interesting to master filmmaker Frederick Wiseman. Well, everything is potentially interesting, and his impeccable eye for detail and ear for conversation, bits that become cinema in his editing room, are what has made him one of our greatest artists. When that uncommon knack for elevating simple gestures, straightforward exchanges and small visual details into the stuff of movies is matched by a big time subject, the effect can be enormous. Many of Wiseman's best films—Essene, The Store, Boxing Gym, for example—are hyper-focused and metaphorical. But sometimes, like with the great Belfast, Maine, he reaches for the big statement and creates something that says, um, everything.
At Berkeley is a Big Statement film. Here Wiseman turns his attention to the campus of the iconic University of California, Berkeley, but the subject is nothing short of the ideals and struggles of public education itself. It's a massive film, with huge ideas and a characteristically attentive gaze that takes turns being meditative, exhilarating, philosophical and (slightly) frustrating.
The word "disinvestment" is uttered maybe a dozen times by speakers concerned about the fate of the revered public institution after years of declining government support and budget cuts. Wiseman is always focusing on humans in process; here, the process is survival while maintaining the hefty ideals of education for the people. Meetings and classroom scenes are dominated by either discussions of the meaning of public education in today's fractured culture and economic environment, or the complicated conflicts between mission and survival in general. We see the university as a living thing at work: the faculty, staff, students and campus itself, all churning, moving, building, breathing. The visual dialectic between physical space and mental work gives the film a magisterial, hymn-like quality. Having the space to think is a potent, running theme.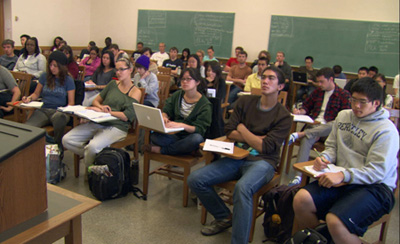 There is lots of talking, but that's what college is about. Conversely, sex (another constant in the collegiate experience) is only hinted at, until a late scene where a John Donne poem about physical passion is deconstructed by a nice, almost giggly teacher for her room full of boys and girls, seemingly anxious to get to their evening plans. But a chaste film allows the ideals in discussion to go uncluttered by the wants of the body, and that's surprisingly refreshing.
The history of Berkeley weighs on every scene, particularly a discussion of the needs of the security staff and how those policing the campus can come into conflict with the specific culture of a place made famous by world-changing building occupations and large protests from the free speech movement. The story of Berkeley as a state of mind is on every face, from earnest administrator to angry protesting student. Then-chancellor Robert J. Birgeneau is the unlikely star here and the balances he finds in running a massive institution while keeping the university's core mission and meaning is revelatory.
In fact, every scene in this sprawling film is revealing, complicated and generous. But the repetitive structure (establishing shots, meeting scene, establishing shots, class scene) does not standup entirely at 244 minutes. Too often it feels like Wiseman is "dipping in" and, in order to counteract that, he stays too long. Unlike the best Wiseman, a few of the scenes feel like work, which is not helped by the occasionally overly-loose camera work from Wiseman's almost always excellent cameraman John Davey. This is a small quibble, though. There are several riveting passages, including a student protest/administrative reaction extended sequence that is one of the most narratively complex and dramatic scenes Wiseman has ever created.
At 83 years old, having created (in my mind) more masterpieces than any other filmmaker, Frederick Wiseman's place as a legend is beyond secure. When you watch one of his earlier films, the tightness of control and engaging functionality of every single moment is bracing. At Berkeley is certainly looser, but it earns its running time by foregrounding ideas and giving the viewer the space to contemplate them. At this stage in his life's work, I'm willing to give my hero every minute he asks for.
— Robert Greene