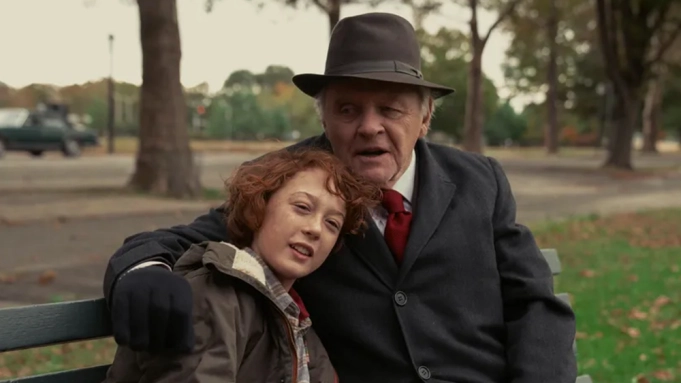 (The 2022 Cannes Film Festival runs May 17-28. Our own Jack Schenker is at the fest and has this movie review of Armageddon Time. Seen it? Join the conversation with HtN on our Letterboxd Page).
James Gray returns from outer space for a much more grounded and personal effort with Armageddon Time. PSA to all Jews out there: this is essential Jewish cinema. While the film has many merits that any human would enjoy, this was made for New York City Jews. The film has a star-studded cast including Anne Hathaway, Jeremy Strong, Anthony Hopkins and Jessica Chastain, but Gray keeps the proceedings humble by never pushing his characters over the top. His style in this film is much more subtle than the overwhelmingly acrobatic Ad Astra. It is not a star vehicle for any particular actor, but rather a true ensemble effort. Armageddon Time deftly balances comedy and drama in this charming tale of a troublemaker kid. Gray never claims to have the answers to issues such as white privilege, but he makes observations through a personal lens that will certainly fuel conversation.
The film follows Paul Graff (Michael Banks Repeta) a rebellious kid growing up in Queens in the 1980s. He goes to public school while his older brother (Ryan Sell) goes to a private school. Paul has aspirations to be an artist and causes a lot of trouble at school. His parents Esther (Anne Hathaway) and Irving (Jeremy Strong) are trying to temper his expectations of the world. Meanwhile, Paul makes friends with Johnny David (Jaylin Webb) who encourages his rambunctious behavior. While this may be a setup moviegoers have seen before, what separates it from the average coming-of-age film is the superb acting and directing. For example, Paul hilariously gets caught smoking weed in the bathroom by his teacher Mr. Turkeltaub (Andrew Polk), a name that is ruthlessly made fun of by the students. These sequences make us laugh, but when Paul's grandfather (Anthony Hopkins) delivers a searing speech about life, it catches the audience off guard and forces self-reflection. The screenplay thrives when it deals with Paul's struggle to understand the importance of money and respect. It, unfortunately, falters when it attempts to discuss white privilege in America. Gray simply does not have much else to add to the topic other than, "white people have an easier path."
What makes Armageddon Time great is the incredible performances and casual dialogue, which feels as though we are witnessing real life. Meanwhile, Gray employs D.P. Darius Khondji (Uncut Gems) to shoot these sequences with lighting techniques reminiscent of The Godfather. The film was great fun in a theater and should play specifically well in New York City. This feels like the perfect wintertime family film: it hits on all the emotional notes and is never too vulgar. For an American director, Gray is known for his European sensibilities, when considering his unconventional films such as The Immigrant. Here, he seems to be operating in a more conventional style, allowing for a far more accessible experience.
The film is particularly memorable for me, as someone who has always been deemed the rebellious child at Passover. The sequences at the dinner table are some of the film's strongest moments. I am sure both sons and mothers will relate to the sequence when Anne Hathaway prepares a watery white fish for dinner and her son Paul just wants to order dumplings instead. These moments in our life seem trivial, but Gray nails the stress and frustration of a situation like this perfectly. If the viewer was once a rebellious youth, as I was, they may relate to the sequence where, after being grounded, Paul is lectured by his whole family ranging from his smart-ass brother to his wise Grandfather. While everyone in this film gives awards-worthy performances, Anthony Hopkins steals the show. He provides the dramatic heft to the film and emulates the holocaust survivor mentality perfectly. The tear-inducing speech he gives Paul towards the end of the film is one of the few moments Gray's commentary on white privilege feels warranted.
Despite having a fantastic filmography, James Gray has had limited commercial success in America, perhaps due to his strange aesthetics and somewhat pretentious plotlines. Here he is at his most accessible, most personal, and at the top of his game. We know he can make a powerful drama like The Lost City of Z or We Own The Night, but audiences may be pleasantly caught off guard by just how funny this film is. I cannot wait to watch it again on a snowy day after a smoked salmon bagel brunch.
– Jack Schenker (@YUNGOCUPOTIS)
2022 Cannes Film Festival; James Gray; Armageddon Time movie review