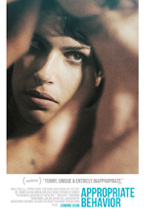 (Appropriate Behavior world premiered at the 2014 Sundance Film Festival and was picked up for distribution by Gravitas Ventures. It opens theatrically and is available on VOD/iTunes on January 16, 2015. Visit the film's official website to learn more.)
"I'm just having trouble dealing with, like, Brooklyn parties and everyone talking about their Kickstarter campaigns, and did you see the guy with the wax Dali moustache? I mean what the fuck is that guy's problem, who the fuck does he think he is?"
"I find your anger incredibly sexy."
"Really?"
"I hate so many things too."
Desiree Akhavan's debut feature Appropriate Behavior is a journey of sweetly sad self-discovery. Akhavan sees the difficulty in trying to establish oneself in a world of splintering identities, impassioned subcultures, ethnic expectations, defined gender roles. She beautifully, intelligently, finds the laugh and the cry in the ridiculous ways we seek out belonging.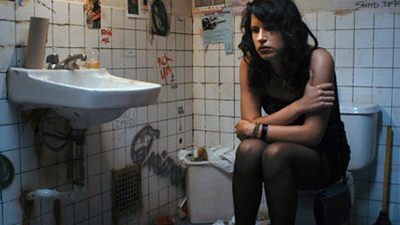 Akhavan plays Shirin, a young Iranian-American bisexual living in Brooklyn. She has many of the popular accessories that accompany this lifestyle—a Masters in journalism, an unrelated job, friends united by snark, sexual curiosity, a Zelig-like charm to those around her—and she stumbles through jobs and relationships. The story begins with a breakup and is interspersed with precise flashbacks outlining the good and bad times. Akhavan navigates cultural clans of unspoken rituals: the shiny dresses of Persian New Year, the rainbows of Pride. Her characters are imbued with universal feelings of loss, love and growth that Akhavan poignantly yet hilariously depicts. She invites the audience to recognize their own imperfect journey in Shirin's.
There is a smart, endearing vulnerable sarcasm to Akhavan's characters that sets her voice apart from the other Brooklyn Millennial Bildungsroman out there. She is not whining or complaining. She is not romanticizing. She is not needlessly shocking. The emotions she evokes aren't ones specific to her story, they are ones we all feel: a want for connection, inclusion, and happiness. Like Woody Allen, Akhavan wraps us up in a scary and warm Freudian blanket and explores the complex relationship between fear, inclusion, and desire that comprise the human condition, states of being that New York City loves to goad. New York City is in need of a new Woody Allen and Iranian-American bisexual Brooklynite woman Desiree Akhavan is here to take his place, reminding us that no matter how many gallery openings we go to or how many relationships we lose, it is our own thoughts and actions that we must live within.
— Donna K.