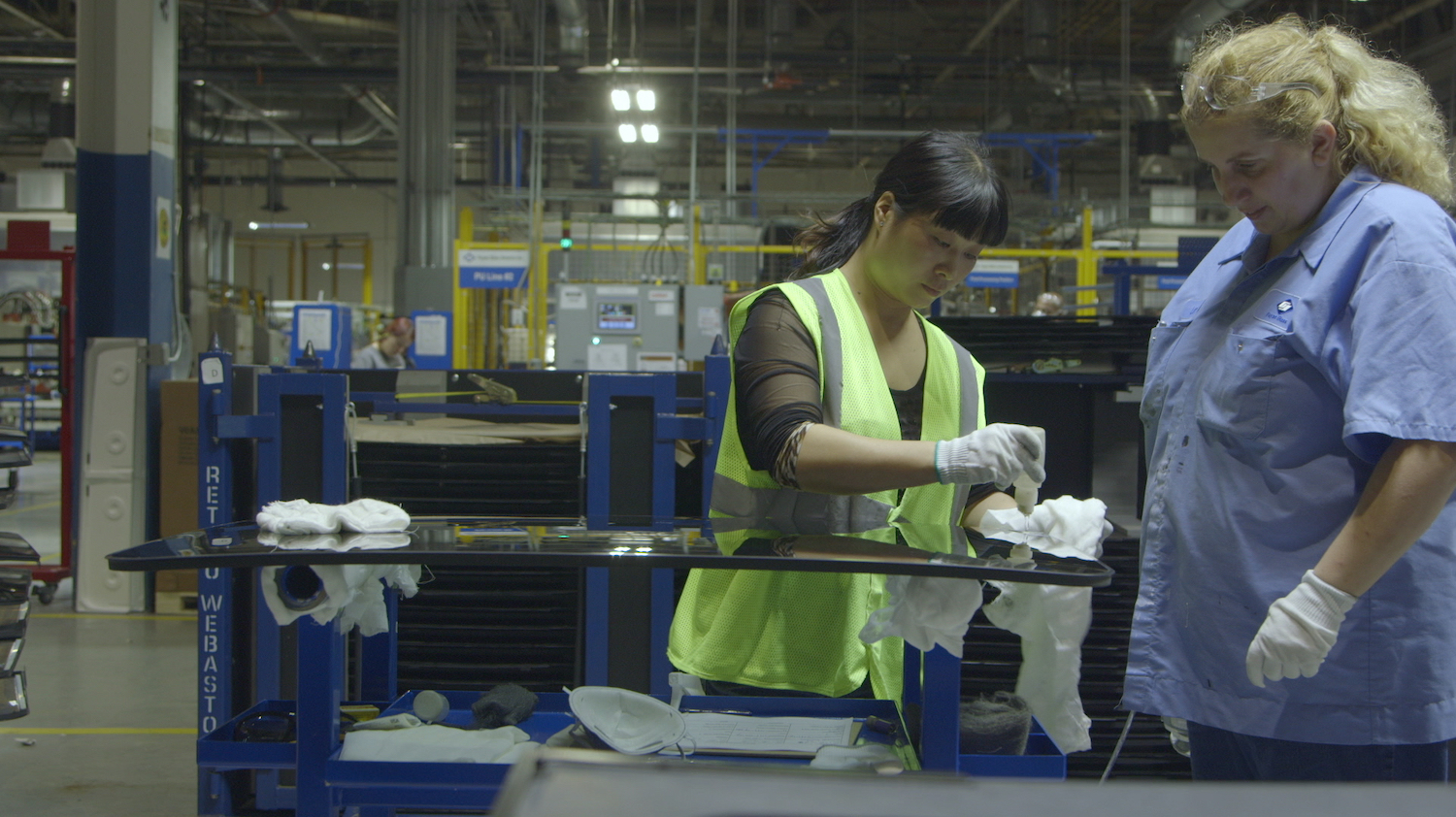 (AFI DOCS 2019 runs June 19-23 in Washington, DC. Lead Critic Chris Reed will offer us some of his usual coverage! Like what you see here on Hammer to Nail? Why not pay just $1.00 per month via Patreon to help keep us going?)
In 2014, Ohio residents of the Dayton area were offered the unexpected chance to recover from the 2008 closing of a General Motors branch – a blow that had resulted in 2000 people losing their jobs – when the founder of Fuyao, a Chinese company, decided to take over and repurpose the old plant. Rebranded "Fuyao Glass America," the new factory was to combine the best of America and China, using managers and employees from both countries to build windshields for the world's automobiles. Unfortunately for all involved, the reality did not quite match the fantasy, and though the Dayton firm is still going strong, many hopes and dreams were smashed along the way.
The new documentary American Factory, remarkable for its seemingly unfettered access to its subjects, follows the misadventures of Fuyao chairman Dewang Cao and his staff as they struggle to work within the American system. The inevitable culture clash that follows is a result not just of language and behavioral differences but of the ragged fissure between the two nations' business practices. In China, workers are expected to work as much as their bosses demand, irrespective of personal desires, whereas in the United States there are strict guidelines concerning work hours and workplace safety.
Before long, the United Auto Workers union steps in, attempting to organize the American employees, many of whom are just grateful to have a job again. Trouble brews, eventually spilling over into aggressive confrontation. And all the while, the camera is there, on both sides. It's a brilliant and sharp examination of what may be the looming crisis of the 21st century as China rises to replace an America in decline.
I don't know how directors Steven Bognar and Julia Reichert pulled it off, but I'm sure it helps that in 2009 they co-directed a 42-minute documentary – The Last Truck: Closing of a GM Plant – that covered the events that begin this new film. That explains how they know the area, but not how they convinced Cao and company to allow their crews onto the factory floor, even as things turn sour. It's a tour de force of cinematic diplomacy; even were one not intrigued by the story, that fact alone would make the movie worth watching. Fortunately, the real-life narrative is as gripping as they come.
– Christopher Llewellyn Reed (@chrisreedfilm)