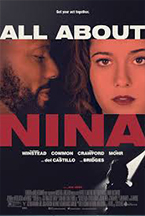 (Eva Vives' directorial debut All About Nina is in select theaters September 28 via The Orchard.)
There may come a day when movies like All About Nina seem antiquated. Remember when the patriarchy infected everything, including comedy? And women had to struggle every second of every day to achieve equal opportunity and respect? And they were slut-shamed and victim-blamed for the transgressions of powerful men? And it was often painful simply to exist as a woman on this earth?
Unfortunately, Eva Vives directorial debut couldn't be timelier. The prevalence of "#MeToo" might create the illusion that we're making progress. But change is coming at a snail's pace. People (not just men) are holding on to the status quo for dear life. That includes the world of comedy, in which women have to work their asses off to justify their inclusion. Most of the time, talent and hard work aren't enough. All About Nina is a dramedy that's heavy on the dram. But it's also a breath of fresh air because it confronts the toxic masculinity that infects the comedy world.
It's also not devoid of laughs. Nina Geld (Mary-Elizabeth Winstead, 10 Cloverfield Lane) is a terrific comedian. Her stand-up sets are filthy, raw, and full of well-earned rage. She's a feminist Bill Hicks, dropping uncomfortable truth bombs about hooking up and periods on unprepared audiences. I wish she were a real person, because I desperately want to watch her Netflix special. (The good news is that there are many real live women with terrific Netflix specials – including Ali Wong, Tig Notaro, Iliza Shlesinger, Hannah Gadsby, Maria Bamford, Sarah Silverman, Katherine Ryan, Cristela Alonzo – and you should watch them.)
As with most talented comedians, Nina's bits are more than just material. They are therapy for her tragic personal life. She vomits after every set, but it's not because she downs whiskey like Vitamin Water. It's because she's riddled with anxiety. Vives, who also wrote the script, mercifully meters out Nina's myriad emotional injuries. To reveal them all at once would crush viewers under their weight. And once you learn the full extent of "her deal,"  you realize she's actually holding up pretty well.
Winstead gives a fantastic multi-layered performance, embodying a woman who is as motivated as she is broken. She plows through her life like a comedy freight train: Drink, stage prep, perform, puke, bed random audience member, repeat. When Nina needs to get out of New York in a hurry, her agent sets her up in L.A. with a place to live and an audition for the coveted "token female" spot in an ensemble sketch comedy TV show.
Nina isn't in L.A. long before she lands a love interest in Rafe (Common, Selma). He approaches her after a set, coming off as kind, sexy-as-hell, and persistent without being creepy. Maybe it's because she's not used to emotionally literate manly men, or because his name (Rafe Hines) sounds like an alias, but Nina starts looking for the catch right away. Also, Nina's never had a real boyfriend before (and from what we've seen of the men in her life, it's no wonder). After a rocky start, Rafe and Nina have a terrific evening together, getting to know each other before getting to know each other.
But even though Rafe is sweet, woke, and attentive in bed, he has some serious blind spots. When Nina experiences a triggering moment in a nightclub, she acts out. Instead of trying to find out why, he scolds her like a disappointed father, confidently assessing the situation from his limited male perspective.
Fortunately, there are plenty of supportive women in Nina's life. Her new age roommate (Cate del Castillo) does everything she can to let Nina know she's there for her, without judgment or condition. Nina's mother (Camryn Manheim) continues to look out for her daughter despite harboring intense guilt over her perceived complicity in Nina's childhood trauma.
In a terrific scene that would make a great film all its own, the five "Comedy Prime" female finalists compete in what is essentially Stand-Up Thunderdome. They huddle up backstage, testing material and showing solidarity in the face of fierce competition because they all get it. The women are played by real-life comedians, including Nicole Byer, Ramona Young, and Cate Freedman. The snippets we see of their sets (even one during which a comedian shits her pants on stage) are leaps and bounds above their male colleagues. And yet, there's only room in the boy's club for one of them.
I hope it's not too much of a spoiler, but I'd feel remiss not to mention a particularly powerful scene toward the end, when Nina delivers a brutally confessional stand-up set to a completely silent audience. They don't applaud her courage, or extend any empathy. They certainly don't laugh. They just stare at her until she's finished. This scene stands in stark contrast to the recent "comeback" set of a particular famous male comedian – the one who repeatedly masturbated in front of his female colleagues and subsequently stymied their careers to cover it up. His set, which took place after he spent several months in alleged "reflection," contained zero apologies and a rape joke. He got a standing ovation.
Nina is practically a superhero for her perseverance in a business like that. Women don't go into comedy because it's easy or fun. They do it because they're compelled. It's a calling. And that's also why Nina refuses to compromise. As she tells her mother, she's not a victim. She's a survivor.
– Jessica Baxter (@tehBaxter)