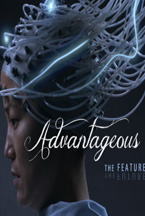 (Advantageous world premiered in the U.S. Dramatic Competition at the 2015 Sundance Film Festival, where it won a Special Jury Prize for Collaborative Vision. Visit the film's official website to learn more.)
The best films at Sundance this year were those that employed formal strategies to craft a visual experience that denied plot its typical role as the sole device to conveying meaning. Films like H., Entertainment, Experimenter, The Royal Road, and Jennifer Phang's Advantageous created fully immersive visual worlds that transported us into the author's perspective on their characters and themes. Since these cinematic journeys don't see plot as the most significant element, it's no wonder that American critics often find them lacking due to their inability to "nail down the point by story's end." Thus, many of the best films at Sundance were slighted in favor of those tales whose plots were easily encapsulated in three sentences or less. As always, many of these currently celebrated crowd pleasers will be forgotten by this time next year, if not sooner.
On the other hand, Advantageous is one of those films that worms its way under your skin and stays with you. There is something frighteningly realistic about its dystopian visualization of war and violence occurring in the skies overhead, causing barely a break in the characters' conversations. These strange destructive occurrences are treated as if they were as common as a bird passing overhead. The film employs a unique visual tapestry that incorporates hologram-type hovering faces when characters talk to each other on deviceless phones. Spy cameras are ubiquitous, allowing people to be tracked and viewed everywhere they go. The line between public and private seems to have completely disappeared, due in part to this invasive technology that allows you to see everyone and likewise allows others to enter your world whenever they desire.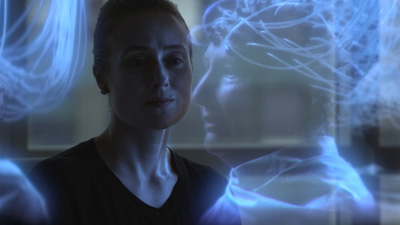 Gwen, played by co-writer Jacqueline Kim, is a single mom who suddenly finds her successful career at a corporation threatened by her no longer youthful appearance. Gwen becomes increasingly desperate as she foresees how her quickly dwindling bank account will disrupt her and her 13-year-old daughter's future life. Gwen's friend at the corporation, played with cold pragmatic concern by James Urbaniak, lets Gwen know that there is only so much he can do to help keep her employed. Facing a plunge into sudden poverty (there are homeless people sleeping under bushes and trees), Gwen decides to sign up for an experimental procedure at her company that will transform her physically. The results of the operation and how it affects her relationship with her daughter point toward the film's concern with the role of technology vis-á-vis the sci-fi genre's theme regarding the tension between humanity and technology. Though technophobia is a word that today rarely exists in most Millennials' vocabulary, Phang clearly engages the viewer with the question: at what point are we no longer human?
Throughout the film, there is a pervasive mood of silent sadness that underlines the ordinary daily routines of mother and daughter as each face their future place in the world with anxiety and fear. Most significantly, the powerful bond between mother and daughter is conveyed by Phang's use of editing, framing and blocking in such a way that you feel this strange overwhelming sense of dread and tragic inevitable loss. In the end, we all will lose each other, but this hyper-conscious sense of life's unraveling seems to fully inhabit every moment of this film. Though sadness is its dominant mood, I found myself utterly captivated by its visual alchemy. Cinema has this strange power to work its way in between your senses like no other medium; for this reason, I found Advantageous to be utterly transformative because it renewed my awareness of being alive and present in a changing world.
— Mike S. Ryan