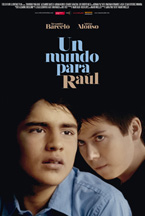 (A World For Raúl is the co-winner of the December 2012 Hammer to Nail Short Film Contest. It was produced through the MFA film program at Columbia University. It has already won awards at many festivals, and likely will continue to do so for some time to come. Visit the film's official website to learn more.)
With A World For Raúl, Mauro Mueller bravely recounts one of those adolescent incidents that can forever shape the course of a youngster's life. Though his approach to this sensitive material is bracingly frank, Mueller's direction never feels exploitative or sensationalistic. A World For Raúl is too busy stinging with real, honest emotion for that.
Raúl (Alexandré Barceló) lives in rural Mexico, where his religious father Juan (Gerardo Taracena) works for a rich landowner. Though he doesn't want to go, Juan is forcing Raúl to join him on a visit to his boss's house. Juan's ultimate purpose for the visit is to ask his boss if he can borrow a tractor so that he can till more of his land, but he's also clearly afraid to come right out and ask him.
When they arrive at the fancy estate, Raúl reconnects with Hernán (Adrián Alonso), the boss's spoiled son. At first, these similarly aged boys kick the soccer ball around and talk about girls, but things take a curvy turn when Hernán goads Raúl into playing a drinking game. Hernán is one of those cocky kids who has been raised with such wealth it makes Raúl's natural timidity all the more noticeable, which only seems to egg Hernán on.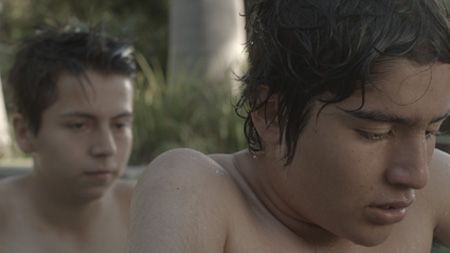 After Raúl is sufficiently buzzed, Hernán makes his way into the pool. He pressures Raúl into joining him, though Raúl doesn't know how to swim. Without detailing what happens next, let's just say that Raúl feels justifiably violated by Hernán's treatment of him in the pool. Later, when Raúl finally reconnects with Juan inside the house, he discovers that his father hasn't spoken up about the tractor. This time, rather than defer to his father, which would start the interminable clock ticking on another return visit to this terrible place, Raúl risks offending his father by asking his boss about the tractor himself. Will he get into trouble with his father? Will Juan get into trouble with his boss? Does it even matter, after what just happened in the pool?
It's hard enough to make a short film like this convincing, yet it's doubly hard to make it pack such a genuine emotional wallop. But Mueller is up to the challenge. Without resorting to a trite climax that would deliver a falsely hopeful conclusion, he nonetheless finds a way for his film's protagonist to rise to the occasion and redeem himself, even as the painful memory of what happened promises to linger for a very long time. Both a tender coming-of-age drama and a harsh social class critique, A World For Raúl is a striking work that establishes Mauro Mueller as a very sharp talent to watch.
— Michael Tully
***WATCH THE TRAILER***