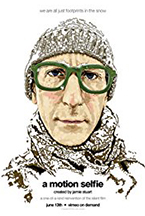 (Jamie Stuart's one-man-DIY movie A Motion Selfie is available starting June 13 on VOD. Check out the website for details…)
Jamie Stuart, the man behind the 2011 viral video sensation Idiot with a Tripod, debuts his first feature-length film, A Motion Selfie. Set during the year of 2015, in New York City, Jamie Stuart lives out the rest of his life post-Idiot with a Tripod fame. Four years have passed and the DIY filmmaker is flat broke; his girlfriend has left him; the notoriety he once garnered has withered away, and he now spends most days digging deeper into his own personal rut. Unbeknownst to Jamie and his plan to turn his life around, a sex depraved stalker draws near, waiting for the opportune moment to collide both of their lives together.
A Motion Selfie is a remarkable and defiant piece of do-it-yourself art and is entrenched in the relatable mundanity of your life and mine. The initial idea of capturing the comings and goings of real life in the structure of a narrative story isn't original. Stuart knows this for a fact and pushes his film to be more inventive in light of its genre's familiar tropes.
The. Extra. Step. Stuart takes these three words to heart and accepts the challenge to lead A Motion Selfie beyond the grounded tone and directionless narrative style of a Noah Baumbach film. He removes even more film elements like audible dialogue and solely relies on the visual information of the NYC setting and the interactions of Stuart and his cohorts. Often times the film feels like a personal revelation of the elements of film you never knew you took for granted.
Scenes involving Stuart attempting to lead a more successful life do champion the minimalist and directionless approach to great effect; however, the monotonous pace will leave the average filmgoer wanting more from the experience.
This feeling is understandable and will more than likely become the crux of a viewer's decision to get behind the film or not, but Stuart is nothing short of commendable for pushing the art form in a direction that is refreshing but more importantly: accessible for today's aspiring filmmaker.
– Patrick Howard (@PatHoward1972)