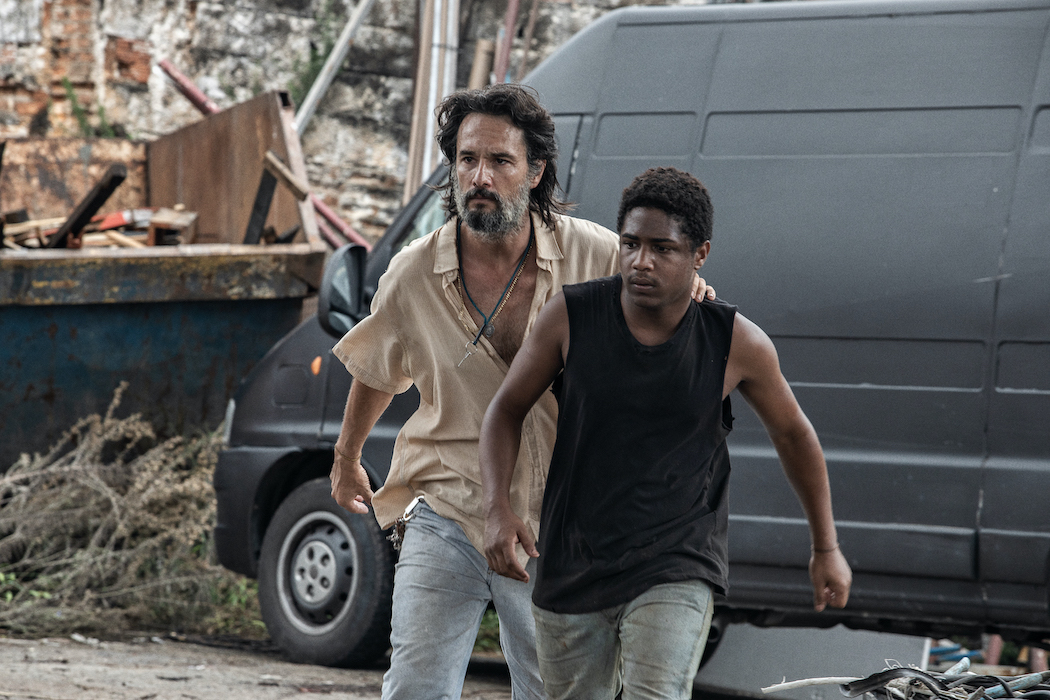 (The Middleburg Film Festival ran October 14-17 in Middleburg, VA. Lead Critic Chris Reed was on hand, providing his usual excellent coverage. Like what you see here on Hammer to Nail? Why not give just $1.00 per month via Patreon to help keep us going?)
In this third decade of the 21st century, we would all like to assume that human civilization has progressed beyond the era of exploitation and slavery. Sadly, only the willfully naïve could believe that to be the case. Vast disparities of wealth and power allow the ruthless to maximize profits on the backs of the poor. Changing the system is difficult, for once someone is trapped inside it, often their only way forward is to join the ranks of the oppressors and look out for themselves. This vicious circle is very much on the mind of director Alexandre Moratto (Socrates), whose sophomore feature, 7 Prisoners, closely examines the sordid details of how innocence is stolen and then manipulated. Set in the vast metropolis of Brazil's financial center, São Paulo, the film offers a defiant slap in the face to everyone who thinks our species has evolved for the better. 
When we first meet Mateus (Christian Malheiros, Socrates), he is happy in his rural home, helping out with chores and more. Despite this peace, he is even more eager to be off to the big city, where he hopes to make good money working in a junkyard. As he and others from his town board a transport van, the driver hands a wad of cash to Mateus' mother. It's an apparent promise of things to come. Sadly, the reality will be far less pleasant. 
Once in São Paulo, the guys meet Luca (Rodrigo Santoro, Last Call), their boss, who sets them up in an on-site dorm and then starts the training. They are to strip vehicles and other machinery that rolls in, prioritizing copper wire for the energy-hungry city around them. It's hard labor, and when weeks go by and they have yet to be paid, Mateus, the most educated and assertive of the bunch, speaks up. The conversation does not go as planned, and soon he and his pals find that they are actually enslaved, faced with mounting debt (under questionable accounting practices) that they will probably never be allowed to pay off.
From there, Moratto deftly build this complicated narrative, following Mateus as he tries to negotiate better conditions. The result of those efforts is that Luca takes an interest. He is himself the product of a poor background and, like Mateus, probably went through something similar. Though now an abusive, violent man, he came from somewhere originally innocent, too, as we see when we meet his family. As the two men form an uneasy alliance, Moratto keeps us guessing how it will end. Will Mateus solely serve his own interests or help out his fellow prisoners? And does he even have a choice?
The movie is shot with a handheld camera and seemingly natural lighting that together lend an appropriate veneer of documentary urgency to the affair. We feel the sweat, grime, and stench of every shot. When the young men clamor for toothpaste and a shower, we understand, in visceral terms, the why of it. Though we stay mostly in the one location, 7 Prisoners is always firmly grounded in the global implications of its drama. How many other such junkyards exist in the world? Far too many. If out of great specificity emerge universal truths, then this is as true a tale as there is. 
– Christopher Llewellyn Reed (@ChrisReedFilm)
Netflix; Alexandre Moratto; 7 Prisoners film review