The 2017 Oscar Nominated Short Films
Every year, the Academy of Motion Picture Arts and Sciences nominates a total of 15 short films in 3 categories (5 per category): animated and live-action (which share the same set of eligibility requirements), and documentary (with its own, not dissimilar, requirements). The qualifying movies much each be shorter than 40 minutes, and must have satisfied certain screening criteria, as per the previously noted guidelines. For over 10 years, a distribution company by the name of ShortsHD has released the nominated films, by category – first theatrically and then, more recently, online, as well – about a month before the actual Oscars ceremony, allowing all to see this frequently fascinating collection of films that often showcase the next generation of talent (but not exclusively, since veteran filmmakers also try their hands at shorts, too),
Last year, I reviewed the 2016 Oscar-nominated short documentaries for Hammer to Nail, and covered the animated and live-action ones on my blog. This year, I present, for this publication, brief capsule reviews of the films in all 3 categories. I was surprised to discover that my favorite film of all was in the live-action category, since I usually find the documentary program the strongest. I was also disappointed by the overall quality (or lack thereof) of the animated films, compared to years past. Here are my thoughts.
Animated Shorts, in order of preference: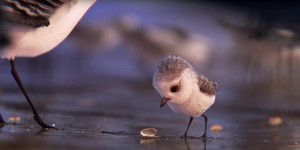 Piper (Alan Barillaro, 6min) – USA
This is the delightful short film that played before Disney's Moana, released at the end of last year, which tells the sweet tale of a little baby sandpiper as it learns to conquer its fear of the sea and hunt for food. Beautifully animated, the movie is nevertheless far more than a showcase of Disney's technical wizardry, though it is hard to separate form from content, as they work so marvelously well together here. Most of all, however, Piper is a model of efficient visual storytelling. Disney has won its share of these awards, for sure – and sometimes, as in 2012, when Paperman took home the Oscar, I would rather have seen another film, like Adam and Dog, win, instead – but this year the company, and its veteran animator-turned-director Alan Barillaro, deserve the glory, far and above the competition.
Pearl (Patrick Osborne, 6min) – USA
Osborne has been here before, winning in 2014 for his previous animated short, Feast (also from Disney, though Pearl is not). There is a similarity of aesthetic between the two films – both operate in a world of pastels – though I prefer this one to his previous effort (which was cute, but not my favorite of that year). We follow a young girl and her father – and the car in which they share adventures – over the course of over 20 years as child transforms into adult, pursuing similar dreams to the parent. He's an itinerant musician struggling to make ends meet, and she becomes the star he never could be. Without dialogue, it tells its story effectively – with a lovely compression of time that whips us through past to present – though marred by an excess of easy sentiment throughout.
Blind Vaysha (Theodore Ushev, 8min) – Canada
I love how this film looks – with a design seemingly based on Slavic lubok prints – but the ambitions of the story surpass the skills of the filmmaker. I applaud his vision, however. Ushev tells a mystical tale of a woman, Vasya, born with one eye (the left) that sees only the past and the other (the right) that sees only the future. Effectively, then, Vasya is blind, for without a present she cannot exist in the world as it is. Unfortunately, while this is a great premise, ultimately that's all it is, with no real significance beyond the opaque, mistaking mystery for meaning.
Borrowed Time (Andrew Coats/Lou Hamou-Lhadj, 7min) – USA
Another beautiful-looking movie, Borrowed Time traffics in the iconography of the Old West, giving us a tale of the sunset moments of a dying man as he revisits the location where his father was killed, years earlier. Mercilessly bleak, the film has little to offer in narrative terms beyond the grim return to horrors past. For fans of Westerns, however, the visual homage to the genre is well-realized, even if the story offers little in the way of real depth. Seriousness of subject does not always equal effectiveness of drama.
Pear Cider and Cigarettes (Robert Valley, 35min) – Canada/UK
Not only is this the longest of the bunch – 5 times the length of the others – but also the least interesting. Again, the animation is not without appeal, but here we are asked to invest in the story of the author's dead childhood hero, a high-school jock-turned-alcoholic whose extended decline is the subject of the movie. And we don't care. Perhaps at 6 minutes we might have, but whatever initial enthusiasm we feel for the characters – generated by the fine visuals – quickly dissipates as one drunken incident blurs into another. This film is most definitely not suitable for children, which is why the entire program comes labeled with a warning about mature content.
Documentary Shorts, in order of preference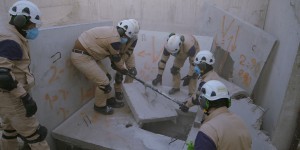 This is a much stronger collection than the animated one, but a less interesting program than the live-actions, since those have greater diversity of subject. All but one of these feature brutal on-camera incidents, and even the one that doesn't – Joe's Violin – is about a Holocaust survivor. Three of the films (4.1 Miles, Watani: My Homeland and The White Helmets) are about the Syrian refugee crisis, and despite the importance of the work, this repetition actually makes for a bit of a boring viewing experience, even though all three are my favorites of the bunch, with only a slight difference between my top ratings. Still, if nothing else, the films about Syria each feature incredibly brave camera work, and should be celebrated as hallmarks of great video journalism.
The White Helmets (Orlando von Einsiedel, 41min) – UK [longer than the cutoff time by one minute, but I guess that's OK …]
 A film about the men of the Syrian Civil Defence [sic] – a rescue brigade that sends volunteers, dressed in white helmets, into bombed-out buildings to find the living and remove the remains of the dead – who live a precarious existence performing feats of bravery that offer little reward beyond that of doing a good deed. These are the real heroes of the Syrian Civil War, gentle souls who abstain from fighting and are themselves killed with alarming frequency. The camera follows them wherever they go, an act of journalistic courage that should put all critics of the media in our turbulent age to shame. It's not all grim, fortunately, thanks to one "miracle baby" pulled from the rubble whom we see grow up, as well as to the sense of purpose – sometimes leavened with bitter humor – that guides these knights of virtue. A must-see, even if a tough-see.
Watani: My Homeland (Marcel Mettelsiefen, 40min) – UK
Ultimately less intense and more optimistic than the previous documentary, Watani: My Homeland starts off in the midst of an ongoing firefight, as we watch, embedded with a family that includes young children, bullets whiz by while the father, Abu Ali, shoots back. We are in Syria, in 2013, and the armed rebellion against Assad's forces is in full swing. Soon we cut to 2014 and learn that Abu Ali has been captured, which leaves the family no choice but to flee the country for a chance to live free. They end up in Germany, and there begin anew, the eldest daughter giving in to Western influences, shedding the hijab, taking selfies and flirting with boys. Everyone adjusts and adapts, and the locals – at least those on camera – welcome them. We needed to see that harrowing footage in the beginning to appreciate how much these simple things matter.
4.1 Miles (Daphne Matziaraki, 26min) – USA/Greece
Like The White Helmets, this is rough stuff. We're in the waters off the Greek island of Lesbos, where boatloads of Syrians, led by Turkish smugglers, often find themselves sinking into the sea as their overloaded vessels collapse (4.1 miles is the distance from Turkey to Lesbos, which is the EU entry point for Syrians and Afghans). Kyriakos, the captain of a local Coast Guard ship struggles, with his crew, to rescue as many as he can, but the influx of refugees is more than he, and they, can handle. It's also straining the island's infrastructure. We follow Kyriakos' efforts – and the toll this daily trauma takes on him – in this brief, briskly paced look at the human cost of war.
Joe's Violin (Kahane Cooperman, 24min) – USA
Joseph Feingold was born in Warsaw in 1922, lost two members of his family to Treblinka, was himself sent to Siberia for 6½ years, and only after the war reunited with the relatives who had survived, including a brother who lived through Auschwitz. As a child, he had learned the violin early and continued playing up until the Nazis invaded Poland in 1939. Forced to leave his instrument behind, he found it in a flea market when he returned. Now it is part of a group of instruments about to be gifted to young students from schools in need. 12-year-old (almost 13!) 7th-grader Brianna will be the recipient of Joe's violin. She goes to the Bronx Global Learning Institute for Girls ("BGLIG," pronounced Big League – perhaps what Trump has been talking about all this time …). It's a very sweet story, marred only by some occasionally pedestrian choices in the filmmaking.
Extremis (Dan Krauss, 24min) – USA
Set in the Intensive Care Unit of a California hospital, Extremis should be more gripping than it is. After all, we are right there with the doctors as they counsel dying patients and their families about the best options in the final days of life. The biggest issue is whether or not to take someone off life support. It's very impressive that they obtained permission to film here. Is it, however, a story? I feel like it's a narratively lazy, since the subject, itself, is so maudlin that all the filmmakers do is point their camera and shoot. I wanted to like it, but couldn't.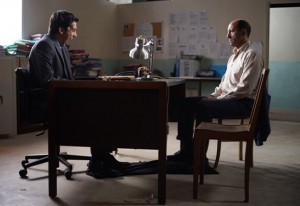 This is an uneven program, though a much better collection than the animated films. My favorites are Ennemis intérieurs ("Enemies Within") and Mindenki ("Sing"), which are my favorites, overall (though, again, I am very impressed with the top three documentaries). As a curated screening series, it is certainly the most interesting of the bunch, since there is great diversity of subject matter.
Ennemis intérieurs ("Enemies Within") (Sélim Azzazi, 27min) – France
For me, this is by far the standout of all the films. The directorial debut of Sélim Azzazi, it centers around an intense conversation between two men of North-African origin – "Maghrébins," as they are called in French – the one a French government interrogator, the other an Algerian national asking for French citizenship. The former is a younger man, the latter middle-aged. What starts off as a seemingly casual exchange of information quickly turns into a game of cat and mouse; perhaps "rat" would be more apt, since that's how the interrogator sees the Algerian. Both speak French impeccably, the difference between them merely one of circumstance. Perhaps it should not surprise that Azzazi – an experienced sound editor – would have such a fine way with dialogue, but it's still a wonder to see how much he accomplishes in a movie that mostly takes place in a single space. It's a remarkable feat, the more so as a first film.
Mindenki ("Sing") (Kristóf Deák, 25min) – Hungary
This is also a solid effort. Zsófi is a new arrival at the local middle school, where she quickly makes friends with Liza. A happy girl, she is shocked and hurt when her choir teacher tells her not to sing – to lip sync only – so as to avoid hurting the school's chances of winning the choral competition. Apparently, she does not sing enough in tune to guarantee victory. Liza, the star of the choir, doesn't understand why her new friend is suddenly sad. When she finds out, however, she comes up with a charming solution to the problem. The kids are adorable, as is the movie.
Timecode (Juanjo Giménez Peña, 15min) – Spain
Winner of the Short Film Palme d'or at the 2016 Cannes Film Festival, Timecode has a lot to recommend it, even if it doesn't quite manage to rise much above its simple premise. Two parking-garage attendants – a man and a woman, each assigned to the opposite shift from the other – carry on a romance through danced messages they leave behind on the video surveillance tapes. The two actors – the lead actress, dancer Lali Ayguadé, especially – are engaging to watch, and the last line of dialogue makes for a wonderful punchline, but the whole affair feels dramatically flat when compared to my first two choices, above.
La femme et le TGV ("The Woman and the High-Speed Train") (Timo von Gunten, 30min) – Switzerland
A whimsical dramedy starring the great Jane Birkin (Je t'aime moi non plus), La femme et le TGV is very successful in its first half, like a charming mixture of Amélie and The Triplets of Belleville. An older woman (Birkin), who thought herself beyond change, suddenly finds love (maybe) thanks to the train that daily passes by her house on the border between Switzerland and France. One day, instead of the usual mundanities, a package lands on her lawn, thrown from the train, and soon begins a new, unexpected phase to her life. So far, so good, and well done. Unfortunately, director von Gunten can't quite sustain the mood throughout, and the whimsy grows wearisome by the end. Until then, it's a pleasant enough diversion.
Silent Nights (Aske Bang, 30min) – Denmark
Another film that starts out well only to falter in its second half, Silent Nights is about a Ghanaian guest worker in Denmark, whose desperate attempts to earn money for his family back home lead him into ever-worse circumstances. Along the way, he meets an idealistic young Danish woman – a volunteer at the homeless shelter where he occasionally sleeps – who takes a shine to him, and soon a romance between them develops. It's not easy, since the streets of Copenhagen are not always welcoming to dark immigrants. The film is a nice exposé of racism, but it completely loses its sense of direction in the final section, descending into maudlin sentimentality and narrative chaos, ruining its promising beginning. This may be the most disappointing film of all the shorts, as a result.
And that's it! Try to catch at least some of these before the Oscar ceremony on Sunday, February 26.
– Christopher Llewellyn Reed (@ChrisReedFilm)