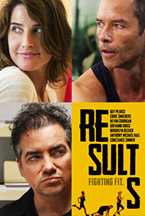 When an independent musician makes a record for a major label, they "sell out." When a filmmaker makes a film with Hollywood stars, he "arrives." Andrew Bujalski, for his part, has sidestepped the whole arrangement here and done neither. It's still fun to think about where Results will end up hitting the most eyeballs though. Even in limited release, the film will handily rack up a few (hundred?) thousand more viewers in theatres than his previous indie efforts, but my crystal ball sees this Magnolia-distributed breakthrough streaming into living rooms everywhere under the subhead "Romantic Comedy." That's not entirely a bad thing for a category where sincerity is in short supply.
From 1000 ft out, Results hugs the formula, getting underway as pot-smoking, guitar wanking McMillionaire Danny (Kevin Corrigan) walks into Power4Life, a small gym run by grindstone optimist Trevor (Guy Pearce) and staffed by a series of no-nonsense trainers, all of whom may or may not have slept together. Danny, declaring that he'd like to get in shape, or as he puts it "be the kind of guy that can take a punch," sets the free-floating plot in motion when he's paired with attractive trainer Kat (Cobie Smulders), who has her own (pleasantly ambiguous) history with Trevor. Trevor, for his part, labors undaunted, wasting his love on his dog, his drums and the Russian Kettle Bell specialist he idolizes (Anthony Michael Hall channeling JCVD). Bujalski has always been a fan of slippery love triangles (see Mutual Appreciation, Beeswax), but this one proves looser than most.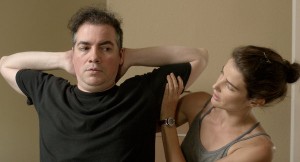 Despite the signature mumbling/fumbling and mixed messages of which Bujalski is a master, Results is resoundingly aware of the pitch on which it plays. Maybe over calculating, he sends up a flare to those who haven't got him pegged yet when Danny makes a Hollywood-scale romantic overture and instead of falling into his arms, Kat responds with unmitigated rage. There's another boilerplate rom-com moment later in the film, but Bujalski plays it cool there, casting it as unnerving instead of romantic, and it slides elegantly under the radar before we know what happened. When Pearce and Smulders finally do connect, it's more of a surprise than a certainty.
More than ever for Bujalski, Results is about work, both in front of the camera and behind it. It's a metaphor writ large in the film's setup and the actors he's chosen. Pearce, for whom Bujalski wrote the part of Trevor, was once a competitive bodybuilder in his native Australia, and is the kind of actor that can't help but ooze effort. Kat, Smulders' hard-nosed trainer, audiences will find a romantic interest who's rather hard to love. For Bujalski, the film's real star is Corrigan, a sub-Turturro character player who comes from Hollywood, in the Andy Kaufmann sense, but is as far from a "movie star" as can be imagined.
The most blue-collar element of Results is Bujalski's own direction – his hand is so subtle at this point in his career that you can almost see him hesitating to sign the work. To those watching the Romantic Comedy, Results, on Netflix, the film isn't a singular incursion into the mainstream, it's a journeyman work of genre. That might be his biggest accomplishment to date.
– Jackson Scarlett