2019 Bend Film Fest Preview- Southern Film Spotlight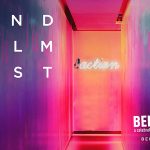 Southern filmmakers are ascending upon Bend, Oregon this weekend as part of Bend Film Festival. Bend Film Festival, set in Bend Oregon will be held October 10-13 with over 70 films, 30 musical acts and a ton of parties. HtN Editor Don R. Lewis is also a juror for the Documentary shorts and features categories.
Programmer Erik Jambor was one of the founders of Sidewalk Film Festival in Birmingham, and long time programmer for Indie Memphis. His southern roots are showing in film selection this year with I Want My MTV with guest subject Alan Hunter of MTV and Inaugural Board President for Sidewalk Film Festival. Opening with the film is the documentary short PIE IN THE PUSS: A BRIEF HISTORY OF PIEING IN FILM. Directed by Stacey Davis, who first met Jambor and Hunter in 2002 when she first began volunteering for the Sidewalk Film Festival. Davis is now the President of the Board of Directors for Sidewalk.
"It's been a long journey for all of us since the early days of the Sidewalk Film Festival," Davis says. We've gone our separate ways and pursued new adventures. It's great to all come back together again in celebration of independent film. For Erik to have programmed my short in front of Alan's feature, is very special. It's going to be a great weekend."
PIE IN THE PUSS traces the history of pieing in film from a pie in the face, to the pie toss, to the ultimate pie fight. Davis will also join Christine Vachon (Carol, Far From Heaven) on the IndieWomen Producing IndieFilm panel.
In discussing her film and how it will play with a Northwestern audience Davis said "Everybody loves pie! It's true that the South does have a soft spot for this particularly sweet treat as its buttermilk, Mississippi mud, pecan and Derby pies are legendary.  But the northern states do have a few claims to fame themselves with the Boston Cream Pie and the Marionberry Pie (which the Oregon State Legislature named the 'Official State Pie' in 2017).  If watching PIE IN THE PUSS puts you in the mood for the creamy confection, I hear the slices at Nancy P's Cafe & Bakery are delish."
Another Southern female filmmaker Lane Skye shared about her narrative feature Reckoning.
"Northwest Audiences may find the language and culture a little less familiar, but the themes of the film are very much universal," Skye said. "Motherhood, family, class, justice. We dare anyone, no matter where they are from, to watch Reckoning and not root for Lemon as she does everything in her power to save her son."
After the disappearance of her husband, a struggling farmer in an isolated Appalachian community discovers she is a pawn in a blood-soaked revenge plot and the only way out for her and her son could mean destroying a decades-old truce. Co-directors and writers Lane and Ruckus Skye will be in attendance for a Q&A after their screenings.
Yoshi James also has a film set in the South with Singing for King. Her short documentary plays in the documentary shorts #2 program at the festival.
"I think Singing for King will touch many people regardless of where they may be in the world,: James said. "In the film you hear the voices from surviving members of the 1968 Prairie View A&M choir. They share stories of their chance meeting with civil rights icon Dr. Martin Luther King, Jr. in Memphis, TN, two weeks before his assassination. Dr. King touched many lives. He constantly put his body in harm's way to fight for people who wanted and deserved equal rights, pay equality, housing and more. We continue to fight the same issues he died for over 50 years ago. We've made significant progress, but we still have a long way to go."
Other short southern films highlighted this year include Morgan Jon Fox's The One You Never Forget about Carey, a 14-year-old African American boy nervously prepares for his first dance as his parents reminisce about their own. The film plays with Little Miss Westie, a documentary feature about two transgender siblings.
"I feel like my film is pretty ambiguous in its setting, although very acute in tone and message and I believe that is something Northwesterners can identify with," Fox said.
Uniontown and Mossville: When Great Trees Fall will play together in a documentary block about Alabama and Louisiana.
Uniontown weaves together the unheard individual narratives of grassroots organizers in Uniontown, Alabama, as they fight to take back the town from the hands of industrial polluters and complacent politicians in the midst of a high stakes local election.
Director Fraser Jones said his film deals with environmental issues in Alabama but the subject matter translates easily to Northwest audiences.
"Because communities across the nation, regardless of their region or demographics, are experience industrial pollution and oftentimes political neglect in the midst of global climate change," Jones said. "I believe a story like this, one of hope and community, can inspire communities from all over to speak up and let their voices be heard."
Mossville: When Great Trees Fall is about a town in Louisiana and follows Stacey Ryan as the chemicals from the Sasol's plant impact his health. Also screening over the weekend is All on a Mardi Gras Day, about African-American men who continue the Mardi Gras Indian culture.
But Bend focuses not just on the South and Northwest but universal films. Being home to the last Blockbuster Video store, a stand out is At The Video Store which Director James Westby manages to weave together memories of video stores from icons like John Waters and store owners.
Check out the full Bend schedule here…
Like what you see here on Hammer to Nail? Why not pay just $1.00 per month via Patreon to help keep us going?
– Melanie Addington (@MelAddington)
Guest writer, Executive Director, Oxford Film Festival