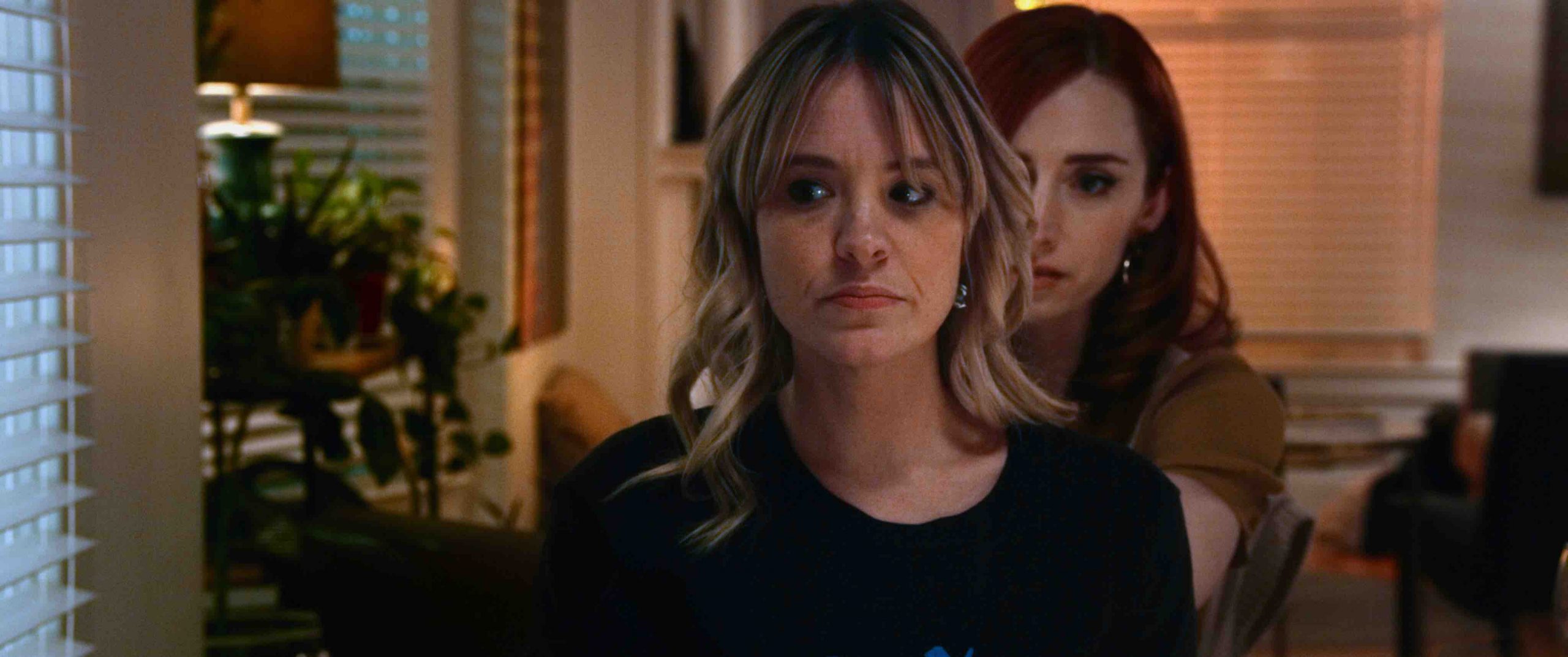 (The aptly named Fantastic Fest ran September 24-October 1 virtually. Many films are still available on-demand on many platforms including Alamo Drafthouse On-Demand. Like what you see here on Hammer to Nail? Why not give just $1.00 per month via Patreon to help keep us going?)
It's rare that a film starts and you know immediately that you're in the hands of a talented auteur who understands exactly how little – and how much – to give the audience in every frame. When Jill Gevargizian's film The Stylist opens, we're presented with Claire (Najarra Townsend,), a perfectly put-together specimen of feminine beauty who, despite all that, lacks any of the self-confidence that those emblematic traits should deliver to her. However, Gevargizian shows instantly that, while Claire is incapable of having the simplest exchange (witness her interaction with the female barista who delivers her daily beverage of choice), once she arrives at her job and is in her position of comfort, shears in hand, she becomes a conversational sponge. As the titular "Stylist," Claire easily engages in the sort of small talk needed to maintain the client's comfort. In fact, in the second scene of the film, her out-of-town client confesses she is getting her hair touched up for an illicit affair. The only people who know she is cheating on her husband are the hook-up and the Stylist. For some reason, Claire can carry on the most personal discussion with people she has never met before. If there's something off about her, it would not be apparent to somebody utilizing her services until it's too late. Claire is a serial killer that scalps her victims and preserves their hair as wigs so she can play out their lives in her secret basement lair.
I will admit to knowing the secret of the film prior to watching it, because I was privy to the brilliant 2016 short that almost serves as a prequel to the feature. The director wisely brings back the same actress, Najarra Townsend, whose nuanced performance made the short so unforgettable. Townsend never plays to the role's eccentricities or darkness. Claire is a woman struggling to fit into a world she feels vastly unprepared for. When she can control the situation, like in the salon, her confidence and grace shine through. But alone, she reveals a life unrealized. She steals these women's hair so she can imagine what life might be like for someone who doesn't have her anxiety. Brea Grant whips up an equally strong performance as Olivia, a very polished marketing executive and one of Claire's regulars. Olivia is everything Claire wishes she could be. There is even just enough sexual tension between them to titillate (although just on Claire's side, and she's less attracted to Olivia than attracted to being Olivia). It's a complicated relationship, and there is a reason we don't friend the girl who does our nails on Facebook (I tried that, she ignored it). Some worlds are better left separate because the dynamics of a relationship work differently once relocated. Gevargizian knows this so well, twisting and pulling the audience's discomfort from scene to scene as we find ourselves pulled into shadows of Claire's mind. There is no hero to Gevargizian's story, no one we are rooting for to escape the mad killer or to get their revenge. Townsend's portrayal is so triumphant that we almost hope she gets away with it, because she so desperately needs it.
The character of Claire works at the center of this film simply because she is somebody that we've all seen, but also never saw. She exists in the margins of society, someone that we will tell our deepest secrets to that we wouldn't even acknowledge on the street. Of course, Clare is desperate to make a real connection. In a world that turns on body image perfection, she has all the tools but no idea how to use them. When her best customer begs her to do her wedding hair, something Claire refuses to do as a rule, the perceived friendship opening is too much to resist. The Stylist does her measured best to slip into Olivia's world. Invited over to her client's house to see how the wedding hair looks with the dress, Claire is put in a position for which she has never practiced: that of a true female friendship. Later that night, she obsesses over every moment, replaying her dialogue in the car after a quick retreat, stressing over every imperfection. But Olivia is oblivious to Claire's incompatibility in her life. This is the moment where Claire can either step up, join "life" and be "one of the girls," or let the monster out of the secret lair.
I'm going to stop there. I sometimes like to describe a film as "effortless" when it is so nearly perfect that I cannot find anything to criticize. Rather, I must describe Jill Gevargizian's The Stylist as effort-full. Every single moment of the film, every element of filmmaking, from acting to cinematography to production design to hair and makeup, every twist of the plot, swell of the music, every directorial decision combine to make one of the strongest killer-thrillers I've seen. Najarra Townsend and Jill Gevargizian have combined their talents to pull off the seldom achieved feat: a brilliant short fully realized into a feature film, with all the depth and tension I've had to imagine for the last four years as I waited for it.
– Bears Rebecca Fonte (@BearsFonte)