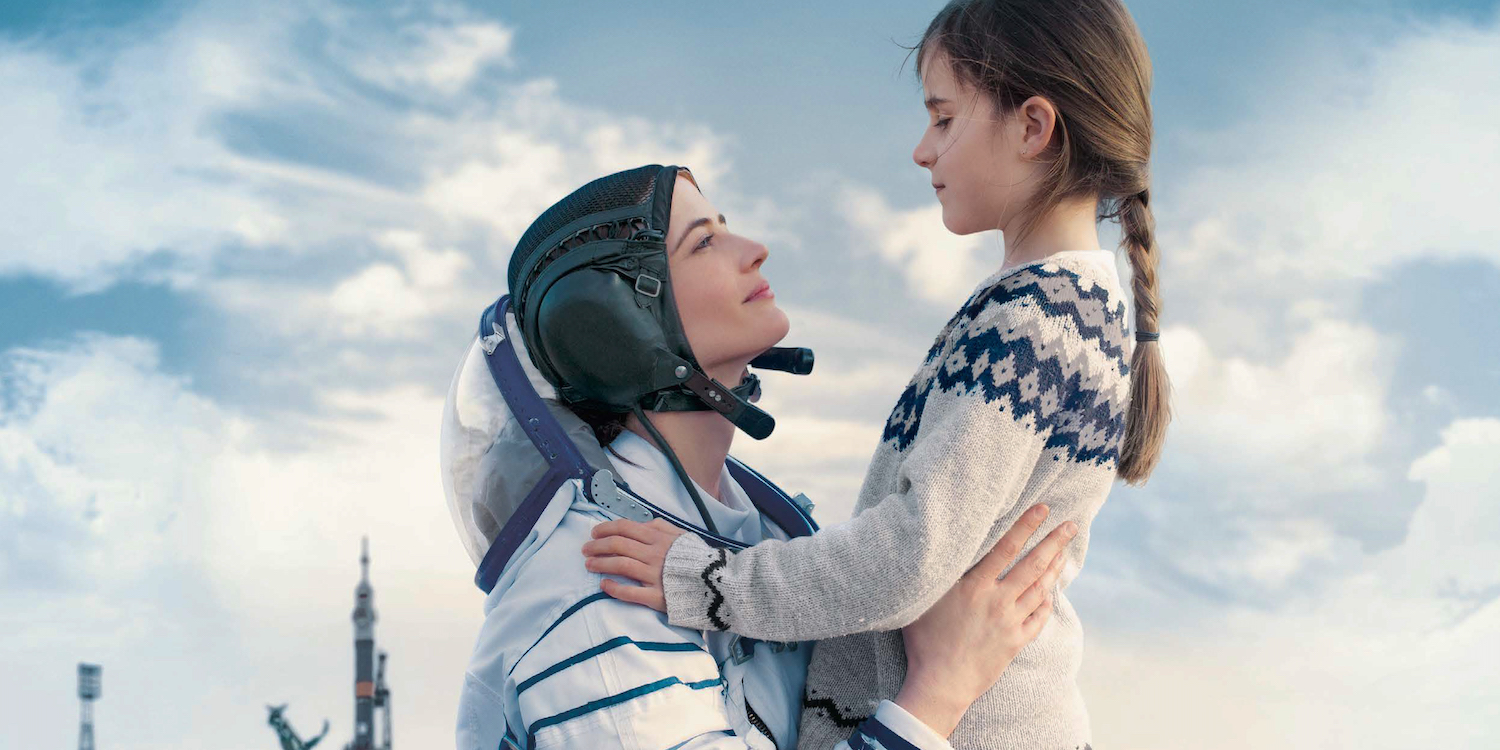 (Alice Winocour's intimate drama Proxima is available now on VOD via Vertical Entertainment. Like what you see here on Hammer to Nail? Why not give just $1.00 per month via Patreon to help keep us going?)
Motherhood comes with significant challenges, especially where career ambitions are concerned. It's hard enough to be a woman in this patriarchal world without the added burden of maternal expectations. Then again, they aren't burdens if one loves one's child, merely additional obstacles that most men don't have to navigate, even those with children of their own. Such is the fraught terrain that director Alice Winocour (Disorder) explores in her latest film, Proxima, starring Eva Green (Euphoria) as Sarah, a female astronaut about to leave for a year on the International Space Station. Battling external sexism and internal guilt, she does her best to prepare to fulfill a lifelong dream while leaving her young daughter, Stella (Zélie Boulant), behind.
Nothing is easy, and as women have long discovered, any mistake they make is scrutinized twice as much as those of their male colleagues. We watch as she trains, first in Germany and then in Russia, keeping up with the boys but always watched. Though her daughter lives with her father (Lars Eidinger, Personal Shopper), Sarah's ex-husband, during these months, she still demands video contact and even comes to visit, causing Sarah further conflict. With a bull-headed mission commander (Matt Dillon, Head Full of Honey) analyzing her every mistake, Sarah cannot afford to be off her game. Yet the more she contemplates the journey and its attendant sacrifice, the less sure she becomes that she wants to go.
Though the setting is preparation for space flight, the drama and story are earthbound; Sarah could be in any competitive profession and her dilemma would be similar. Nevertheless, the stakes are higher here because of the projected 365-day absence, something little Stella has trouble understanding. Still, Sarah knows that, in the future, should she succeed, her achievement would serve as a beacon for her daughter and other girls to guide them forward, showing what women can accomplish. But will she permanently damage their relationship by leaving? The future is then, the present is now, and the concerns are immediate. Winocour does a fine job examining the emotional impact on both mother and child.
The film also offers a refreshing look at a multilingual, multicultural effort, people from many different countries coming together to get things done. Sarah is French, her ex is German, and Stella speaks the languages of both parents, as well as English. On top of this inspiring look at international cooperation, Winocour also shoots in the actual locations managed by the European Space Agency and Russian Federal Space Agency, lending her movie impressive verisimilitude.
Despite these excellent cinematic qualities, there is a surprising coldness and reserve at the heart of Proxima that at times undercuts the power of the narrative. Though Green and the other members of the ensemble give strong, engaging performances, Winocour's camera at times seems to view them as if from a clinical distance, the inverse of what the title (also the name of the galaxy closest to our own) implies. But perhaps that's her intent, propelling Sarah away from home long before she has left, torn in two by the effort. Or maybe a closer look would overwhelm us in its raw impact. Whatever the effect on the viewer, the movie nonetheless transcends the specificity of milieu to deliver a powerful, universal tale of love and loss.
– Christopher Llewellyn Reed (@ChrisReedFilm)